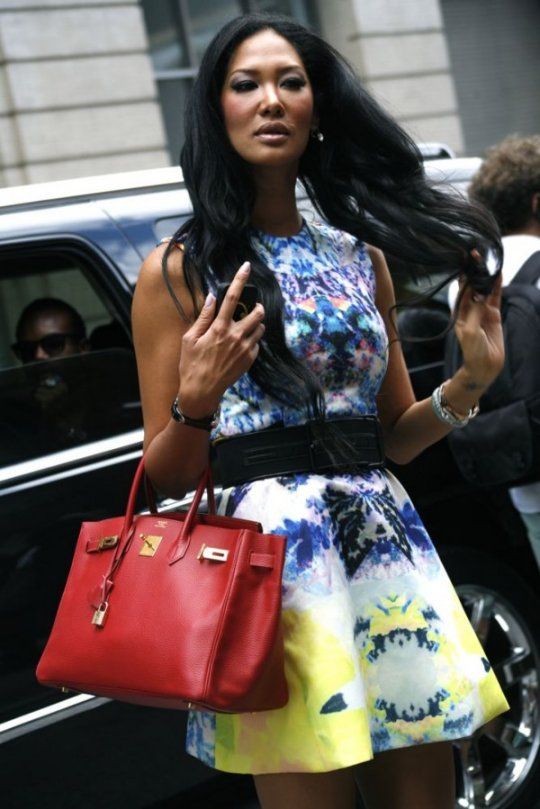 Fashion mogul Kimora Lee Simmons has some advice for young women making their way in the business world while looking for love.  Find out what she said inside and get deets on her views on relationships and being single. 
Kimora Lee Simmons is still making waves in the fashion world with "Kimora: House Of Fab" on the small screen and her online empire JustFab.com. 
Outside of her business ventures, the fashionista talked to the Daily Mail about her life as a single woman.  She also gave an interesting perspective on how relationships change and evolve (while explaning her friendship with her children's fathers) and she offered advice to women on the dating scene.  Here are the highlights:
On how things have changed between her and Russell Simmons and between her and Djimon Hounsou:

"Relationships do change throughout the course of your life and I always think in terms of relationships changing and evolving rather than starting and stopping. Kids never go away from your life and if you've been married, that person probably never goes away either. You never get rid of anyone and...they never really get rid of you!"

On being single:

"I'm not with anyone at the moment – it's just my kids and their two dads."

"I think [men] are sometimes [intimidated], but men are intimidated by a lot of things, you know, such as jobs and bit of determination. They have a lot of insecurities about who we are, what we have, what we look like, what we've accomplished and what we're capable of because we're fabulous and capable of doing so much and juggling so much every day."

On advice for fabulous women looking for men:

"People might be mad I'm saying this, but [men] do have a lot of hang-ups. But that shouldn't deter you ladies from being great! You don't have to dumb down – you just have to find a clever, good, secure man. I've found a couple – I've been lucky – but it's probably hard for everybody to find that true love of a good man."

On her life's journey:

"I was modelling at ten, I married very young and I've done everything pretty early. I always joke that I've had several midlife crises already! I've definitely made mistakes along the way...'but I've got a good head on my shoulders.... things have turned out pretty well so far."

On being bullied and how it created the woman she is today:

"I was bullied and picked on because I was so different to everyone else, and I definitely didn't believe or even know I was fabulous back then. But those hard times made me everything I am today. It's all water under the bridge now, but being bullied and going through adversity definitely made me stronger."
Loving this advice.  "Kimora: House Of Fab" airs on the Style Network.