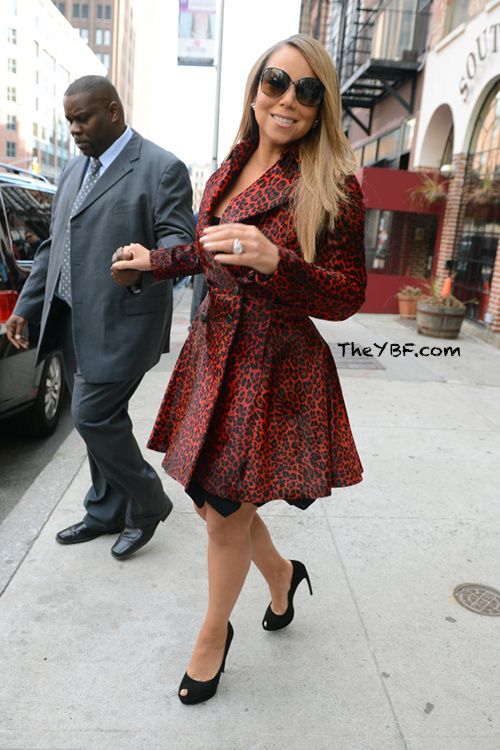 Mariah Carey was seen leaving her Tribeca apartment to head out to an appearance on "Live With Kelly and Michael" this morning. Find out what she revealed to the hosts about renewing her vows with hubby Nick Cannon inside....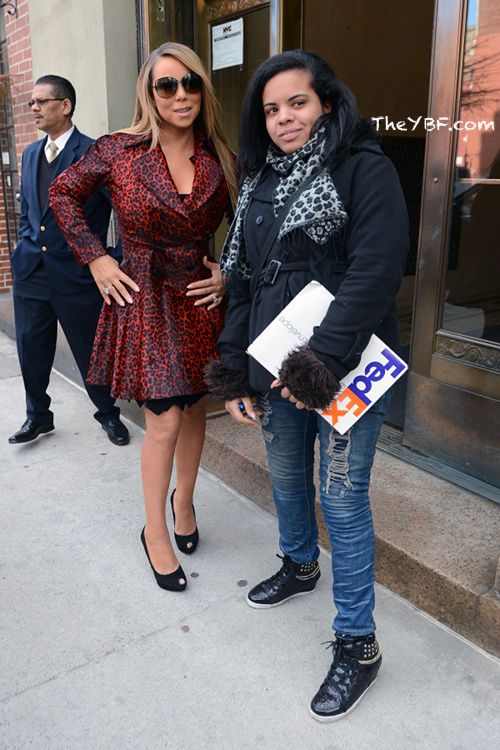 Earlier this morning, "American Idol" judge Mariah Carey was spotted posing with a fan as she left her apartment building (wearing a red leopard print coat) to go appear on "Live With Kelly & Michael." 
While chatting with the hosts,  she was asked about life with her adorable kids and if they are more like her or Nick.  She said, "It's tough 'cause they change as the grow up. But..."[Monroe] tries to put my shoes on. She always chooses the most sparkly ones."  And"Moroccan always watches movies with me" (while sitting on Nick's side of the bed).  
She added that Roe is really into the "beauty and glamour" aspects of being the daughter of Mariah Carey and she loves coming into her hair and makeup room (yes..she has a hair/makeup salon at home).  Meanwhile,  Roc is not interested in that room and prefers to watch Shrek 2 with Mommy. She also reminded Kelly that she's taken has 500 hours of beauty school and offered to do her hair one day.  Love it.
Mimi also said that she and Nick are planning a Disney-themed event for the renewal of their vows this year, after last year's Paris renewals.  And she added that they plan to make the event more about Roc and Roe since their birthday is the same day as their wedding anniversary (and this year makes 5 years!).
She also talked about "American Idol" and what she looks for in a contestant.  
Watch the interview here:
Mimi also played a game called "Movie Minute with Mariah," where she proves her movie buffness:
And Diddy stopped by "Ellen" today to promote his new AQUAhydrate gig with Mark Wahlberg.  And while talking about the bottled water, this reminded Diddy about a time where Kool-Aid used to make him wet the bed.
"One thing I want to say is, I grew up as a Kool-Aid kid. Never drank water. I used to pour a half a pound of sugar into the Kool-Aid."

"Besides it having me bouncing off the walls, I used to be a bed wetter. OK, I guess I'm confessing that I used to be a bed wetter. I went on this quest to stop wetting the bed, and the first day that I had a sleepover and I didn't wet the bed, it was, like, one of the greatest days of my life. It gave me the swagger that I have today because I stopped wetting the bed."

"There is something about sugar that makes you wet the bed. So to all you boys and girls out there, as Muhammad Ali used to tell you [to] brush your teeth, I'm telling you to drink water, OK? It will stop you from wetting the bed, and you won't be embarrassed in front of the girls at sleepovers."
Ha!  That's one way to convince kids to drink water.
Check out the video above.
Photos via INF, Videos via Rap-Up/Ellen