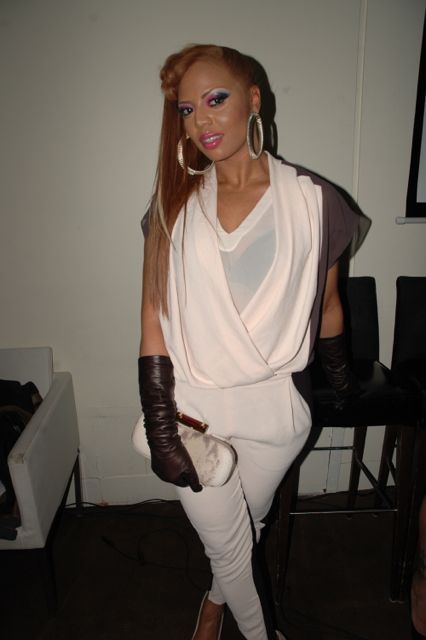 "Starter Wives Confidential" star Zakia Baum has spoken out about her show's' cancellation, and also revealed what she really thinks about Lil' Kim right now.  Listen to the interview inside...
Since the cancellation of her show"Starter Wives Confidential" reality star Zakim Baum, who's also the mother of Maino's 11-year-old son, talked to the Street Disciplez  about 50 Cent lying about getting the show cancelled.  She also gave her thoughts on Lil' Kim cheating with Maino. Here are the highlights:
ON LATE NIGHT CALLS FROM LIL KIM AND KIM DATING MAINO'S BEST FRIEND FIRST:

"I heard things about them being together while we were together. I just had calls at night, her calling in the wee hours of the morning. His cell phone; he seems to not remember this though, but I remember it quite clearly."

"I knew she was dating his friend before that. Not only his friend, his best friend. So I never imagined it. I would see pictures of them out, my girlfriends would always send me pictures. It's interesting, when she did her show, people would tell me, no he's with her; this day he's with her, that day. And then when that jail show [Lil' Kim: Countdown to Lockdown] came out, I'm like this f*cking b*tch is lying, pardon my French. And I'm like, damn, Jermaine was with her, and I confronted him, but he never admitted to being with her, ever."

ON WHETHER SHE EVER CONFRONTED LIL KIM:

"The only time I saw her, I saw her twice with him. It was at a video shoot, and one was at, he did a show, I don't even want to remember that. He had a show, and it was a bit crazy. But, maybe it was my naievete at the time, I still thought that, I thought he was screwing her manager Hillary at the time. I didn't know who it was. I knew it was one of them, but I didn't think it was her initially. In my mind, a woman can't be with one man, a person's best friend, and then be with him. It just didn't, I couldn't imagine that, I couldn't fathom it. Until calls in the middle of the night, and then I got so much proof after we were broken up. I mean people were telling me they were together the whole time. They were together. The times when you thought they were together, they were together. So, I really got my proof after we were broken up."

"But I want the record to be clear, Lil Kim is not someone that I'm thinking about. I'm not even thinking about Jermaine. That particular [episode] I was angry not about Kim being there, because she's completely insignificant to me, I was upset at Monica just not telling me. So that was it. It was just the principle, and I'm a person that's big on principle."

ON THE POSSIBILITY OF THE SHOW BEING PICKED UP BY ANOTHER NETWORK:

"This is what we're battling right now. It's a lot. We're still, I can't say too much, we're not settled with what happened because we still can't grasp how after two episodes how you make a decision. They didn't give it a chance. You can't compare it to a 'Honey Boo Boo' or 'Say Yes to the Dress'. I'm sure when these shows started, they weren't bringing in big numbers. It just doesn't make sense. After the second episode, they pretty much made up their mind that we would be going to TLC.com. So that quite actually doesn't sit well with us."

ON 50 CENT SAYING HE GOT THE SHOW PULLED:

"I can tell you one thing, 50 Cent did not have anything to do with us being pulled off. I know he put that rumor out there, and I don't even know why he would care. He succeeded at, I don't even know if he succeeded. I'm not even going to get into that. I can't even talk about that with Shaniqua not being on the show, who would have been such a pivotal person on the show. She's a wonderful and awesome person. I love her. She is the one, we are the closest." 
Listen to the interview here: 
Photo via Stephen Knight