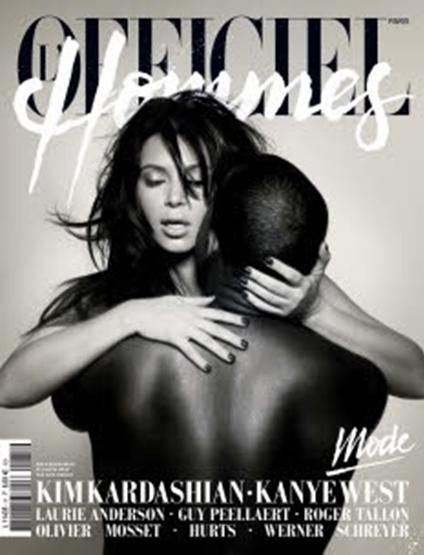 So much for not wanting to be looked at as a chick famous simply for sexing black men.  Just as Kim K. constantly tells us that she wants to put the porn-star image on the back burner, Kanye West goes and does a magazine cover shoot with his baby mama.....that looks like a snapshot from a sex tape.
Check it inside..
Kanye has done another provocative photoshoot with another girlfriend (remember this one for Louis Vuitton with Amber Rose?).  And the Nick Knight-photographed cover shoot forL'Officiel Hommes Paris Spring 2013 (which often has eyebrow raising covers) reveals Kanye and Kim showing their intimate side....
Kim has said many times she wants to be taken seriously as a celebrity (not sure for which talents) and she no longer be known as a sex tape celeb.  So her "new" image has become an effort to be more classy.
And being pictured as the enhanced "black" skin holding the "ethereal" white skinned woman in a sexual position screams "we are serious non-sexed up professionals."
But we say to the couple, Do You Boo.  Carry on with your sexiness.  At least now you have some memorabilia of how things were before the baby.
Are you feelin' this cover?
BONUS: During Kanye's second concert in London over the weekend (he went on a rant we actually agreed with during the first concert), he took to the stage for literally scream ferociously into the mic for over a minute.  And then threw the mic at the end.  Art of expression....or something else?