Mimi Faust has spoken out about the altercation she had with her "LAHH ATL" co-star K. Michelle this week....and K. Michelle's response wasn't too far behind.  Find out what both ladies said about their run-in inside....
Yesterday, we told you that there was an altercation between "LAHH ATL" stars Mimi Faust and K. Michelle that allegedly involved a slap to the face....but Mimi' s PR team released a statement about what really happened.  Or at least...they cleared up the part about the "slap."
Team Faust said...
"We have been working closely with our client, Mimi Faust, since the incident occurred hours ago. Although we do not yet understand the full scope of the incident, we do know that false allegations and rumors has been projected across media air waves concerning last night's incident between Love & Hip Hop ATL cast members, K. Michelle and Mimi Faust.

Ms. Faust is currently unharmed and never went to the hospital to be treated for a busted eardrum. The incident started in the dressing room where K. Michelle simply hit Ms. Faust with flowers after seeming a little irritated with questions about earlier statements made in a prior interview. However, there were no damages done. In actuality, Ms. Faust left the venue and continued her night by visiting and enjoying herself in other New York City prestigious venues."
And Mimi added, 
"Recalling all of the past incidents with K. Michelle and other cast members, she never seems to wants to talk things out; the end results are always violent. That's not the type of person I am and to continue to fight with K. Michelle would have been pointless."
Although Team Faust said they did not understand the "full scope of the incident", K. Michelle didn't miss a beat and took to Twitter to share what sent those flowers flying: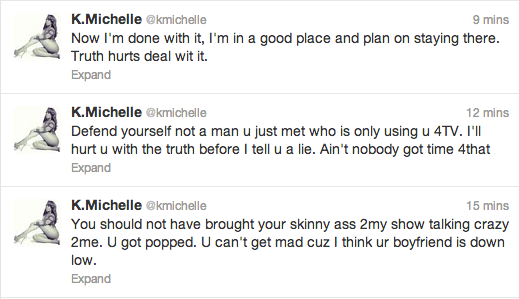 Well...we agree with her there.
We're sure cameras were rolling during the incident as "LAHH ATL" won't hit the air until April and Mona Scott milks every bit of the drama right up until the end.  Until then, K. Michelle needs to get this album done and take Sweet Brown's advice when it comes to all the fighting.  After just getting a new record deal, she and her talent ought not have time for that.