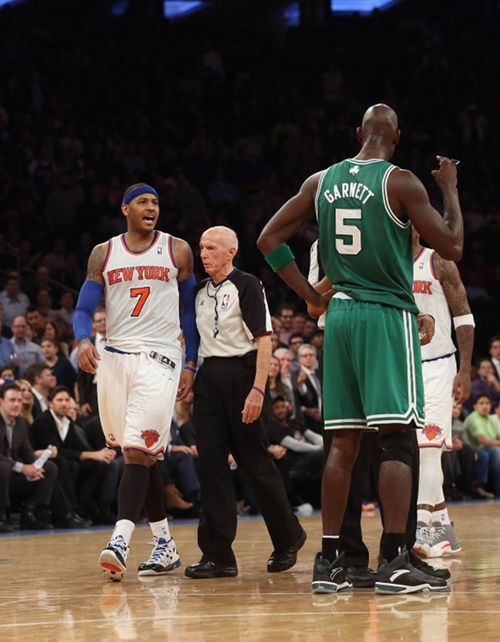 After Monday night's on-court war of words that was taken off the court, Carmelo Anthony and Kevin Garnett have reportedly worked things out.  But Melo maintains Kevin crossed a line.  Deets inside....
As we previously reported, rumors swirled that during Monday's heated game, Celtics baller Kevin Garnett told Knicks baller Carmelo a comment about his wife, LaLa, tasting like Honey Nut Cheerios. 
Those specific words have yet to be confirmed, but Melo did tell reporters at practice on Tuesday that Kevin crossed a line:
"There's certain things that you just don't say to men, another man.  I felt like we crossed a line, but like I said, we both have an understanding right now, we handled it the way we handled it. Nobody needs to know what was said behind closed doors, so that situation was handled."
Sounds like the Cheerios statement may not be too far off. 
Carmelo, who skipped out on giving a post-game interview on Monday night because he was rushing to approach Kevin by his bus outside MSG, told reporters the two have worked it out...somewhat.
"I wanted to talk to KG [outside his bus]. I think it was something we both needed to get off our chest and see what really the problem was. No altercations, it was just some words and a conversation that we needed to have."

"It's over with for me. Whatever happened last night, happened. The words that was being said between me and Garnett, it happened, can't take that away.  I lost my cool yesterday, I accept that, but there's just certain things that push certain people's buttons."
Reportedly, the two hashed things out over the phone recently.
But, here's new video of Melo clashing with Kevin after the game:
Boys will be boys.
Photo: NBA