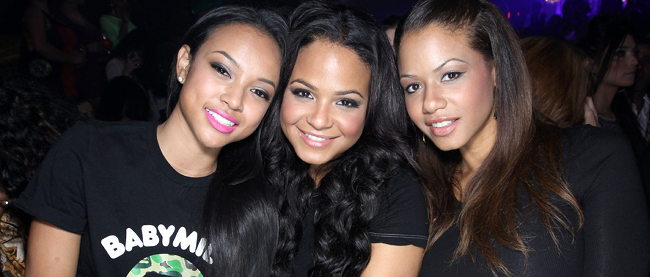 This past Sunday in L.A., insiders revealed to us that Karrueche Tran jetted from a club just to avoid Rihanna.  And can we really blame her?  Deets inside, plus her interview where she tells all about her, Chris Brown & Rih's love triangle....
With all the sometimes immature back and forth amongst Chris Brown, Rihanna and Karrueche Tran, it's about time we heard things straight from the source's mouth.  At least from one of them.  And we get the real deal without the passive aggressive general twitter attacks.
But first, we've learned that while both Rihanna and Karrueche were spotted leaving the club My Studio in L.A. Sunday night, it was all for a reason. 
Karrueche hit up My Studio as one of her first stops of the night.  No more than half an hour before she got word that Rihanna was also in attendance, she decided to jet.  She then called up her good friends Christina Milian and Seiko Huffman for a girls night out at Greystone Manor (pictured above at the party). The trio drank it up as T.I., Tiny, and Kenyon Martin were all there too celebrating JL Nights and Team Hennessy's first Greystone Sundays of the year. 
She tweeted "what a night" the following day.  Of course.
And speaking of avoiding Rih Rih and becoming besties with Christina Milian, Karreuche finally told the world, in her own words, what exactly is going down.  VIBE asked Kae, in an interview for their February/March 2013 issue, how she would handle sitting down with both Chris & Rihanna:
For everybody, emotionally, that would just be way too much. I'm a very mature person so if the time ever did come where we would need to sit down and talk, I'd do it. I'm a mature person. I can work it out but that would be a lot. (Pause) Yeah, it would be a lot.
She told VIBE about working with Chris after their break up, and if he's still "the one" for her:
How do you feel about it? Are you happy with your love life at the current moment?
I mean at the time, but right now of course not. It's a lot going on but it could be a lot worse. And that's how I look at life. I take it for what it is. I move forward, grow from it and at this point, that's what I'm doing. I'm not gonna sit and dwell and become consumed in that negativity because I could very much be that person, especially when things are so public and so thrown in my face. But like I said, things can be much worse. So I'm good.

Everything just gets misunderstood.
Exactly.

How hard is it to work with Chris with everything that's going on?
At the end of the day, he will always be a friend. We'll always care about each other. We won't allow that to interfere. Our business is business.

Do you think you've found the person you could spend the rest of your life with?
I do care about him and I do love him. Family is very important to me, and I've always put it in my mind to remember that. For me, I'd love to meet somebody and grow and build a foundation, but I don't want to even think about marriage right now. I can't even get a clothing line out. (laughs)
Here's a few more highlights from her interview with VIBE about how she met both Chris and Christina Milian:
 When people first started hearing about you, you were labeled as "an aspiring model." Are you still doing that now?
I never was an official model. I always tell people I'm not a model but I've done modeling. Now I'm signed with a commercial agency, so hopefully that is going to pick up but before I was just doing favors for friends who needed somebody for their lookbook.

When you took over Chris' women's line, was that how you guys met?
Definitely not. Him asking me to do the line was recent. We met a couple years ago.

Were you styling him at the time?
I actually happened to do a random styling job out here in L.A. and that's how we met.

Did you anticipate that your relationship would blow up into what it is now?
I didn't expect it at all. We were friends for a while before we started dating.

Since Chris has his own lines, what advice has he given you in terms of being the creative director for "The Kill?"
(Laughs) He hasn't really given me advice. He completely trusts me with this line. He's seen my designs and he loves everything so far. He definitely has my back and pushes us forward as well.

Like I mentioned before, Christina Milian has also been rocking your line. You guys seem like besties. How did you two become friends?
We crossed paths tons of times and then one time, she was just like, "Hey, how are you? Let's exchange numbers." Ever since then, we've been the best of friends. We're just really cool. We don't even talk about any craziness. We just have fun, have a glass of wine, and watch a movie.
Check out the full interview over at VIBE.