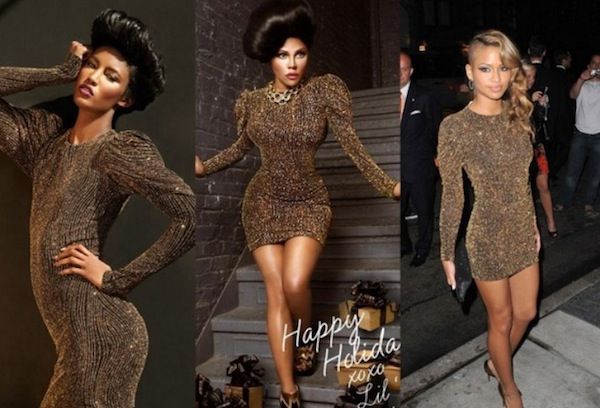 Rapper Lil' Kim, singer Cassie and model Sessilee Lopez have all been spotted in the same body hugging LaQuan Smith dress. Decide who ran it inside....
Model Sessilee Lopez, Lil' Kim and Cassie clearly love a sparkling skin tight mini dress--namely the LaQuan Smith sea urchin dress. LaQuan, an African American designer based in Queens, NY, lent the dress to Sessilee for a photo shoot recently.  Lil' Kim chose the designer's dress for a photo used as a part of her 12 days of Christmas campaign ths week.  Meanwhile, Cassie rocked the dress at the 2012 MET Gala after party.
Besides Lil' Kim's necklace, the ladies kept it simple and didn't rely on accessories...letting their curves do the talking.  
So.......
WHO RAN IT?