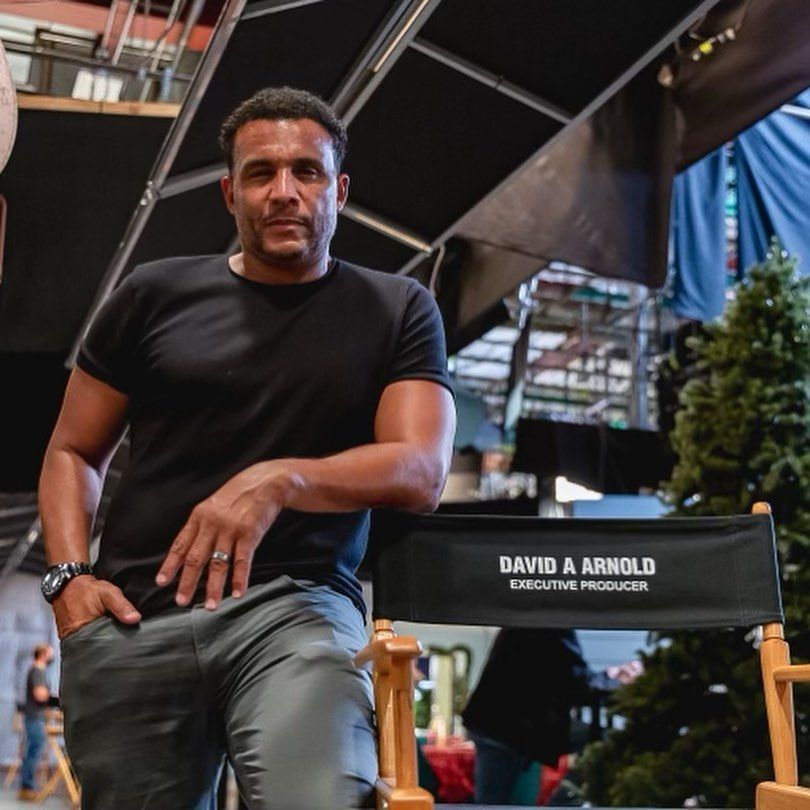 In incredibly sad news, comedian/Netflix producer David A. Arnold has died, according to his family. He was 54. Details surrounding his death, plus reactions from his fellow comedian friends and more inside…
In extremely sad and unfortunate news, comedian/Netflix producer David A. Arnold has died, according to his family. He was 54.
Sadly, the standup comedian - best known for headlining two Netflix comedy specials - died from "natural causes" at his home yesterday (September 7th). David - who was the showrunner of Nickeloden's "That Girl Lay Lay" - was just three shows into his fourth-month national comedy tour titled, "Pace Ya Self." He was scheduled to perform dates in New Jersey later this month and had tickets for sale through March 2023.
"It is with great sadness that we confirm the untimely passing of our husband, father, brother and friend, David A. Arnold," the comedian's family said in a statement obtained by Variety. "David passed away peacefully today in his home and doctors have ruled the cause of death due to natural causes," the statement continued. "Please keep our family in prayer and respect our privacy at this time as we are all shocked and devastated by this loss."
David is survived by his wife, JulieHarkness, and daughters AnnaGrace and AshlynElizabeth. Just a few days ago, he shared a video with his wife and daughters, explaining why he and his wife took their daughter's credit cards away:
Less than 24 hours ago, David - who produced "Fuller House" - shared a clip from one his standup shows where he joked about his daughter sending him to a nursing home when he gets old.
A week ago, David spoke with JalenRose for his weekly column in The Post about how D.L. Hughley inspired him to try comedy again after he bombed during his first open mic night.
During his standup shows, he was vocal about loving his family and his long road to success he's been on for well over a decade.
Since news of his death, tributes have been pouring in shedding light on the type of person David was. Fellow comedian and friend of David's, ChrisSpencer, released a statement following his death.
"Our closely knit comedy community mourns the loss of one of the greatest to ever do it," he told The Hollywood Reporter. "He was admired by his peers, respected by other veterans, and revered by the burgeoning comedians that he mentored. He will be deeply missed, especially by his comedy fraternity."
Producer WillPacker, DJ D-Nice and more have posted online tributes to their friend:
I can't believe David Arnold passed away! Man life is so precious, u better enjoy every single minute of it! Dave was the host of Chocolate Sundays @ The Laugh Factory when I first moved to LA. He was one of the most underrated comedians in the game & wrote for a lot of TV shows pic.twitter.com/r1ORg8jC7f

— ANDRA FULLER (@mrdrefuller) September 8, 2022
Last night, I had confirmed the passing of comedian @DavidAArnold, but chose to wait until his family released a statement. I notified several comedian friends about the news, and some talked in-depth about David, his love of comedy and battle to go to new heights in the biz.

— rolandsmartin (@rolandsmartin) September 8, 2022
My brother is gone... thank you for the laughs, the encouragement and the inspiration.. my love and prayers to his lovely wife Julie and his beautiful daughters... we are all heartbroken https://t.co/njZ3jNAXm8

— Loni Love (@LoniLove) September 8, 2022
One of Cleveland's finest has left the stage and way too soon. 54 is too young. #RIP@DavidAArnold

This does not feel real. https://t.co/80M2ByzIhw

— yvette nicole brown (@YNB) September 8, 2022
Our hearts go out to his wife, Julie, their two daughters and all of his loved ones.
R.I.P.
BONUS: 
David and his wife Julie appeared on "Black Love" in 2020 where they shared secrets to enjoy a long-lasting marriage.
Photos: David's Facebook