Four people were killed and three were injured during an hourslong shooting spree in Memphis, Tennessee. The shooting suspect is 19-year-old Ezekiel Kelly, who was released from prison in March on another charge. He took to Facebook to livestream the horrific killings. More details inside…
WARNING! This post could be triggering to some. 
The city of Memphis was placed on lockdown as a mass shooter roamed the streets, carjacking people and shooting anyone is his way.
A 19-year-old gunman who livestreamed himself driving around Memphis for hours, fatally shooting four people and injuring three, has been captured. The man, who has been charged with first degree murder, has been identified as Ezekiel Kelly.
The hour-long rampage came to an end last night around 9:28pm after police instructed citizens to shelter in place during the shooting spree:
*****UPDATE 9:28 PM******

SUSPECT IS IN CUSTODY

Ezekiel D. Kelly

Please follow our social media platforms for updates.

Please avoid the area of Ivan Road & Hodge Road

— Memphis Police Dept (@MEM_PoliceDept) September 8, 2022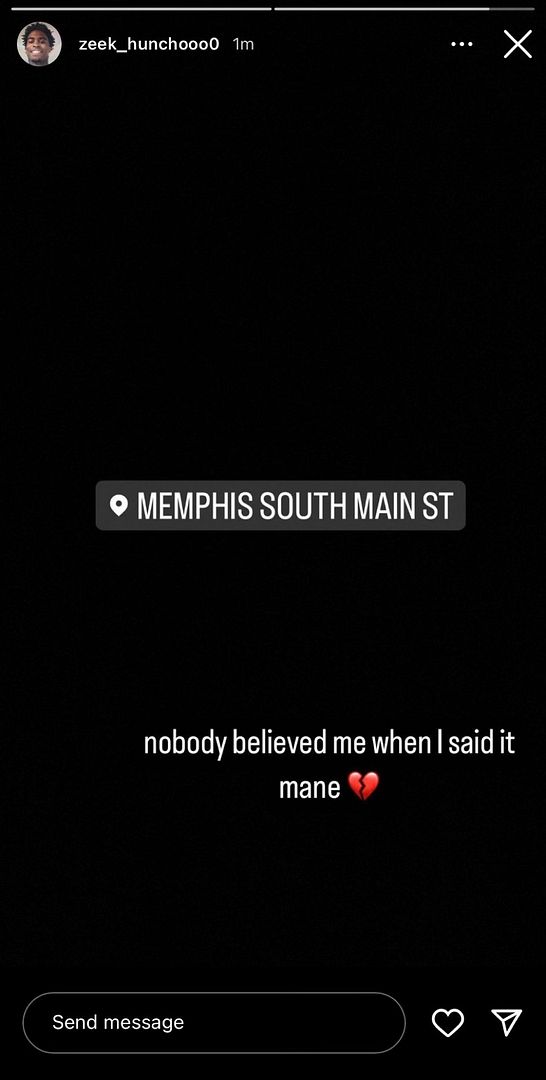 According to Memphis Police Director Cerelyn "CJ" Davis, four people were killed and three others were wounded in seven shootings and at least two carjackings. Memphis police said the suspect was taken into custody with the help of Shelby County Sheriff's deputies following a reported standoff. He reportedly refused to get out of the vehicle, which police and the SWAT Team surrounded.
Below is a video of Ezekiel being arrested:
19-year-old Ezekiel Kelly is finally in custody after going on a shooting spree while on Facebook Live in Memphis
pic.twitter.com/KlpcN6oNlq

— No Jumper (@nojumper) September 8, 2022
And here's a photo of the shooter "smiling" after he was arrested:
This shit is beyond crazy #ezekielkellypic.twitter.com/7Lj9ERxJCd

— BELAIRÉPAPI (@TEZZYPAPI) September 8, 2022
Ezekiel Kelly also smiled in his mugshot after he was charged with first-degree murder:
Memphis gunman Ezekiel Kelly, who Facebook live streamed himself on a mass shooting rampage last night that killed at least 4 and injured 3, was photographed SMILING in his booking photo.

Kelly is now facing a first-degree murder charge. pic.twitter.com/U0vH9iuKOs

— Mia Cathell (@MiaCathell) September 8, 2022
According to Davis, the first killing happened at 12:56 a.m. Wednesday (September 7th) and officers responded to three more crime scenes before receiving a tip at 6:12 p.m. that the suspect was livestreaming himself threatening to cause harm to citizens, Davis said.
An armed and dangerous man has been shooting people in random attacks across Memphis Wednesday night while live-streaming his shooting spree on Facebook, pic.twitter.com/5gq7BbqWgL

— No Jumper (@nojumper) September 8, 2022
In a clip from the livestream, the suspect walked into an AutoZone store and shot a man inside. The man was taken to the hospital in critical condition. While driving around town, he rambles random rap lyrics and sayings in the livestream before he fires his gun out of the driver's side widow while driving. In one instance, he mentioned he was going to "go down to the valley to shoot it out" with police "in the valley." The clip has been removed from Facebook.
A woman who claims to have had a run in with the shooter shared details about her encounter in a Facebook status. She said the man ran towards her with a gun, but she was able to drive away. When she turned around, she saw him snatch a white woman and her daughter out of their car and shot her in the face. She said the woman died.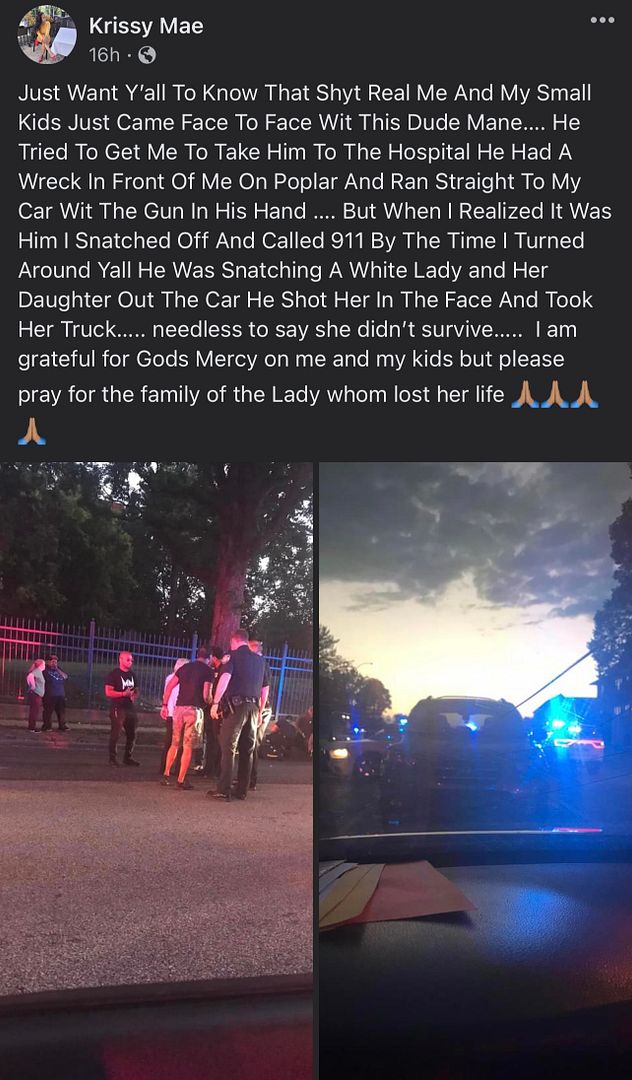 The AP shared more details about the shooting spree:
Three more shootings and two carjackings followed. Police said he killed a woman in Memphis as he took her grey Toyota SUV, which he left behind when he stole a man's Dodge Challenger across the state line in Southaven, Mississippi. Kelly was arrested without incident two hours after the initial police alert when he crashed the Challenger during a high speed chase, and two guns were found in the vehicle, Davis said.

As the shooter terrorized the city, buses stopped running and the Memphis Redbirds cleared the field during their minor-league baseball game. Friends and relatives frantically called and texted each other and TV stations cut into regular coverage with updates.

The University of Memphis sent a message to students saying a shooting had been reported near the campus. Rhodes College, which is about 4 miles away from the university, advised students on and off campus to shelter in place. Kelly was ultimately arrested about 11 miles from the two campuses. "If you do not have to be out, stay indoors until this is resolved," Memphis police said on Twitter, before the arrest.

Police did not discuss a motive or release the identities of those who were killed or wounded. It was too early in the investigation to discuss how the suspect got the gun or guns used in the shootings, said Ali Roberts, acting assistant special agent in charge for the Bureau of Alcohol, Tobacco, Firearms and Explosives in Memphis.
Watch the full press conference below:
The Memphis shooter has a criminal history. Ezekiel Kelly was charged with attempted first-degree murder, reckless endangerment and possession of a firearm with intent to commit a felony in 2020. He was 17 at that time.
I've obtained an affidavit that says #Memphis mass shooter Ezekiel Kelly (charged with first-degree murder) shot a victim in the head with a handgun and several witnesses on the scene identified Kelly in a lineup as the gunman.

Kelly is seen grinning ear-to-ear in his mugshot. pic.twitter.com/1Ab2OEBA5m

— Mia Cathell (@MiaCathell) September 8, 2022
The Memphis mass shooter reportedly pled guilty to a lesser charge of aggravated assault and was imprisoned for three years in June 2021 at the Shelby County Department of Corrections. Ezekiel Kelly served only 11 months in jail and was released in March of this year.
The shooter's aunt spoke with The Sun moments after he was apprehended and she claims he needs help mentally.
"I found out this evening. I'm shocked just like everybody else. The only person who knows what's going on with Ezekiel is Ezekiel," she said. "He's got a lot of stuff going on, a lot of deaths around him," she added. "He wasn't just going around doing something as a joke. There's something going on with him mentally, he needs help."
The city of Memphis is all shook up following the mass shooting as well as several high-profile killings in recent weeks, including the shooting of a pastor during a daylight carjacking in her driveway, the shooting of an activist during an argument over money, and the slaying of a jogger abducted during her pre-dawn run.
Prayers up for Memphis and all of the victims.
Photos: Shelby County Sheriff's Office