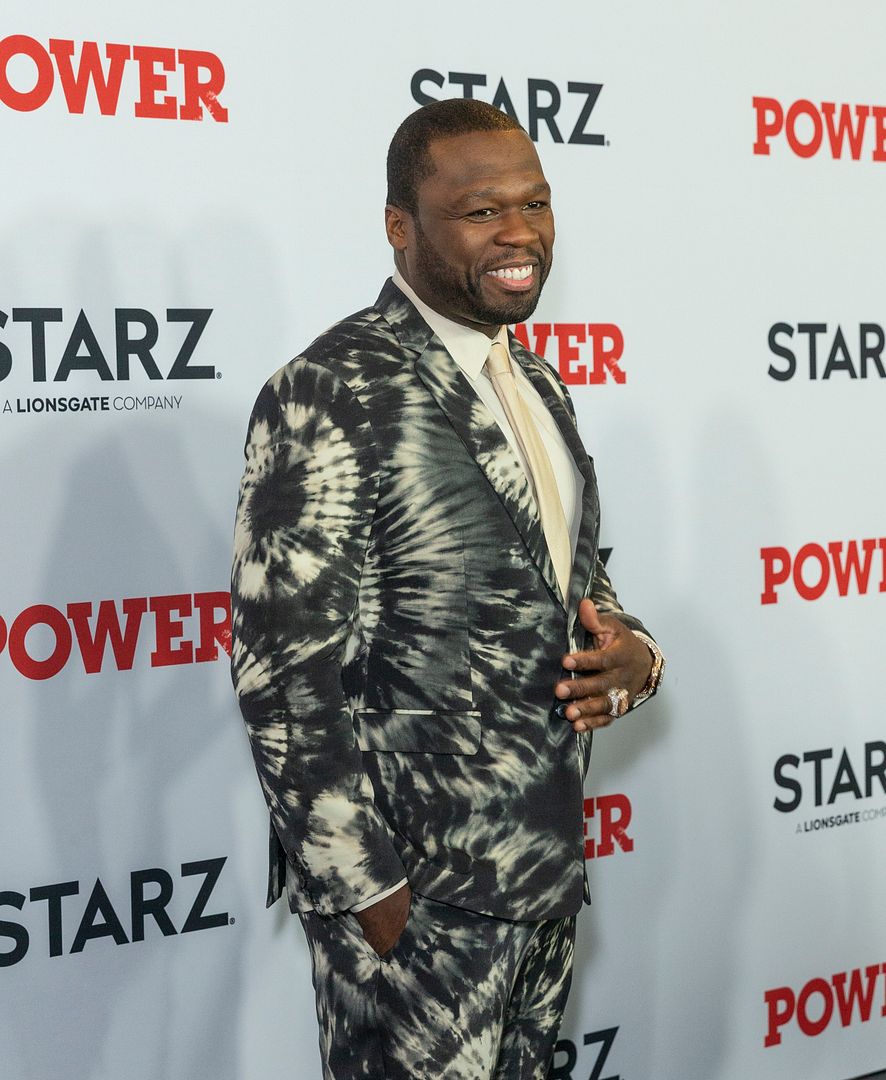 50 Cent is doing what he does best: instigate manufactured beefs for promo. Find out what fire he's fueling between "Power" universe stars Joseph Sikora and Gianni Paolo inside…
As new episodes of "Power Book III" air, there's drama brewing with some of the OG "Power" stars.
Apparently, "Power" actors JosephSikora (who plays Tommy) and GianniPaolo (who plays Brayden) have "beef" and have taken their issues to social media.
During Fif's Tycoon Weekend, "Power" honcho 50 Cent and singer Joe - who sings the original theme song for "Power" - hit the stage in Houston, Texas and brought out several cast members on stage, including Joseph and Gianni.
In a video captured from the event, fans saw Joseph hit the stage, dapping up his "Power" universe family - everyone except Gianni. Fans quickly pointed out the snub, which you can watch below:
Il est sérieux Tommy (Joseph Sikora) il met un vent à Brayden (Gianni Paolo) comme ça au concert de 50#Power#TommyEagan#BraydenWestonpic.twitter.com/hCpzzINKnk

— Lewis Warren (@WarrenLewisjr) August 29, 2022
Lol so someone got video of Joseph Sikora (Tommy) hugging and saying hi to everybody from the other shows but look how he did Gianni (Brayden).

Gianni said it's been this way for 2 years. Not yt on yt crime I wanna know what happened lol pic.twitter.com/SfIsqK3qBS

— K E I S H (@MikeishaDache) August 28, 2022
It appears Joseph totally ignored Gianni when he approached him to show love, pushing his hand away. Shortly after the incident, Gianni took to social media air out his frustrations with this alleged ongoing silent "beef" with Joseph.
"You pressed? I would be too," Gianni said in a TikTok video after sharing the clip of Joseph dissing him onstage.
Later, Joseph responded to former "Love & Hip Hop: Hollywood" star Hazel-E on Instagram, claiming he and Gianni had worked out their differences.
"We saw each other at the hotel afterward and talked. All good," Joseph said with the thumbs up emoji.
However, Gianni claims he's lying. In a post on his IG Stories, Gianni said Joseph has had a one-sided "beef" with him over the last two years and he's not sure why.
"Listen I was gonna leave this sh*t alone but ppl keep sending me this and this dude just straight up telling lies," Gianni explained."It's not 'all good.' I asked him in the elevator what his deal was with me cause he's been doing this sh*t for years when I've shown nothing but respect and love. He kept just saying he doesn't f*ck with me. Nothing was resolved. Stop spreading lies cause people are pressing you about your saltiness."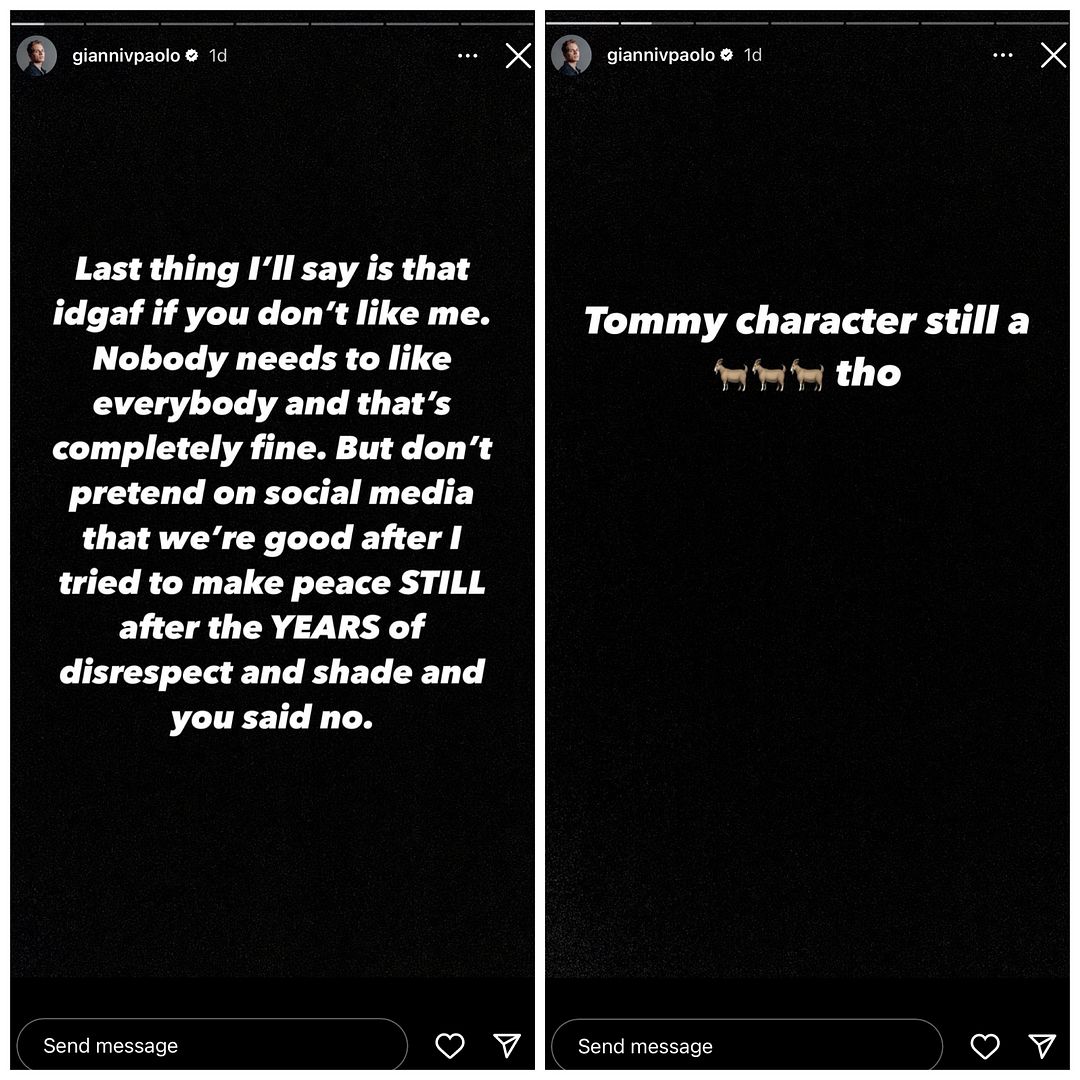 "Last thing I'll say is that idgaf if you don't like me," he continued. "Nobody needs to like everybody and that's completely fine. But don't pretend on social media that we're good after I tried to make peace STILL after YEARS of disrespect and shade and you said no."
Petty King 50 Cent caught wind of the drama, only to fuel the fire:
He shared a screenshot of Gianni's IG posts and wrote, "oh sh*t, it's up! Now I never like to start shit but you should sock him Tommy, wait i think this little nigga Brayden got a knife . lol"
Fix also shared a screenshot of a TMZ article about the "beef" and wrote,"oh sh*t, i need everybody to relax [facepalm emoji] we gotta go back to work."
The people are calling this "white on white beef" a marketing ploy for the upcoming season of the "Power" spin-offs especially since 50 Cent has a long history of drumming up drama for promo. What do you think? PR stunt or nah?
Photo: lev radin/Shutterstock