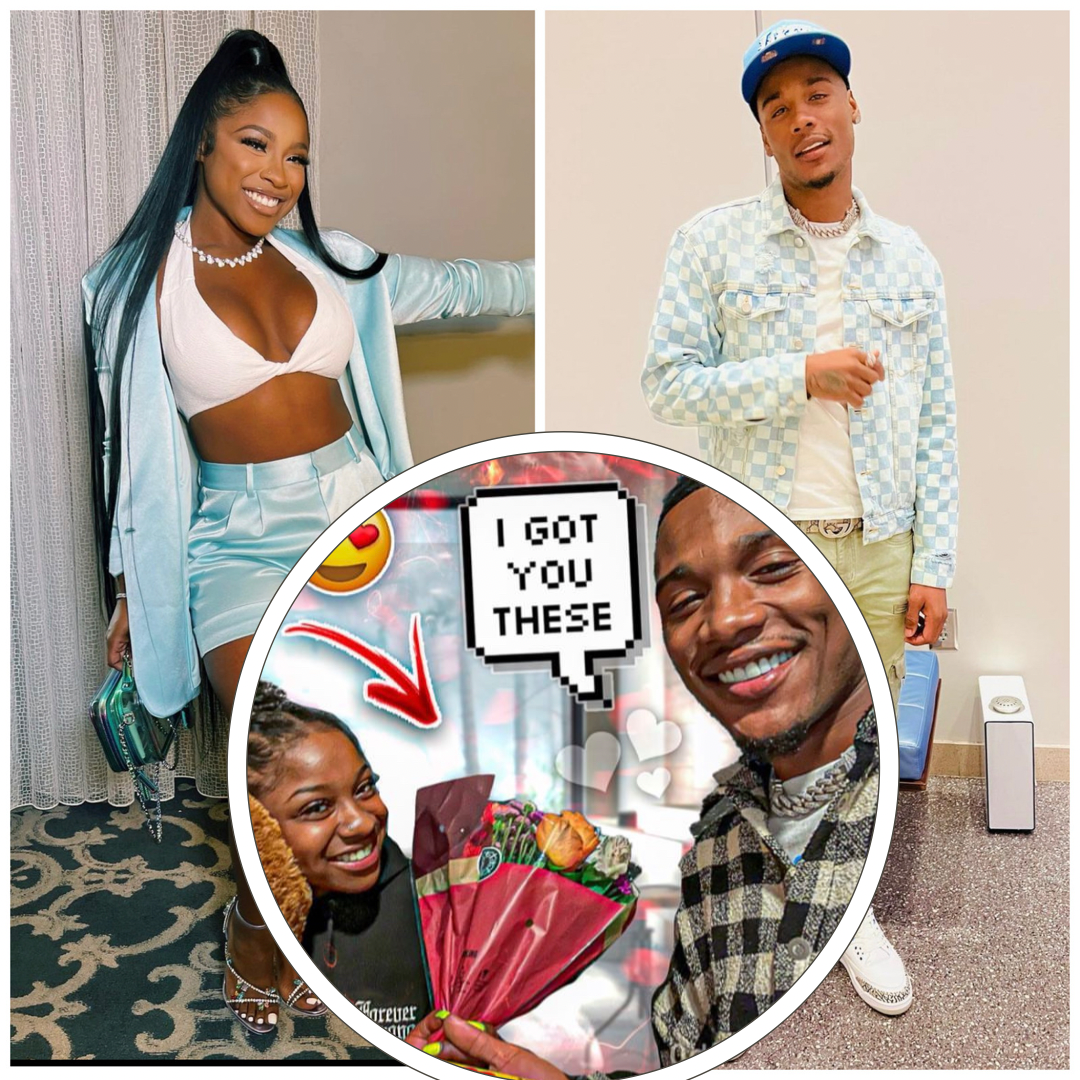 Three weeks ago, Reginae Carter - daughter of LilWayne& ToyaJohnson - went on a blind date with YouTuber Ar'monWarren. Now, they're looking more like a whole YouTube couple. Get into their Q&As, cooking with me, and gifting giving videos inside…
It appears ReginaeCartermay have found love after calling it quits with jailed rapper YFN Lucci, who she claims to have broken up with a year ago. You'll recall, YFN Lucci was arrested in December 2020 in connection with an alleged gang shooting in Atlanta that left one man dead and another injured.
Now, Reginae, 23, is living her best life and has seemingly found happiness after her breakup.
Three weeks ago, YouTuber Jazz orchestrated a "blind date" with the "Growing Up Hip Hop: Atlanta" star and YouTuber Ar'mon Warren, who also sings.
During the "blind date," the couple sat next to one another blind folded and answered questions about themselves. During their conversation, viewers learned Reginae has been single for the last year after she called it quits with Lucci. Ar'mon revealed he broke up with his ex/daughter's mother three months prior, which shocked Reginae - who doesn't have any children - because he hadn't revealed he was a father prior.
Watch how their "blind date" went down below:
A week later, Reginae, who he affectionately calls Baby C (since that's the name she used on their blind date), pulled up on him…and they made a YouTube video to share with fans:
Ar'mon posted a few more YouTube videos before Reginae decided to upload her own video featuring Ar'mon on her channel. On August 4th, she shared a video of herself in Toronto purchasing an expensive gift for her boo and giving it to him when she returned to Atlanta. Check it below:
Ar'mon shared a video of them playing "Never Have I Ever" on the same day:
Reginae and Ar'mon are doing all of the "cutesy couple tings" on YouTube like Q&A's with questions from fans, Mukbangs, and more. Not only that, the alleged couple - who are Fashion Nova ambassadors - has also posted up several TikTok videos together.
Reginae and Armon getting a little too freaky in this YouTube video. Her face told it all, but I love seeing it. pic.twitter.com/ur0UFNH3N5

— αℓєχυѕ (@ItsYoGirlTFA) August 11, 2022
Just a few days ago, he gifted her a teddy bear, flowers, and her favorite candy after she returned from Cabo:
Their fans are loving every minute of it, sharing how much chemistry they have together and hoping that they make it official.
Reginae and Armon cute af idc something about a Sagittarius and a Taurus go together so bad

— KeeBaê (@lloveekee) August 17, 2022
I been watching Reginae and Armon's vlogs since the blind date. They so cute they need to gone head and go together

— 8/24 (@AdrienMommy) August 13, 2022
I don't even be into the whole YouTube couple thing but I must admit Reginae & Armon got me

— Ni (@NiiNiiSaidIt) August 13, 2022
I kinda like Armon & Reginae.. idk if it's a PR thing but I like it lol

— KB (@kirahkeer__) August 10, 2022
i hope reginae and armon don't get tired of each other lol they hanging out too much so soon

— gingerbread man (@imhoodbarbie) August 11, 2022
Others aren't so convinced:
People really think Armon & Reginae are a think.. if you don't watch YouTube you wouldn't know that people collab for views! Like people will really mess just for the net. It's a marketing thing & it works.. that shit be just content..

— goldskin goddess (@tatianaauriel) August 10, 2022
I feel like reginae and armon is being a "relationship" so views

— Princess (@Princessxce) August 10, 2022
idky put I just can not take Reginae & that boy armon relationship serious lol. It's gives me "fake YouTube couple" vibes

— .. (@mynamereee) August 12, 2022
As we previously told you, Ar'mon just got out of a relationship three months ago. He shares a 2-year-old daughter with his ex, Essy. In one of this videos, he said everything is cordial between them and wishes her the best. Essy was featured in one of his YouTube videos less than four months ago:
Are you here for Reginae and Ar'mon or do you think it's just a PR ploy for views? Comment below!
Photos:  Instagram/YouTube