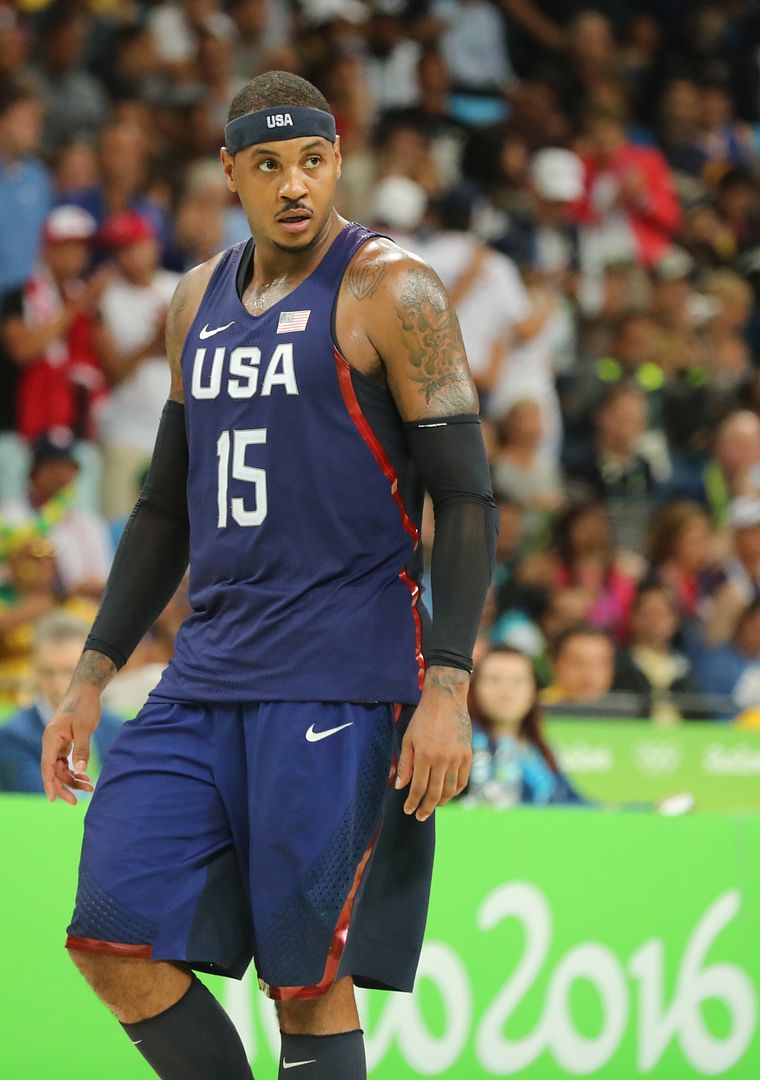 NBA star Carmelo Anthony is ready to share "his truth" in a new documentary after years of allowing other people to speak for him. The new doc is being produced by Will & Jada Pinkett Smith's Westbrook Studio. Deets inside…
Los Angeles Lakers baller CarmeloAnthony is breaking his silence after years of making headlines for his antics both on and off the court.
The 38-year-old NBA forward recently announced he has teamed up with Will and Jada Pinkett Smith's production company, Westbrook Studio, as well as Falkon Entertainment, for a four-part docuseries titled, SEVEN. Melo's production company, Creative 7, will also produce.
Named after his NBA jersey number, SEVEN will chronicle the life and career of the ten-time NBA All Star, starting with his childhood, according to Deadline. And it's supposed to get REAL as the doc will delve into the good, the bad, and some ugly experiences and lessons that helped shaped him into the man and athlete that he is today.
The doc will reportedly reveal Melo's truth behind notable moments throughout his career AND personal life, which he has never spoken about publicly before. OH? While we're sure he'll touch on some noteworthy moments that happened during his career, many fans will likely tune in to see how (or IF) he explains having a child on his estranged wife, LaLa Anthony.
Over the years, there have been umpteen rumors about Melo cheating on La. You'll recall, La & Melo initially broke up in 2017 when there were rumors circulating that he got his (alleged) mistress, MiaBurke, pregnant. After the drama died down, the couple rekindled their love, but that didn't last very long.
Last month, Melo confirmed (without announcing it) he's the father of Mia's daughter after appearing in pictures and videos - posted by Mia - celebrating their daughter's birthday. 
Check it:
Carmelo Anthony out celebrating his daughter's birthday pic.twitter.com/YlkM9025jn

— GOT DA SCOOP (@GotDaScoop) August 1, 2022
Amid his divorce from LaLa, another rumor started circulating that said he also fathered twins with another woman! The mystery woman made claims that Melo suggested she give birth to the babies in London, where they would become British citizens and that would help them avoid controversy. Chile…
So yeah, we'll have to wait and see IF he addresses the cheating drama and if he'll publicly confess to fathering these children.
"The biggest question everyone is probably thinking is – why now? Why choose this moment to tell my story? The short of it is I've spent enough time letting other people speak for me. It's time for my truth," said Melo. "I look forward to viewers finally having the opportunity to hear about my journey in my own words. Westbrook Studios, Falkon Entertainment and my team at Creative 7 have been immensely supportive of my vision for this project and I am proud that we have been able to make this series a reality."

Deadline reports:
Anthony's career highlights to day include him being a three-time Olympic gold medalist, ninth on the NBA all-time scorer list and one of the NBA's top 75 players in history. He has played for the Denver Nuggets, New York Nicks, Oklahoma City Thunder, Houston Rockets, Portland Trail Blazers and, most recently the Los Angeles Lakers. Off the court, Anthony has been focused on his other brands, business ventures, and philanthropic efforts and he also has been a leading voice in the ongoing fight for social justice.
No word yet on when the documentary will be released, but we'll keep you posted. Will you be watching?
Photos: Leonard Zhukovsky/Shutterstock