Kevin Hart has a one-on-one conversation with Jay-Z where he asks him all the questions fans want answers to. The guys chat about retirement, fatherhood, and much more. Find out what's good with Hov inside…
Season 2 of Kevin Hart's show "Hart to Heart" kicks off with a candid conversation featuring Hip Hop mogul Jay-Z. Which is super rare. Hov hardly does interviews these days. However, he made his way to Kev's wine cellar to chat about his career moves and his personal life off-camera.
At the golden age of 52, has Jay-Z retired from rapping? While we haven't been blessed with bars from Jay in 2022, that doesn't indicate he's quitting anything. In fact, he tried to back away from the rap game once before, but he was unsuccessful.
"Nah, I tried that," Jay said, referencing when he announced 2003's The Black Album was his last album. A few years after his retirement announcement, he un-retired. Turns out, the rap goat was burnt out.
"I just needed a break," he told Kevin. "But I really thought that I was really burnt out at that time. I was releasing an album every year. '96, '97, '98, and in between that, soundtracks, other people's albums, Roc-A-Fella, touring, back to back. I just looked up one day and I was like 'I'm tired.' I had never been on vacation until like, I want to say 2000, my whole life. I was just really burnt out at that moment."
With three decades in the game under his belt, the "Empire State of Mind" rapper said he's not sure what the next stage of his career looks like.
"I don't know what happens next," he said."I'm not actively making music or making an album or have plans to make an album, but I never want to say that I'm retired. It's a gift, so who am I to shut it off. And it may have a different form or interpretation. Maybe it's not an album, maybe it is. I have no idea, but I'm just going to leave it open."
Would you be here for a new Jay-Z album? We would. If he doesn't release another album, 2017's 4:44 will be his last.
Peep the clip below:
Speaking of music, how much does a Jay-Z verse cost? Nothing. The Roc Nation honcho revealed he doesn't charge artists for features. When asked if he chooses his collaborations based on relationships, he said, "Yeah. Mostly relationships...It's actually always been mostly relationships. Sometimes it's talent."
"Pretty much every song that I'm on, I'm asked to be on. I don't ask people to be on their songs," before revealing that he doesn't charge for verses. "I never charge," he shared.
While he doesn't charge, the rap icon admitted to saying "no" more than "yes" when asked to be featured on songs. 
Peep the clip below:
JAY-Z says he doesn't charge for collaborations, says they are mostly based on relationships and sometimes talent#HartToHeart Season 2 is now streaming on @peacockTVpic.twitter.com/GmB4z6i6Np

— JAY-Z Daily (@JAY_Z_Daily) July 15, 2022
Also during their conversation, Jay opened up about how fatherhood changed his perception of time. The 4:44 rapper talked about the importance of actually spending time with his family, wife Beyoncé, daughter BlueIvy (10), and twins Sir& Rumi (5).
"Time is all you have. That's the only thing we control," he said."It's how you spend your time. You're reckless with your time before; you're just all over the place… What are you leaving your house for?"
We last saw Jay-Z in daddy mode with his daughter Blue Ivy last month where the father-daughter duo rocked coordinating black 'fits courtside at Game 5 of the NBA Finals between the Boston Celtics and Golden State Warriors.
He further explained all the time parents spend away from their children is time "away from the development of these people that you brought here, that you love more than anything in the world."
Once he realized how to exercise spending more time with his family, he said it "changed practically everything" for him.
Watch the clip below:
JAY-Z says fatherhood changed everything for him. Talks about prioritizing time for his children#HartToHeart Season 2 is now streaming on @peacockTVpic.twitter.com/4GN9exoA5U

— JAY-Z Daily (@JAY_Z_Daily) July 15, 2022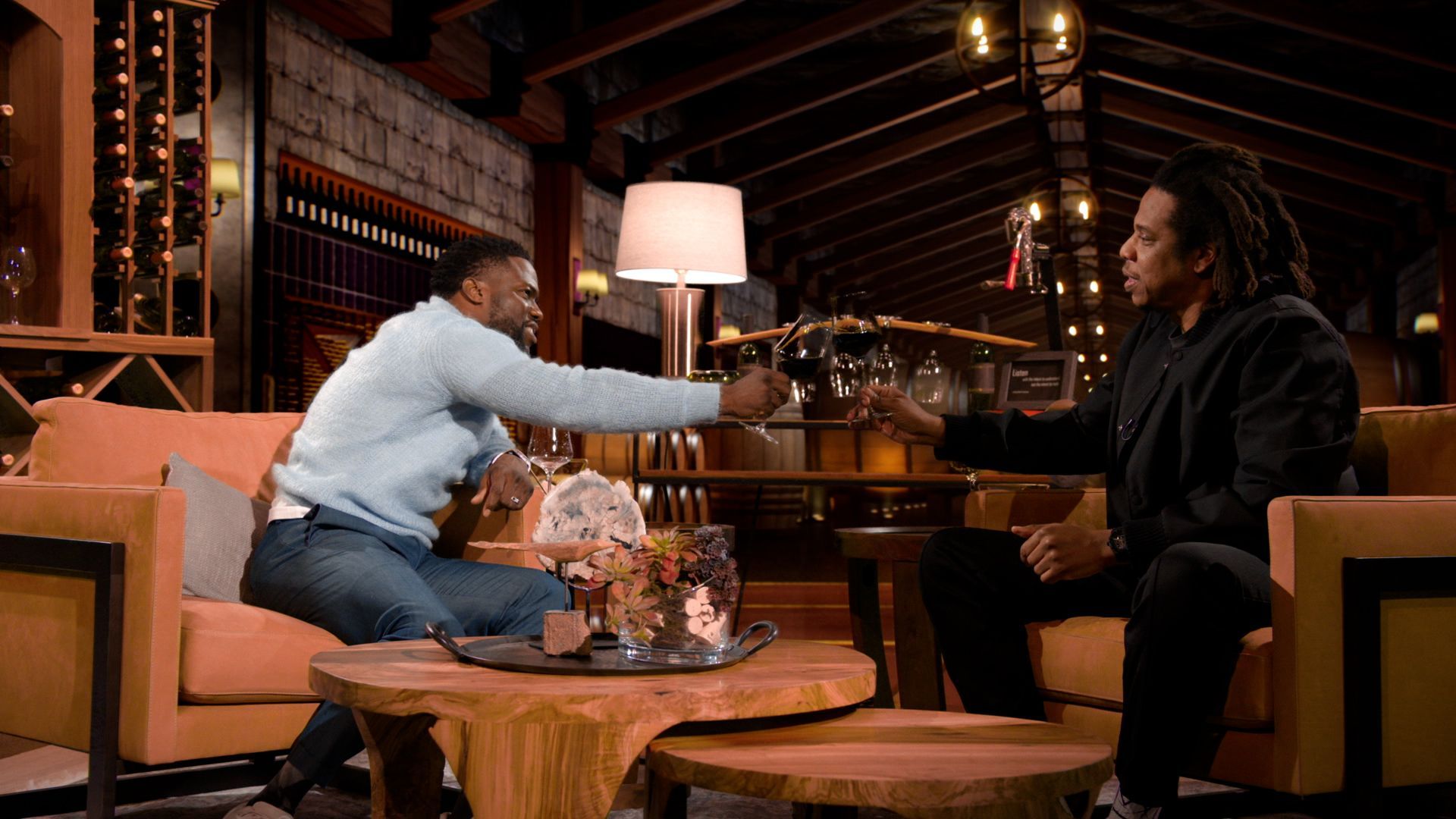 Speaking of fatherhood, both Hov and Kevin opened up about their strained relationships with their own fathers and how it impacted them. Changing his perspective about his father, Jay-Z was able to understand why his father distanced himself from his family.
"It was like ... he's doing this to me," he said about his father's actions. "What cracked the code for me was like, really, what was he going through?"
Watch the powerful clip below:
JAY-Z talks about his dad and the importance of seeing things from other people's perspective. #HartToHeart Season 2 is now streaming on @peacockTVpic.twitter.com/55TPIzcDH9

— JAY-Z Daily (@JAY_Z_Daily) July 15, 2022
Felt.
As music and entertainment continues to evolve, Jay-Z has found a way to remain relevant, even in the absence of using social media. While he respects it, Hov said social media just isn't for him. Watch the clip below:
JAY-Z finally addresses his Instagram stints, says social media isn't for him. pic.twitter.com/SmLTIjl6fF

— JAY-Z Daily (@JAY_Z_Daily) July 15, 2022
You can watch the full interview of Hov's "Hart to Heart" interview on PEACOCK.
On the red carpet...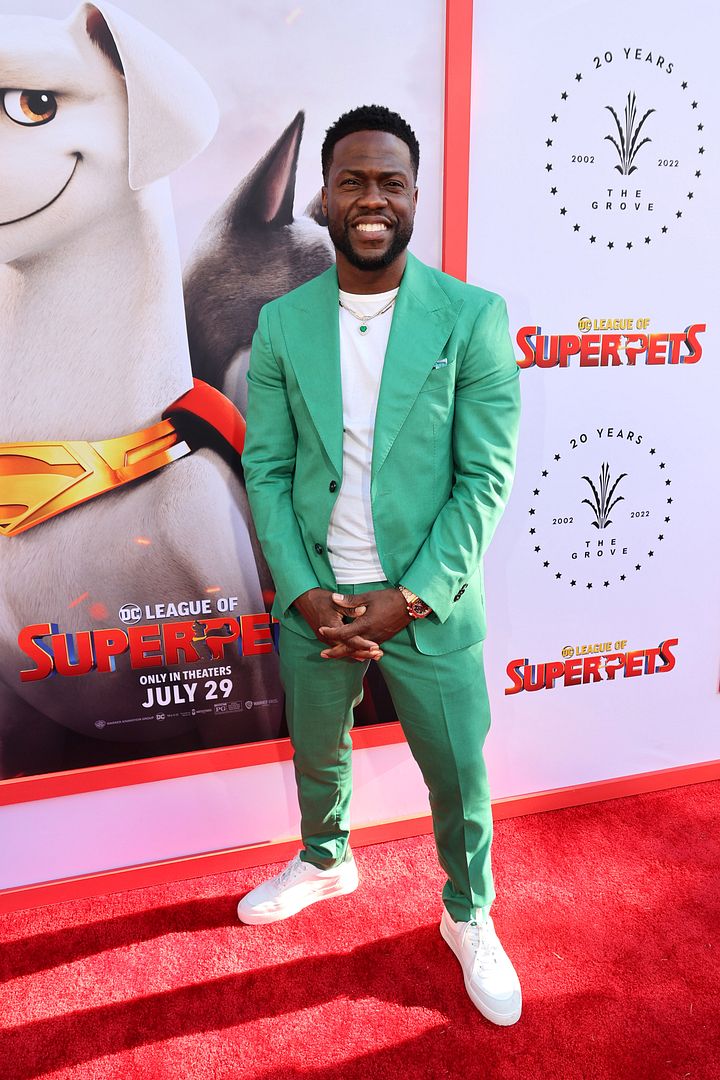 Kevin Hart joined his DC League of Super-Pets castmates, including Dwayne "The Rock" Johnson, on the red carpet of the Los Angeles screening of the film.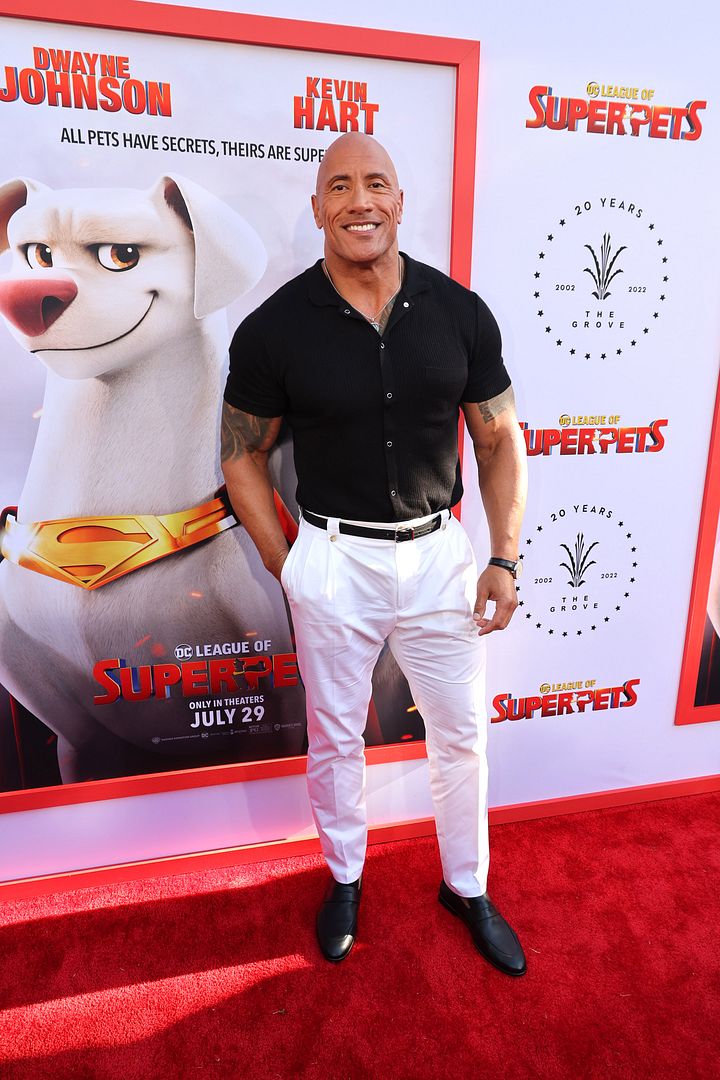 The Rock stars as the voice of Krypto the Super-Dog. Kev is voicing Ace, Batman's dog. Aww. Reunited.
In addition to The Rock & Kev, DC League of Super-Pets will also feature the vocal talents of John Krasinski, Keanu Reeves, Kate McKinnon, Vanessa Bayer, Natasha Lyonne, and Diego Luna.
The film will premiere in theaters on July 29th.
Photos: Peacock/Eric Charbonneau Photography