Chile, last night's R&B VERZUZ Battle between Mario and Omarion was certainly one for the books! Mario was on his Big Bad R&B Boy ish and clearly got under O's skin. Also, that pre-show featuring Ray-J, Bobby V, Sammie and PleasureP was a mess! Get it all inside…
"You can't spell Omarion without Mario!" Chile, the R&B VERZUZ Battle between Mario and Omarion - hosted by comedian Deray Davis - was LIKE THAT!
Oh yes, the guys were in their bag last night with hilarious banter. And who knew Mario was THIS much of a troll? The "Just A Friend" singer was giving it to O the entire night! At first, Mario started off humble, giving O his flowers before the B2K leader switched up the energy. He was on demon time, so Mario came him that and more.
Mario came out so humble.. then he saw Omarion wasn't on that energy.

He's been choosing violence ever since. #VERZUZpic.twitter.com/cCbvXLoWBs

— beyonce is coming (@xoraveen) June 24, 2022
Hitting the stage at The Novo Theater in downtown Los Angles, Mario, 35, and Omarion, 37, battled it out track-for-track, serenading the audience and music lovers at home with their early 2000s hits. We're not sure if Mario got into O's head or not, but O didn't seem to be on his game as tight as Mario was. And it was evident.
As R&B heads said on social media, this was MARIO's CONCERT:
When you wake up and re-watch this, you instantly feel the second hand embarrassment for Omarion.

Mario COOKED him. ROASTED him. DRAGGED him. #Verzuz has the ability to elevate and expose artists. https://t.co/vLMTpw0FOx

— Ernest Owens (@MrErnestOwens) June 24, 2022
Mario had the audience sing his song "Crying Out For Me" to Omarion:
Mario having the crowd sing while grinning in Omarion's face is some anime villain level shit that I can respect #Verzuzpic.twitter.com/rv10Xl8Pfj

— D.E.O. (@ImJustDEO) June 24, 2022
We can't!
O appeared bothered:
Mario really had Omarion bothered

This my jam by the way #Verzuzpic.twitter.com/77wcjgQbCO

— Mimi Rose (@iam_mimirose8) June 24, 2022
The jokes about O's singing were NON-stop. Mario called O a "dancing lil n****" a few times during the show before he called O a terrible singer and said he needed some MILK! OMG! He mentioned he never wanted to be that "raggedy a** Millennium Tour" and said he was David Ruffin while everyone else was the Temptations. Listen, Mario would not get off of O's NECK!
Omarion brought out his brother, O'Ryan, and PROPS to seduce the crowd. Watermelon to be exact:
I'm just trying to understand…WHAT WAS THE REASON OMARION?! O'RYAN?! WATERMELON?!? Hits running low?! #VERZUZpic.twitter.com/Ly2ZvvISRw

— Vontay is Typing... (@ayeyovontay_) June 24, 2022
We're not sure why this happened, but Mario was not feeling them eating "watermelonn coo****" on stage.
"This yo KING!?! Eating watermenlon on the #Verzuz stage!!??" pic.twitter.com/bKyCQwCEUI

— Farrah's Luggage (@iamRonDMC) June 24, 2022
O also brought out singers Jeremih and Tank to assist. Mario clowned Jeremih's vocals (which were bad) and then he joined Tank in a riff-challenge. Check it below:
Mario said Omarion and Jeremih better stop they sound crazy #Verzuzpic.twitter.com/PUwXZjEki2

— Aria (@ariaischic) June 24, 2022
The "Ayo STOP" comment took us out!!
TANK probably wondering why he agreed to this #Verzuzpic.twitter.com/lMTbjNE9oq

— Aria (@ariaischic) June 24, 2022
The Internet CUT UP with hilarious reactions during the battle:
Mario called Omarion a dancing lil nigga, a terrible singer, and called his tour "raggedy shit". Then skipped away hitting a high note…

and no swings were swung #verzuz

— Dvrryl (@Dvrryl2times) June 24, 2022
#Verzuz: omarion we need you to SING your biggest hits
Omarion: pic.twitter.com/S54jIver04

— ITS ME (@nottramar) June 24, 2022
Omarion: you ain't got no more hits

Mario: YOU SHOULD LET ME LOVE YOU #Verzuzpic.twitter.com/5w21cTvNdk

— Rihanna is on B7 (@wiz_thcreator) June 24, 2022
Mario calling niggas terrible to their face and then hitting 7 runs is wild Lmao #verzuz

— Dvrryl (@Dvrryl2times) June 24, 2022
Tank and Mario on stage #Verzuzpic.twitter.com/j2J2BE9YZD

— philip lewis (@Phil_Lewis_) June 24, 2022
Omarion has brought out
- His brother oryan
- watermelon
- Jeremiah
- Tank
- Tommy the Clown and the Krumpers
Someone said "Every one except b2k"
And still lost #Verzuz#VerzuzTV

— Ash-Lo™ (@AshLoIAM) June 24, 2022
I loved every second of this ghetto ass show tonight #Verzuzpic.twitter.com/2ZFxgVB2xP

— andrew garfields durag (@ComingForxYou) June 24, 2022
Oh, and the pre-show to the R&B battle was just as crazy. Singers Ray J, Bobby V, Sammie, and PleasureP were the opening acts and it likely was the most chaotic mini battle ever.
Peep clips and reactions below:
they are NOT taking Ray J seriously #verzuzpic.twitter.com/gGjs3x8M7K

— ・゚spreading positivity ☆ (@aundrearunway) June 24, 2022
"All y'all just mad y'all don't own y'all hits" - Ray J to Bobby V, Sammie and Pleasure P #Verzuzpic.twitter.com/q23ko2lUWx

— philip lewis (@Phil_Lewis_) June 24, 2022
Sammie just called Ray J "Brandy's brother," he's out of control #Verzuz

— philip lewis (@Phil_Lewis_) June 24, 2022
They said this was Ray J, Pleasure. Bobby V , and Sammie . #Verzuz#VerzuzTV#RayJ#Sammie#PleasurePpic.twitter.com/sCpp9DPxAB

— Quin Hackett (@Love_My_Tattz) June 24, 2022
The next morning: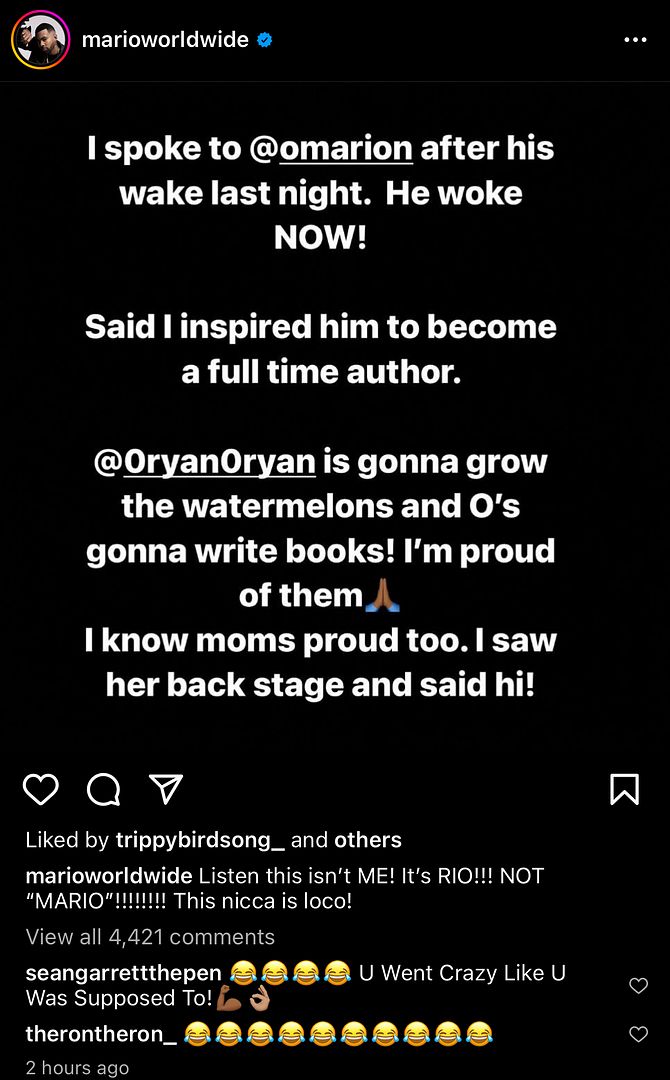 Mario was STILL trolling Omarion, clowning him over the way he bodied him during the Verzuz.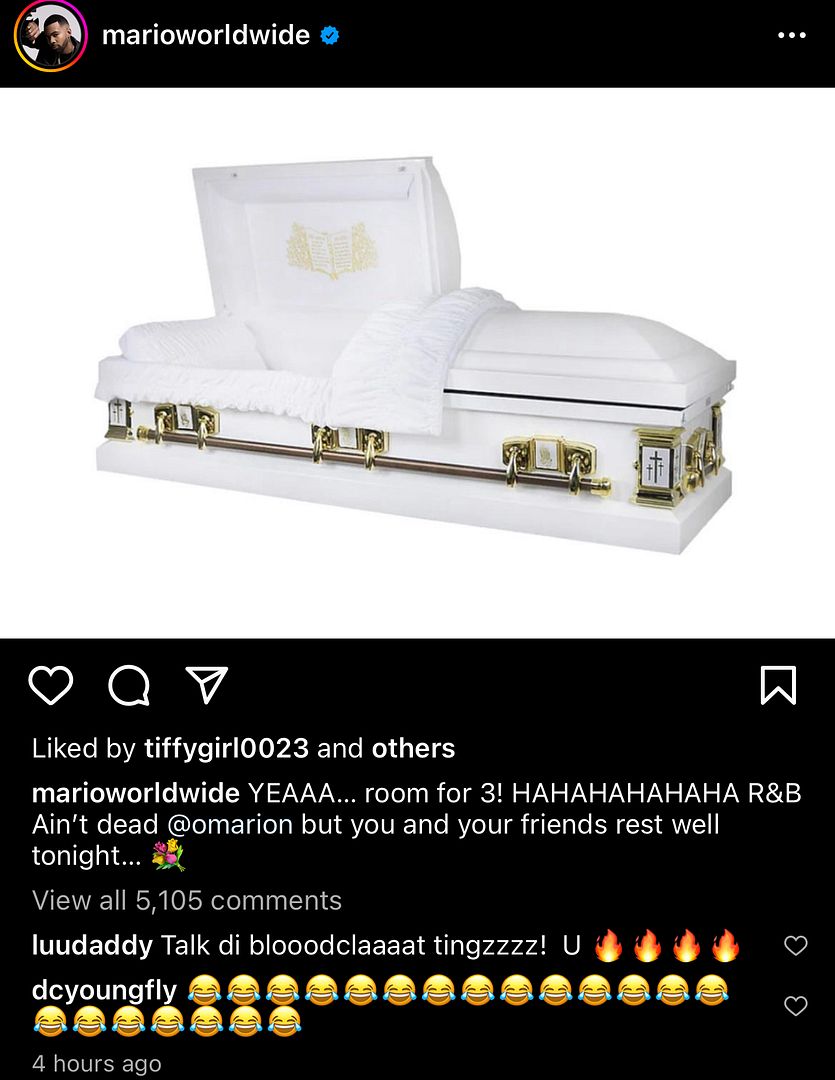 L-O-L
Omarion's B2K bandmates J-Boog, Raz-B and Fizz also woke up and chose violence, clowning O over his Verzuz "L":
Womp. 
You can watch the full show below:
We should have known this was going to be some foolery based on the promo skits: 
Hilar!
Want more? We've rounded up all the funny memes circulating online following the battle. Swipe through below!  
Photos: Instagram