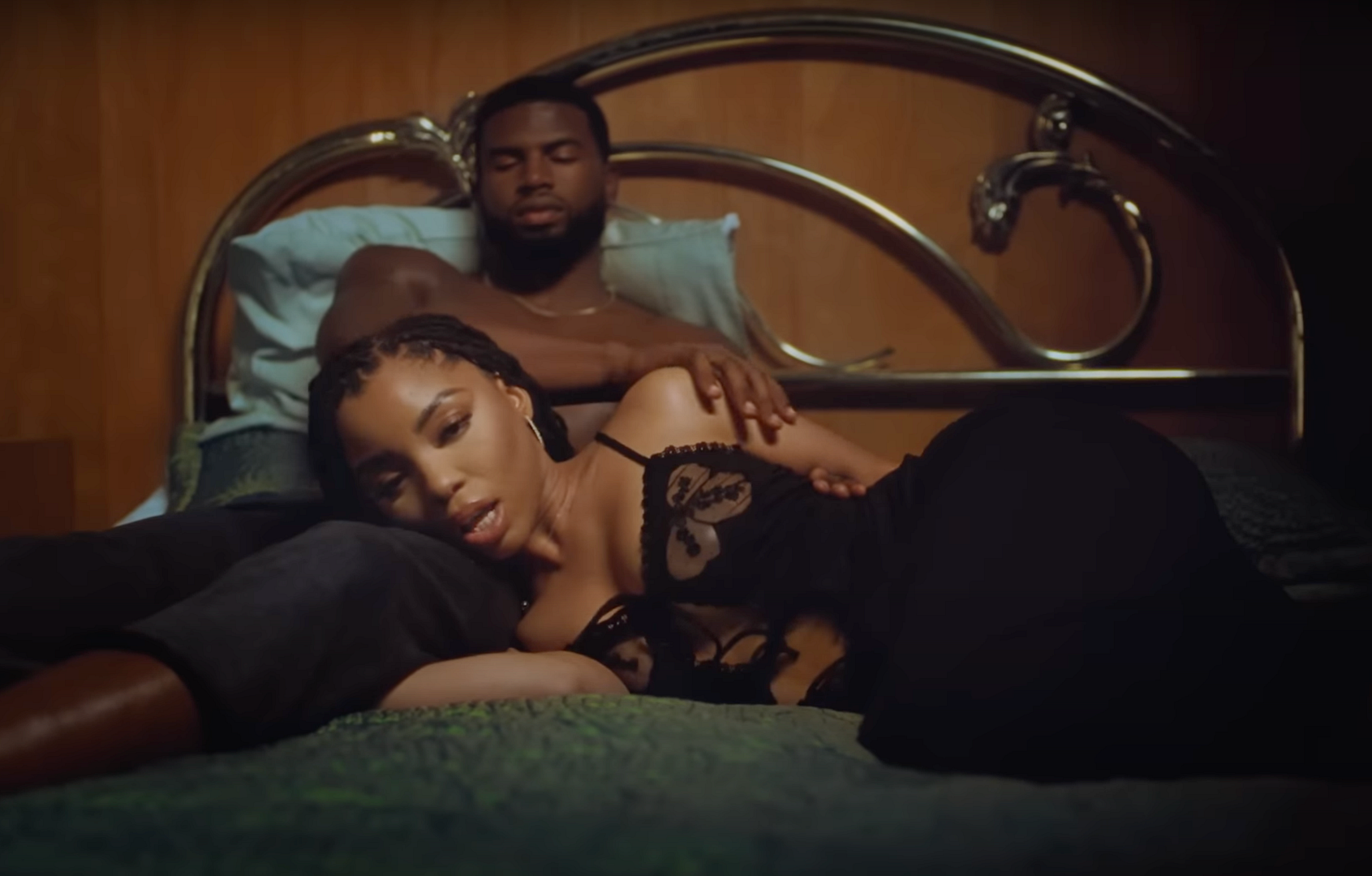 It's FRIDAY, which means new music just in time for the weekend. ChloeBaileydropped her "Surprise" video and it features model BroderickHunter. Whew! Also, we've rounded up all the Friday drops and bops. Take a listen to the new tracks inside…
It's Friday, which means new musical drops!
Chloe Bailey has been teasing fans with new music over the last few weeks.
After asking fans (and Queen Bey) for their input, the "Treat Me" singer has released her new single "Surprise," as well as a music video to accompany the song ahead of its debut performance at the 2022 BET Awards. The vocalist tapped fine a** model Broderick Hunter as her love interest and we're not mad it. This man is FIONE.
The visuals were directed by DianaKunst, while ScottStorch and IllaDaProducer co-produced the sultry track.
On the track, she sings:
"If you be good to me then I'ma be great to you / If you stay down for me then I'll stay awake for you / Surprise, slip my panties to the side / Give me your money, baby, I'll make it rain for you / Feel like you cheatin' the positions / I play for you Surprise, tonight you get my freaky side."
"Surprise" is the third single from Chloe's upcoming self-titled debut album, which will be released on Parkwood Entertainment/Columbia Records this year.
Last month, Chloe hopped on Instagram to play three new tracks from her album, "Cheat Back," "For The Night," and "Surprise," and asked her fans to pick which song she should release next. After taking a poll, she came back and hinted that Beyonce (her mentor/label head) advised her to go with "Surprise."
"When the queen speaks, the queen speaks, and that's all I'm gonna say," she said in a video:
BEYONCÉ MADE CHLOE DROP SURPRISE?? LMFAOO this the "Beyoncé needs to step in" YALL been begging for pic.twitter.com/JGdTeWb87i

— partnaissance ˣ (@onIychloexhalle) June 14, 2022
The Queen has spoken. And here are Chloe's "Surprise" visuals below:
Chloe will hit the stage at the 2022 BET Awards on June 26th where she'll likely perform her new song, "Surprise" She has been nominated for four BET Awards this year. Fingers crossed she nabs one.
More bops that dropped today…
Drake dropped his 7th studio album, titled "Honestly, Nevermind," which he dedicated to his late friend/artistic director of Louis Vuitton's menswear collection Virgil Abloh. The masses have mixed reactions at best. You feeling the new album?
Lil Baby just dropped a new track and music video for "U-Digg," featuring two of Detroit's pacesetters, 42 Dugg& Veeze. Flexing his director skills, Baby got behind the camera to direct the track's visuals.
The new track and video comes on the heels of Baby's debut screening of Untrapped: The Story of Lil Baby at the 2022 Tribeca Film Festival.
Directed by KaramGill, the film is raw, intimate, and chronicles the astonishing rise of a singular artist and activist. It was produced by Quality Films, MGX Creative, and 4PF.
Amazon Prime subscribers will be able to watch the film when it's released August 26th. In the meantime, check out Baby's new video above.
Yessssss, come thru vocals!
EGOT John Legend R&B singer MuniLong for his latest single, "Honey," from his forthcoming album.
Sexy and silky with elements of R&B, pop and jazz woven throughout, "Honey" was produced by Ryan Tedder, Steven Franks, Lindgren and TommyBrown, with John and Muni serving as co-writers on the track.
While John and Muni previously worked together as songwriters, "Honey" is their first collaboration as recording artists. The track is the second single from multi-platinum artist's new album, following the project's lead single "Dope" featuring rapper J.I.D.
Get into "Honey" above.
Babyface and EllaMai collaborated for a summer time bop titled, "Keeps On Fallin.'"
With her silky, soulful vocals, Ella Mai extols a longtime lover who can still give her butterflies. Babyface weighs in, reminding her that she's the inspiration for this lasting love. The dreamy jam interpolates "Can We Talk," TevinCampbell's 1993 hit, which Babyface wrote and produced with DarylSimmons.
"When I first heard Ella's voice, I thought, 'what an incredible and distinctive voice, I have to get in the studio with her!'" Babyface recalls."Well, I did…and it was everything I imagined and more!"
"Working with Babyface was an absolute dream come true for me," says Ella Mai. "To be welcomed and praised by someone so talented and acclaimed, I couldn't have asked for our 'Keeps On Fallin' sessions to be any better. We sang, we wrote, we laughed and we talked. Babyface is so humble and a pleasure to work with, I hope this record is the start of many more."
Take a listen to their new song above.
Ne-Yo brings the heat with his new single, "You Got The Body." The three-time GRAMMY Award-winning R&B hitmaker is gearing up for the release of his eighth album, Self Explanatory, set to drop July 15, 2022. Take a listen to his new single above.
Gucci Mane just dropped his latest compilation "So Icy Gang: The ReUp," a deluxe version of 2020's "So Icy Gang, Vol. 1." The new LP features 32 tracks with plenty of contributions from the New 1017 roster. Watch the video for Gucci's "First Impression," featuring Quavo& YungMiami.
1501 rapper EricaBanks is back with a new mixtape. She just released "Diary of The Flow Queen," which features bars from DreamDoll, BankrollFreddie and BeatKing, along with the new single "Trick."
Rapper KevinGates - who confirmed his breakup from his wife DrekaGates earlier this month - just dropped his third studio album, "Khaza." The 19-track LP features the singles he released over the past few months, including "Big Lyfe" and "Bad For Me."
Logic also dropped a new 30-track album, titled "Vinyl Days," with features from Action Bronson, Royce 5'9'', The Game, RZA and plenty more. The new musical offering comes days before his co-headlining tour with WizKhalifa, which kicks off next month.
Plenty of bops to vibe out to his YBF Weekend.
EXTRAS:
1. MariahCarey, TheNeptunes (PharrellWilliams& ChadHugo), The IsleyBrothers, SteveMiller, and the British electro-pop band Eurythmics were inducted into the Songwriters Hall of Fame. STORY
Photo: YouTube Screenshot