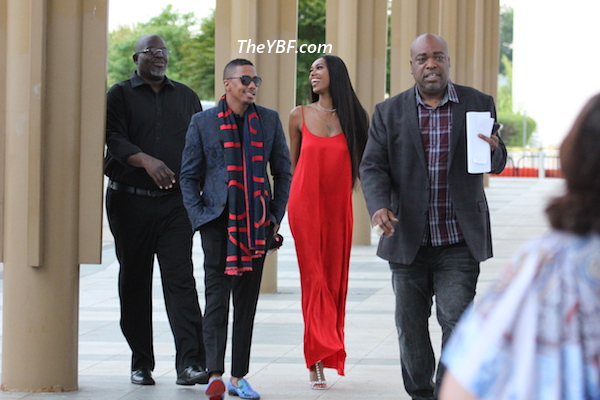 If Nick Cannon does nothing else, he's gonna get the people talking with a new-ish relationship and hints of another baby.  The self proclaimed "King of Raw & B" is living up to his new title with his upcoming explicit album.  The nude covers he just shared featuring his ex Jessica White and his "announcement" inside.
We don't know what Nick Cannon is telling these women, but whatever it is, it's working because dude is back on one with one of his many exes, model Jessica White.
Late last night, Nick was on demon time and dropped the cover of his supposed next project, Raw & B, that's set to drop Friday.  And it's featuring a fully nude Jessica White in prime "dinner" position.
Nick and Jessica dated off and on for the past several years, calling it quits in 2020 after he got one of his several babies' mothers, Brittany Bell, pregnant for the second time.  Nick went on to have several more children with multiple other women after that, all while dating another model, Lanisha Cole, who is also currently pregnant but hasn't revealed, yet, whether Nick is the father.
Nick's caption for the first cover says he has another announcement coming soon (while Jessica's caption says "Nick and Ihave a very special announcement coming Friday.").  The masses ALREADY have concluded that could only mean he's about to confirm another baby.  Is it the baby with Lanisha, or is Jessica White now pregnant too?  Or is it something else entirely?! 
We do know Jessica and Nick have been extra cozy lately, partying together back in March at Nick's New York strip club gig where he DJ'd.  Jess also posted an interesting message in April (last month), saying how badly she wants a baby:
Nick is now calling Jessica "his muse", and Jess' caption on the posts she made about the cover is giving "I'm in love again":
Chile.....clearly Nick is putting ish down and is about to give folks the blueprint on how based on these song titles.
Stay safe out there y'all.....
Photo: Backgrid