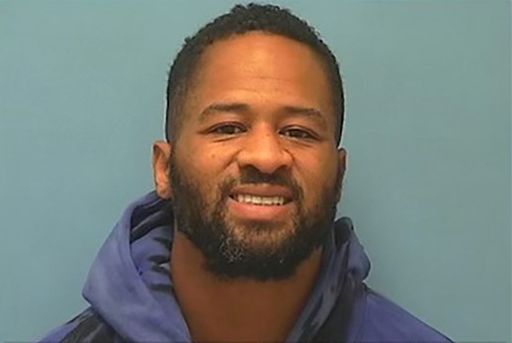 Former NFL player Earl Thomas was chilling inside of a Texas bar before someone called the cops on him and he was arrested. The reason? Last month, an Austin judge issued an arrest warrant for him last month for allegedly violating a protective order on multiple occasions by sending threatening text messages to a woman. Deets inside…
Life after the NFL forEarl Thomas hasn't been great. In fact, it's been horrible. 
The seven-time Pro Bowl safety - who hopes to return to the NFL one day - was arrested and booked into jail in Orange County, Texas Friday, according to court documents.
The former Baltimore Ravens safety was chilling at a bar before Orange County police officers showed up to arrest him. The 33-year-old was taken into custody more than two weeks after an Austin judge issued an arrest warrant for allegedly violating a protective order multiple times within a year.
We're not sure how someone in the bar knew he had an active warrant, but they knew and called the cops. He was picked up around 8:30pm Friday (May 13th) in Orange County.
The former Seattle Seahawks player spent a few hours behind bars before he posted $15,000 bond and was released Saturday morning…seven days after his 33rd birthday.
Last month, an Austin judge issued an arrest warrant for former University of Texas baller after he violated a court protective order by sending threatening messages to a woman about her and her children.
According to the Austin American-Statesman, Magistrate George Thomas signed a warrant on April 27th, charging Thomas with a third-degree felony for allegedly violating the protective order two or more times within 12 months. The case has been assigned to a Travis County state District Court. 
Earl's attorney previously told the local Austin paper his client was simply communicating with his estranged wife, Nina Thomas, about their kids, something he says he is permitted to do under the order.
"They were consciously and collectively working together to see his kids," his attorney Trey Dolezal said. "I don't really understand how he could be in violation by working together to visit with his children." 
However, his estranged wife claims he hasn't been following through with co-parenting through the phone application and also claims he has threatened her and their kids lives in scary text messages.
The site reports:
In the arrest affidavit, police allege Thomas violated a protective order that was issued in May 2021 by a Travis County civil court judge. That order stated that Thomas could communicate with the woman only through a co-parenting phone application. The woman told police that Thomas refuses to download the application and instead reaches out to her by phone, and he arrives unannounced at places she frequents. 

Recently, the woman told police Thomas began sending her text messages that threaten the woman and her children.

On April 18, police say Thomas texted the woman that he obtained two handguns earlier that day. Later, he texted, "Waiting on hand in foot is why I'll kick ur ass."

The next day, police say, Thomas texted, "I hope u in the car with him and the kids and yall drive off the road." That same day, police say he texted, "Ima let my momma and my cousins poison they (their children) ass."

The woman told police Thomas suffered several concussions playing football and might have CTE — the term commonly used for brain degeneration caused by head trauma.
According to additional court records, Thomas was arrested in Travis County in February 2021 on a misdemeanor charge for carrying a weapon unlawfully. He agreed to forfeit the weapon, and the case was dismissed in February 2022.
In May 2020, Earl's estranged wife Nina was arrested after she tracked her husband down, caught him cheating with some chicks, and held him at gunpoint! She was charged with burglary of a residence with intent to commit aggravated assault with a deadly weapon - family violence. She bonded out of jail following the incident. Also, an emergency protective order was put in place for Nina to stay 200 yards away from Earl and his alleged mistress.
You'll recall, Earl married Nina (his high school sweet) tied the knot at the luxurious Chateau Cocomar, a $10 million European-inspired estate, in Houston, back in 2016. At the time, he played for the Seattle Seahawks and was a member of the team's iconic Legion of Boom." Seahawks quarterback Russell Wilson and his wife Ciara both attended the ceremony. You can check out the pictures HERE.
Earl and Nina share three adorable kids. Let's hope they can get things right for the sake of their children.
Photo: Orange County Jail/Travis County Sheriff