Blac Chyna has found herself in the middle of a criminal investigation after a woman accused her of kicking her in the stomach at a bar just days after she lost her defamation suit against the Kardashian-Jenners. Deets on the alleged attack, plus what Tokyo Toni claims she and her daughter Chy have in store inside…
Blac Chyna is going through it!
A woman filed a police report against Blac Chyna - just days after losing her defamation lawsuit against the Kardashian-Jenners - accusing her of assault, so she's she's criminally investigated by the LAPD. 
The alleged victim - named Sequoya King - told TMZ and Facebook that Blac Chyna (real name Angela Renee White) physically attacked her during a dispute at a bar in Los Angeles early Friday morning.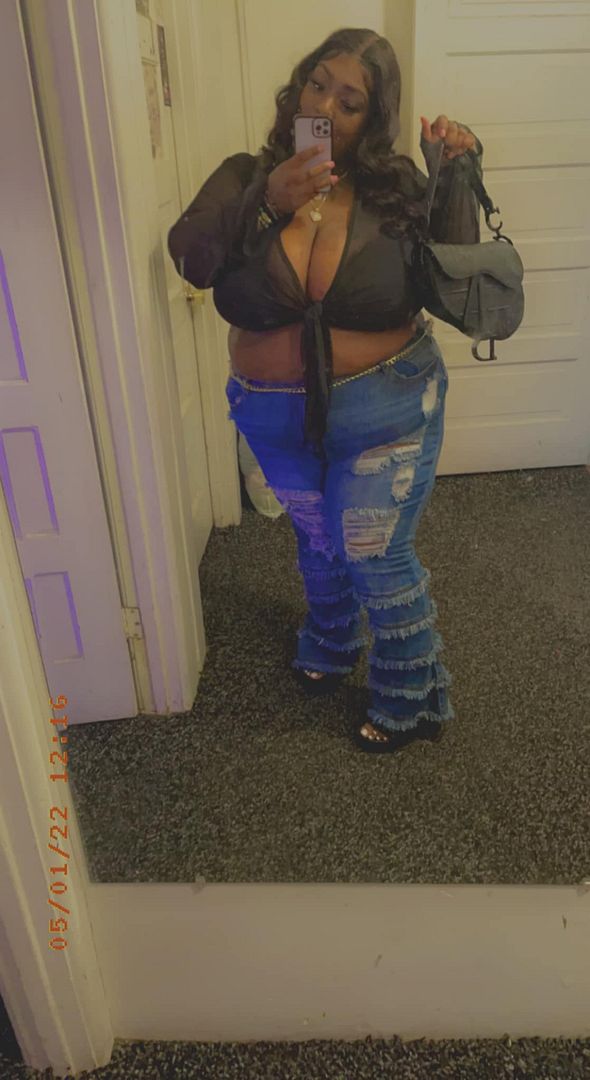 In her Facebook post, Sequoya (pictured above) shared Chyna destroyed her cellphone and kicked her in the stomach, causing her to fall down, after a verbal dispute turned physical.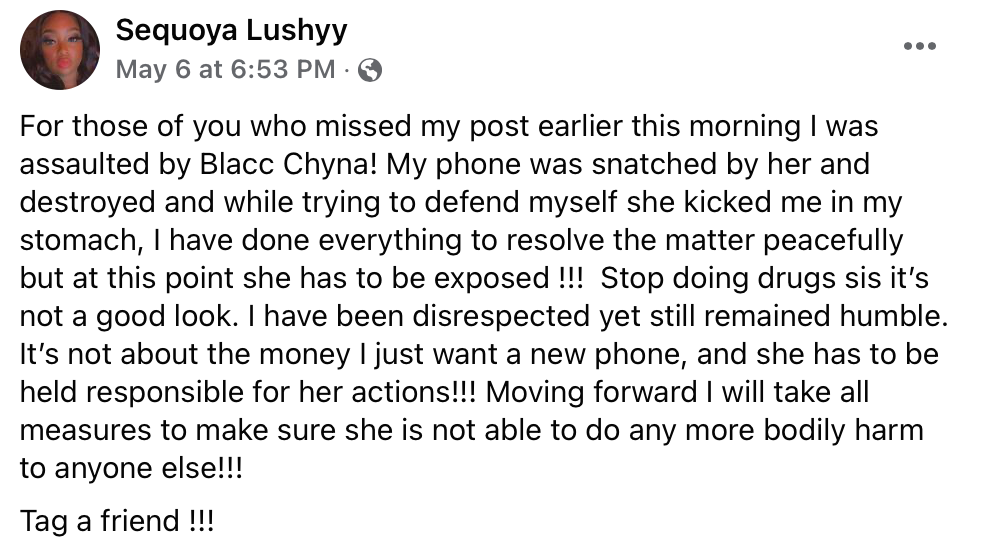 "For those of you who missed my post earlier this morning I was assaulted by Blacc Chyna!," she wrote. "My phone was snatched by her and destroyed and while trying to defend myself she kicked me in my stomach, I have done everything to resolve the matter peacefully but at this point she has to be exposed !!! Stop doing drugs sis it's not a good look. I have been disrespected yet still remained humble. It's not about the money I just want a new phone, and she has to be held responsible for her actions!!! Moving forward I will take all measures to make sure she is not able to do any more bodily harm to anyone else!!!"
So, what was Chyna and this woman arguing about in the first place?
It seems Chyna confronted the woman when she thought she was being recorded by people in the bar. Chyna allegedly snatched the woman's phone out of her hand and slammed it to the ground. Sequoya denies ever filming Chyna. TMZ shared flicks of the alleged phone:
After Chyna allegedly attacked the woman, her friends pulled her away and got her into a car. A video of the aftermath has surfaced, which you can check out below:
Check out the video which shows the aftermath of the alleged attack.

At around 1:15 you hear the alleged victim say, "Did you feel good when you kicked me in my fat-ass stomach?"

It sounds like Blac Chyna denies it.

Thoughts??? #BlacChyna#SequoyaKing#Lovelytitvpic.twitter.com/uv1aDsUEWQ

— lovelyti (@lovelyti) May 7, 2022
The battery accusation comes just days after Chyna lost her $140 million defamation suit against the Kardashian-Jenners. Despite not winning, jurors found that Chyna did not harm her ex-fiancé Rob Kardashian. Chyna's lawyer, Lynne Ciani, plans to file an appeal. By the way, a separate trial is reportedly set to begin soon to address allegations in the lawsuit against Rob Kardashian. He's the only defendant in that case.
As for Chyna's mother…
After creating a GoFundMe to fund Chyna's appeal, Tokyo Toni claims she and her daughter are working on a new TV talk show with her daughter. Chyna's controversial mother told TMZ the show will carry her name and will be shown on her own network.
"We are going to do one [a new show], on my network it's called the SHN network it's called 'Talking With Tokyo.'"
The show will be more like a "chat show" rather than a reality show where she and Chyna will talk to guests.
"Yeah (a talk show) me and Blac Chyna. Every day (we will be interviewing) people celebrities, you TMZ, bloggers, come on in stage sit down and talk," Tokyo continued.
Peep the clip above. Would you watch?!
In case you were wondering, Tokyo has raised $1,281 of her $400,000 GoFundMe goal. 
Photo: Jean_Nelson/Depositphotos