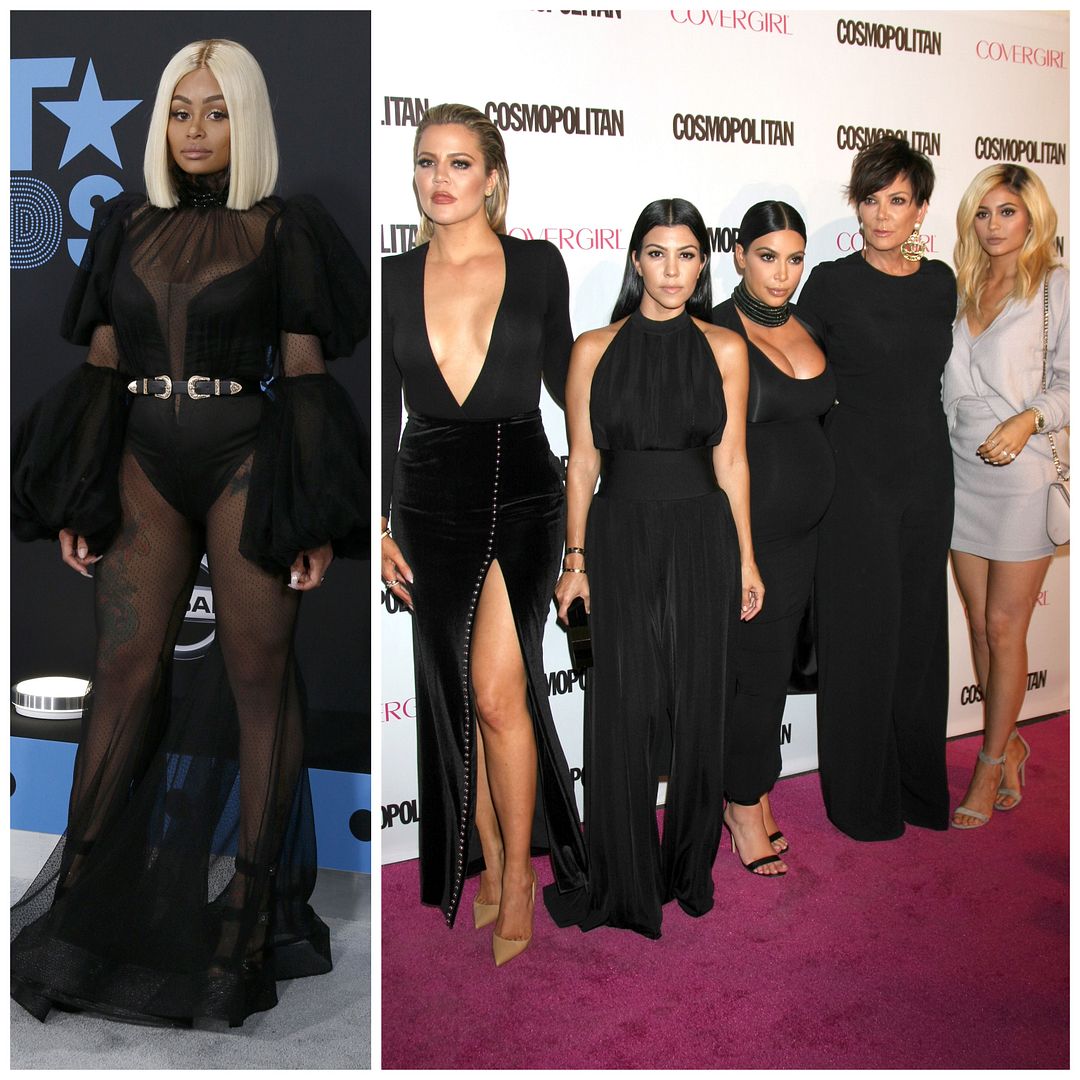 The drama is now a reality in the courtroom! Threats to stab & kill are FLYING! Kylie Jenner, Khloe Kardashian, Kim Kardashian, Kris Jenner and CoreyGamble took the stand this week in the ongoing legal case brought against them by BlacChyna, who is suing the family for more than $140 million over defamation and claims that they ruined her reality TV career.  Everything inside…
Blac Chyna's $140 million lawsuit against Kylie Jenner, Kim Kardashian, Khloé Kardashian and Kylie Jenner is well underway! However, the Kardashian-Jenners want the case dismissed immediately.
According to Variety, the Kardashian-Jenners have requested a judge dismiss the ongoing defamation case against them launched by the former fiancé of RobKardashian. Blac Chyna (real name Angela Renee White) is suing the famous family for more than $140 million, claiming they ruined her reality TV career.
— Blac Chyna (@BLACCHYNA) April 2, 2022
In a motion filed this past week by the Kardashians' lawyer, Michael G. Rhodes, the family is asking the court to dismiss Chyna's claims.
"Before trial began, these claims were absurd because there was no documentary evidence, economic analysis, or expert testimony that would support them," Rhodes states in the Aprill 22 court documents, obtained by Variety. "Any attempt to assign economic damages by the jury would be impermissibly speculative," the attorney continues, adding that Chyna's "unsupported and wildly speculative claims for damages must not be allowed to go to the jury."
Blac Chyna filed a lawsuit against the Kardashians in 2017 and she's seeking $109,635,021 in economic damages, plus an additional $36 million in general damages for emotional distress. She sued the family with accusations of defamation, assault, battery, domestic violence and interference with prospective economic relations.
In the suit, Chyna alleges her ex-fiancé/daughter's father Rob Kardashian was abusive and that the Kardashian-Jenners were responsible for the cancellation of the former couple's short-lived show, "Rob & Chyna." She also filed a lawsuit against Rob Kardashian, which will go before a jury in a separate trial.
On the flip side, the Kardashian-Jenners responded with their own lawsuit, alleging Chyna was the one who attacked Rob and that was the reason the show was canceled. They argued "Rob & Chyna" couldn't continue if they broke up.
Over the past week in court, a fight that turned physical between Rob & Chyna in late 2016 seems to be the key event that led to the show ending. It's alleged Chy wrapped an iPhone cord around Rob's neck and grabbed an unloaded gun during the infamous December 2016 fight.
Kris Jenner's longtime boyfriend, CoreyGamble, took the stand recently to detail a violent fight between Rob & Chyna where he jumped in to break it up.
Corey said he arrived at Kylie Jenner's house (where Rob & Chyna were staying at the time) in December 2016 to find Chyna with a two to three-foot rod in her hand. He said Rob's neck was red, which seemingly indicated he had been hit. He then said Chyna grabbed an iPhone cord and "started whipping it" at Rob.
"She was hitting Rob, and I got in the middle and got hit too. I had to try to get her attention on me so [Rob] could get his belongings and get out of the house. I could smell the alcohol on her," said Corey, adding that the house was a "mess" and that Christmas decorations had been thrown across the floor. He also alleged Chyna picked up a patio chair and threw it at Rob's car before jumping "on the back of him." 
When Chyna took the stand, she was asked if standing behind Rob with a phone cord and wrapping it around his neck "was a joke," Chyna said that it was. She was then asked if "grabbing a gun is funny," in which Chyna responded, "It was a joke."
Chyna only testified briefly. After she was shown the nude photos of herself Rob posted online, she was overcome with emotion and asked to leave the stand.
Kylie Jenner - who dated Chyna's ex-Tyga - testified Blac Chyna tried to kill her brother and that he told her Chyna pulled a gun out on him. She recalled waking up to threatening text messages allegedly from Chyna.
"She sent me a bunch of devil emojis and said, 'counting down the days' to beat me," she said.
As for why she didn't call the police, she said she thought it was an "empty threat" and that she assumed Chyna was "high."
Kylie noted Tyga told her Chyna - who shares son King Cairo, 9, with Tyga and daughter Dream, 5, with Rob - had issues with drugs and alcohol and that he showed her a six inch scar where Chyna allegedly used a knife and sliced him on his arm.
Text messages from Kris Jenner to the showrunner of "Rob & Chyna" show the Kardashian-Jenner matriarch texted them to "ditch this b*tch." She claims the text didn't have anything to do with the show ending and that she was merely expressing how she felt following the fight between Rob & Chyna.
After hearing about the fight, Kim Kardashian didn't want to film with Chyna on "Keeping Up With The Kardashians." During her testimony, she said she wasn't filming with Chyna after the fight. 
"I will not go into a toxic work environment," she texted. "On my own show, I have the power to do that."
USA Today reports:
In response to viewing one text exchange, a long conversation with a producer from production company Bunim Murray, which produced both shows, Kardashian acknowledged "this definitely sounds like something I would say."

In it, she expressed anger that Chyna might still be filmed for "Keeping Up With the Kardashians," which Chyna occasionally appeared on along with her own show.

"I think we all need to take a break from filming at this point until we figure out what's going on. She is not going to be on our show," the text read. "So if you guys are going to film with Rob and Chyna, and then you are going to lose the Kardashians and Jenners."

The text exchange includes several seemingly damning demands surrounding Chyna being filmed for "her" show, but Kardashian insisted that was a quirk of technology.

"This is clearly voice dictated, as is everything I text that's so long, and it's sometimes rendering 'our' as 'her," Kardashian testified. "I would never refer to her show as 'her' show, I would say 'Rob's show' since it's a spin-off of 'Keeping Up With the Kardashians.'"
Most of Kim's testimony was spent with her saying "I don't remember."
Khloé Kardashian took the stand, sharing she felt Chyna's dangerous behavior could "hurt" the Kardashian brand and that she wanted to protect Rob from "outrageous/chaotic/violent behavior."
Isn't this the same family that was threatening violence towards Jordyn Woodswhen that Tristan Thompson drama went down? Hmph.
Chyna's request to force the E! network to reveal how much it earned in profits from "Rob & Chyna" has been thrown out by a judge.
Judge Gregory Alarcon denied her request to subpoena the network to open up its books on the spin-off series. Lynne Ciani - Chyna's attorney - argued that details surrounding the profits E! gained from the series are vital to her claim for damages against the Kardashian-Jenner family. E! attorney Rochelle Wilcox filed an opposing motion, telling Judge Alarcon that such information is a "privileged trade secret" that should not be publicly disclosed.
Meanwhile, the sketches of Blac Chyna from the courtroom are trending on social media:
The courtroom sketch artist must be enamored with Blac Chyna because these sketches are giving Halston, they're giving Coco Chanel, they're giving HAUTE COUTURE!!!! pic.twitter.com/XAdbzYHlP7

— Meech (@MediumSizeMeech) April 20, 2022
no these courtroom sketches of blac chyna EAT pic.twitter.com/RiuD3AOeXt

— have some couth ho (@jupiterincancer) April 19, 2022
TWIST! The original sketch artist has returned! And Kris Jenner isn't wearing a mask anymore! And Blac Chyna looks to have HAD IT. And what is that picture behind Khloé's head!? AHH I love this trial! pic.twitter.com/6wMKz00k8f

— Dave Quinn (@NineDaves) April 21, 2022
We have new Blac Chyna vs. the Kardashians courtroom sketches and I have to wonder whether Kris saw the first set and brought in her own artist. pic.twitter.com/KBuR0KKipl

— Dave Quinn (@NineDaves) April 20, 2022
honestly obsessed with these courtroom sketches of the kardashians and blac chyna pic.twitter.com/61vtv55EEk

— Gail Platt's Stinkhole (@katecrimed) April 20, 2022
I can't lie, the sketch of Blac Chyna is eating https://t.co/bN0iUEeZim

— Dumpster Baby (@makeupbyjoxlyn) April 19, 2022
Ha! 
Who do you think will win this case?
Photo: Kathy Hutchins/Shutterstock