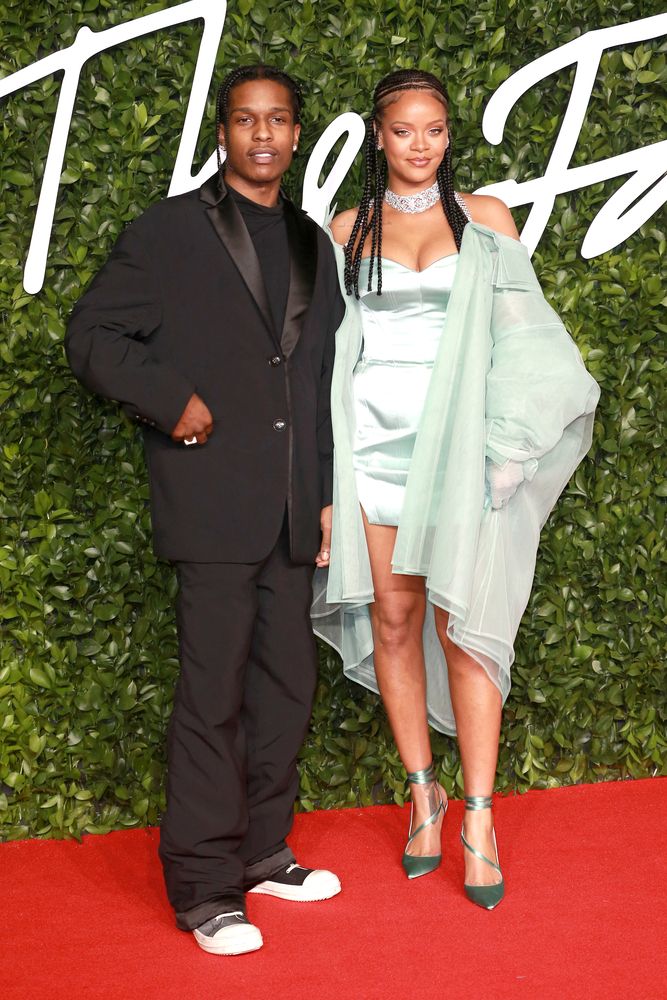 The Internet was on fire after a fashion blogger took to Twitter to announce Rihanna and A$AP Rocky broke up after RiRi allegedly caught him cheating with shoe designer Amina Muaddi. Sources close to the couple (as well as receipts and now Amina herself) are calling bullsh*t. More inside…
UPDATE:
The writer and self proclaimed "messy" influencer Louis via Roma posted a retraction and apology for his #Rihanna and #AsapRocky cheating and breakup rumor he posted to Twitter…and doubled down on. He says he will be taking time away from social media to find himself.
-------------------------------------------------------------
Rihanna is likely just a few weeks, if not days, away from giving birth to bundle of joy, whom she shares with rapper A$AP Rocky.
After introducing her best VOGUE magazine cover yet, the rumor mill cranked up with some unconfirmed rumors about a breakup. A fashion blogger named Louis Pisano - who has written major stories for publications like Harper's Bazaar - took to Twitter to announce Rihanna and Rocky had broken up over cheating allegations with shoe designer Amina Muaddi.
If you've been keeping tabs on Rihanna's fashion, the Bajan beauty has been rocking Amina's custom shoes A LOT over the years.  Amina also has be reposting the pap shots of Ri in her shoes every other day, as recently as this week.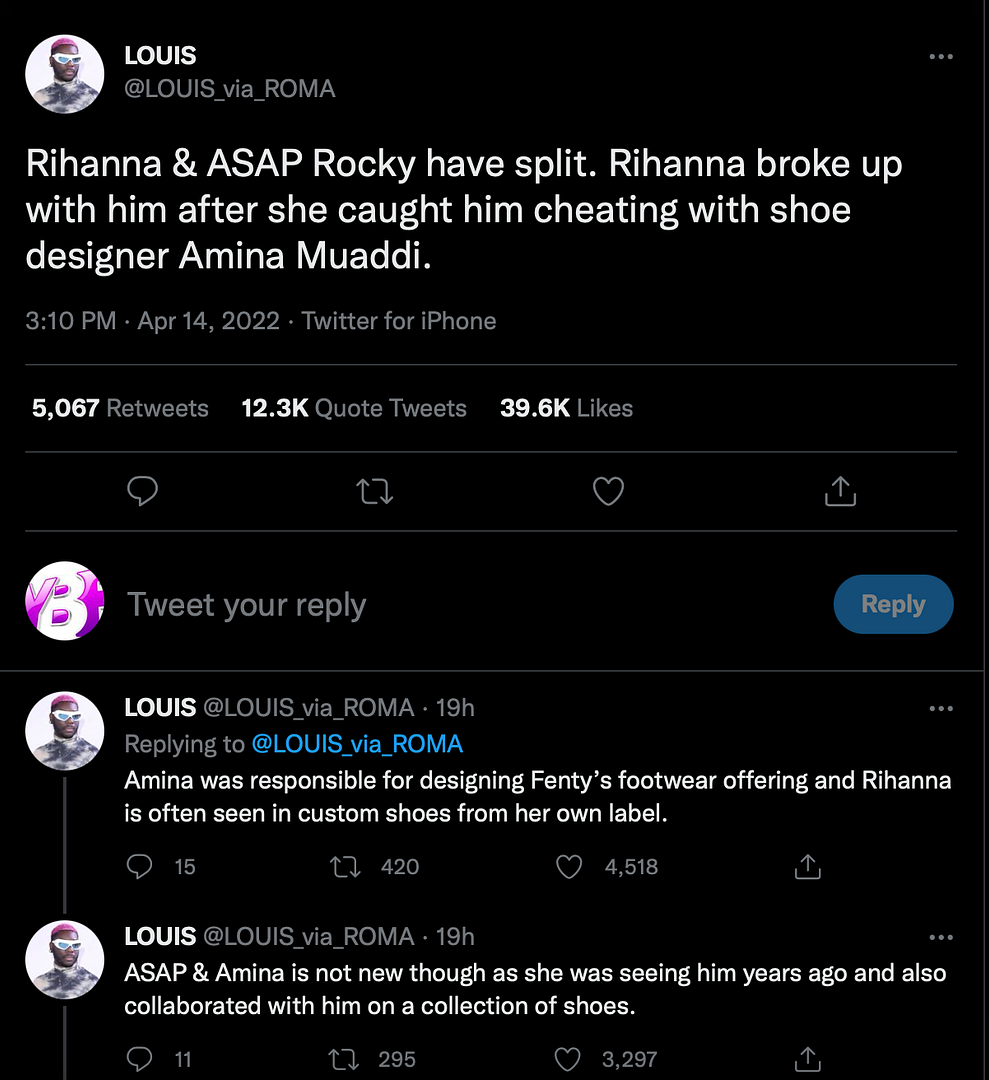 "Rihanna & ASAP Rocky have split. Rihanna broke up with him after she caught him cheating with shoe designer Amina Muaddi," he tweeted.

He continued, "Amina was responsible for designing Fenty's footwear offering and Rihanna is often seen in custom shoes from her own label. ASAP & Amina is not new though as she was seeing him years ago and also collaborated with him on a collection of shoes. Things apparently hit the fan at Craigs in LA."
"Allegedly this happened during Paris Fashion Week," he tweeted.
Obviously, folks were skeptical about the cheating allegations (that honestly sound like fan fiction at best), so Louis tried to assure folks that he wouldn't jeopardize his career with fake rumors about a celeb breakup.
"The way that some of y'all think I would just make that up in the circles that I'm in in this industry in Europe," he tweeted."And ask yourself why for the second day industry insiders have told y'all this news. I just gave you the details that person who tweeted this news LAST NIGHT didn't give you," Louis tweeted.
Well...
Someone else originally tweeted Rih & Rocky called it quits and then deleted it. Now Louis claims to have just shared the details about the alleged breakup.  And he hasn't deleted anything.
From his "knowledge" of the alleged breakup, Louis alleged Rih & Rocky called it quits after an argument at Craigs restaurant on April 1st. Internet sleuths in Rihanna's "NAVY" have determined that's a LIE, sharing pictures of Rihanna & Rocky happily together on and AFTER April 1st. Fans also shared photos of Amina with her boyfriend/French comedian FaryLopes on April 8th, debunking the breakup rumors:
The story is that Rihanna broke up with A$AP Rocky at Craig's on April 1st?

Ok, here's a photo of them together April 6th, and here's a photo of Amina Muaddi and her boyfriend, French comedian Fary Lopes, from April 8th. Anyway. pic.twitter.com/CMA1GyMKXl

— kyle (@Munzenrieder) April 14, 2022
Most outlets didn't bother to buy the rights to the photo of her with A$AP that night. It's not a great photo. So it didn't go as wide. People mag did though, if you wanna fact check. https://t.co/7R7CMhKwnz

— kyle (@Munzenrieder) April 14, 2022
If we don't see them together soon, its because A$AP is flying around the country launching his whiskey brand this week. Rihanna, who I'm assuming can't fly at this point (but who knows, I'm not a doctor), was attending one of her BFF's birthday parties on Tuesday. pic.twitter.com/qFko6DA8vb

— kyle (@Munzenrieder) April 14, 2022
He's onstage right now for a launch event in NYC for what that's worth. pic.twitter.com/N5nChH5Ju3

— kyle (@Munzenrieder) April 14, 2022
Amina herself pulled a rare move and spoke out on the rumor, expressing disappointment in people spreading falsehoods during such a sensitive, happy time like a pregnancy.
To further prove the rumor is CAP, a source close to the couple told TMZ that the breakup talk is "100% false on both counts," and then added, "1 million percent not true. They're fine."
Just yesterday, Amina shared flicks of Rihanna on her IG rocking her shoes, which contradicts those cheating rumors:
By the way, Rihanna covers the May 2022 issue of VOGUE magazine where she gushes about A$AP and their relationship. She talked about how they went on a cross country road trip that involved her grilling food on a janky Walmart grill that she still has. In case you missed it, you can catch up HERE.
While the breakup rumors don't seem to be true, the memes are HILAR. We've rounded up the funniest ones in the gallery below!
Me trying to find a reliable source to confirm the Rihanna and Asap Rocky drama pic.twitter.com/Jsj43JyWgg

— Kate (@KateThornley3) April 14, 2022
Photo: Wirestock/
Depositphotos