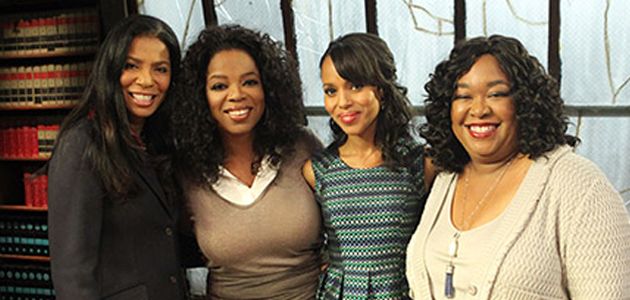 Last night, OWN aired the "Oprah's Next Chapter" episode starring Kerry Washington, Shonda Rhimes and Judy Smith. Watch the full video inside...
Django Unchained star Kerry Washington appeared on "Oprah's Next Chapter" last night where she talked about her starring roles on the ABC drama "Scandal" and her controversial film with Jamie Foxx.
Kerry discussed how she went from playing the role of a slave in the "Django" film to playing the role of a fully actualized woman on "Scandal' and the challenges that put on her mentally.  And Kerry nearly brought Oprah to tears when she described the powerful and "in control" character Olivia Pope as the actualized dream of a slave woman.
Series creator Shonda Rhimes also appeared on the show where she discussed being both a working mom and one of the most powerful women in Hollywood.  She jokingly revealed that her secret to creating a healthy work environment was know as the "A$$hole Background Check."
And, Judy Smith, the real life inspiration for Olivia Pope, appeared on the show to talk about some of the past scandals she's worked on and offered advice on the few that slipped by her, like Tiger Woods.  And in case you were wondering--she cleared up that the real life Judy Smith NEVER had an affair with President George Bush.  It's all for TV.
Watch the full episode below:
The Randomness:
1.  Naomi Campbell threw her man another big birthday party, this time in Miami.  And she did it from a wheelchair.  STORY