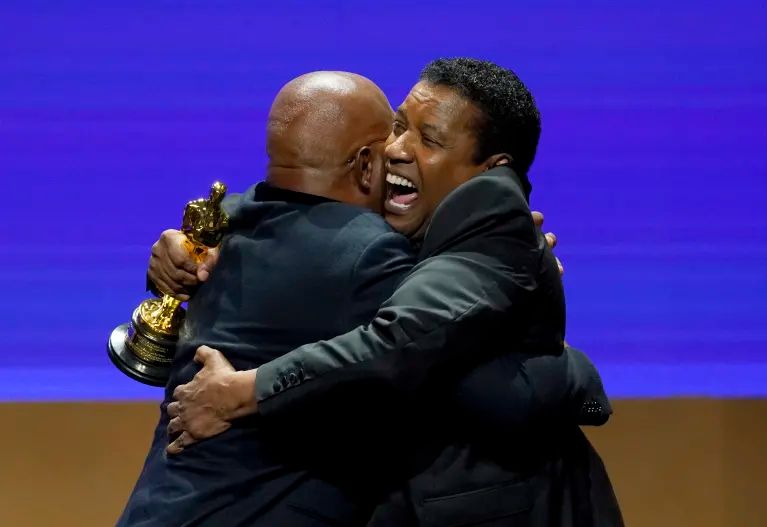 Finally, Samuel L. Jackson gets some Oscar respect on his name. Denzel Washington presented the veteran actor with his first-ever honorary Oscar, which morphed into a black boy joy moment. Watch the touching moment, plus deets on them teaming up for Samuel's new Broadway role with Denzel's son John David Washington, LaTanya and DanielleBrooks inside….
Black Boy Joy personified!
It's crazy to think Samuel L. Jackson has been entertaining the masses for DECADES in epic roles, starring in 152 movies and earning $27 billion at the box office, yet, has never won an Oscar.
That all change over the weekend when the 73-year-old was honored with his first-ever Academy Award. The Pulp Fiction star was presented with an honorary Academy Award for lifetime achievement at the Governors Awards by longtime friend/fellow actor Denzel Washington in a non-televised ceremony.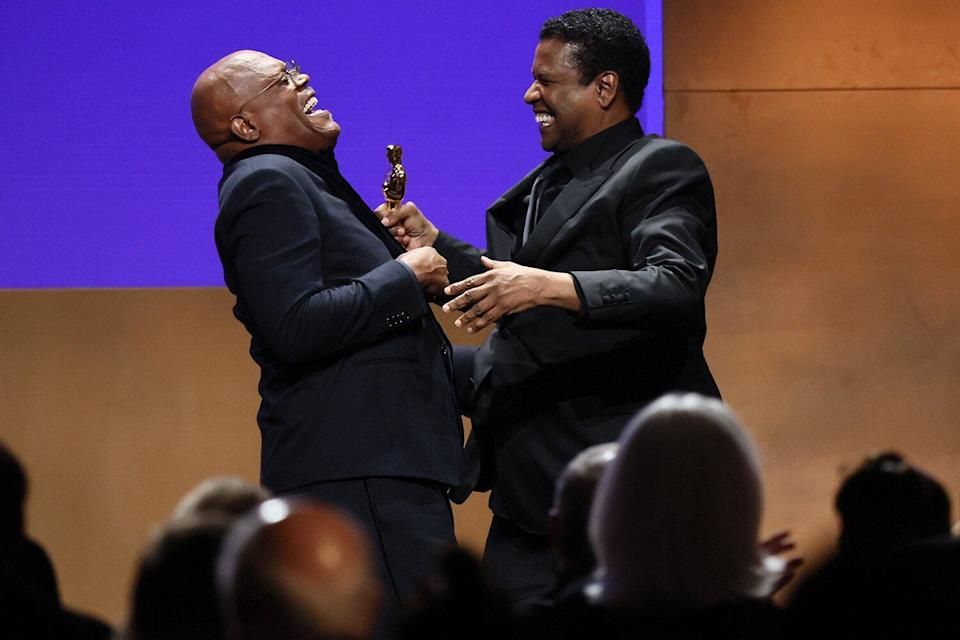 "Sam and I go back in the theater, the Goodman Theatre," Denzel shared about his friend. "We worked together even before that, at the Negro Ensemble Company. We did a pretty good play called The Soldier's Play that became great movie, A Soldier's Story. Wasn't as good as it would've been had Sam been in it, but that's for another day."
The Marvel star walked up on stage and embraced Denzel with a celebratory hug before delivering his acceptance speech.
"So I'm really, really proud to receive this statue," Samuel said before thanking the Governors for the recognition. "Who knows, that little kid from Chattanooga, Tennessee, watching movies, wishing he could be here to get the votes of people who run an organization like this that says, 'Hey, I deserve something like this,' thank you, so much."

"When I got the opportunity, I tried to represent this business the best I do now," he said after thanking his wife of 42 years, LaTanya Richardson Jackson, and their daughter Zoe, calling them "his biggest critics and biggest fans."

"I got out there to entertain audiences the way Hollywood entertained me. Make them forget their lives for a few hours and be thrilled, awed, or excited at the big room where make believe lives," the actor continued. 
"Thanks to every person who has ever bought a ticket to any movie I was in. It's truly been an honor and a pleasure to entertain you," he concluded.
Watch his speech below:
By the way, actor DannyGlover received the Jean Hersholt Humanitarian Award. 
On the Broadway front…
Taking back to his roots, Samuel L. Jackson is set to make a return to Broadway in a new revival of August Wilson's "The Piano Lesson." Joining him, Malcolm & Marie star John David Washington (Denzel's son) and "Orange is the New Black" star DanielleBrooks will be flexing their acting skills.
It'll be a family affair as Denzel is executive producing and Samuel's wife, LaTanya Richardson Jackson, will direct the show. "The Piano Lesson" is set in Pittsburgh's Hill District in 1936 that will follow a brother and sister stuck in a feud over the fate of a family heirloom, which is a piano carved with faces of their ancestors.
Deadline reports:
Jackson appeared in the 1990 original Broadway production, albeit in a different role. He was last seen on the Main Stem in 2011's "The Mountaintop." Jackson recently received an Honorary Oscar for his long career, which includes roles in "The Avengers," "Pulp Fiction" and "A Time to Kill."

Washington's father, Denzel Washington, has been planning a film version of "The Piano Lesson." Denzel Washington previously starred in the Oscar-winning adaptation of "Fences," another Wilson play. Washington's credits include "BlacKkKlansman" and "Malcolm & Marie." He will next be seen in David O. Russell's currently untitled cinematic happening.

Brooks has appeared in "Orange Is the New Black" and "Robin Roberts Presents: Mahalia." She is slated to star in the big screen adaptation of the musical version of "The Color Purple."

Richardson Jackson, who has appeared in "To Kill a Mockingbird" and "A Raisin in the Sun," is making her Broadway directorial debut and will be the first woman to ever direct an August Wilson play on Broadway."
Performances of "The Piano Lesson" will begin on Monday, September 19, 2022 at the St. James Theatre.
Photos:  AP Photo/Chris Pizzello