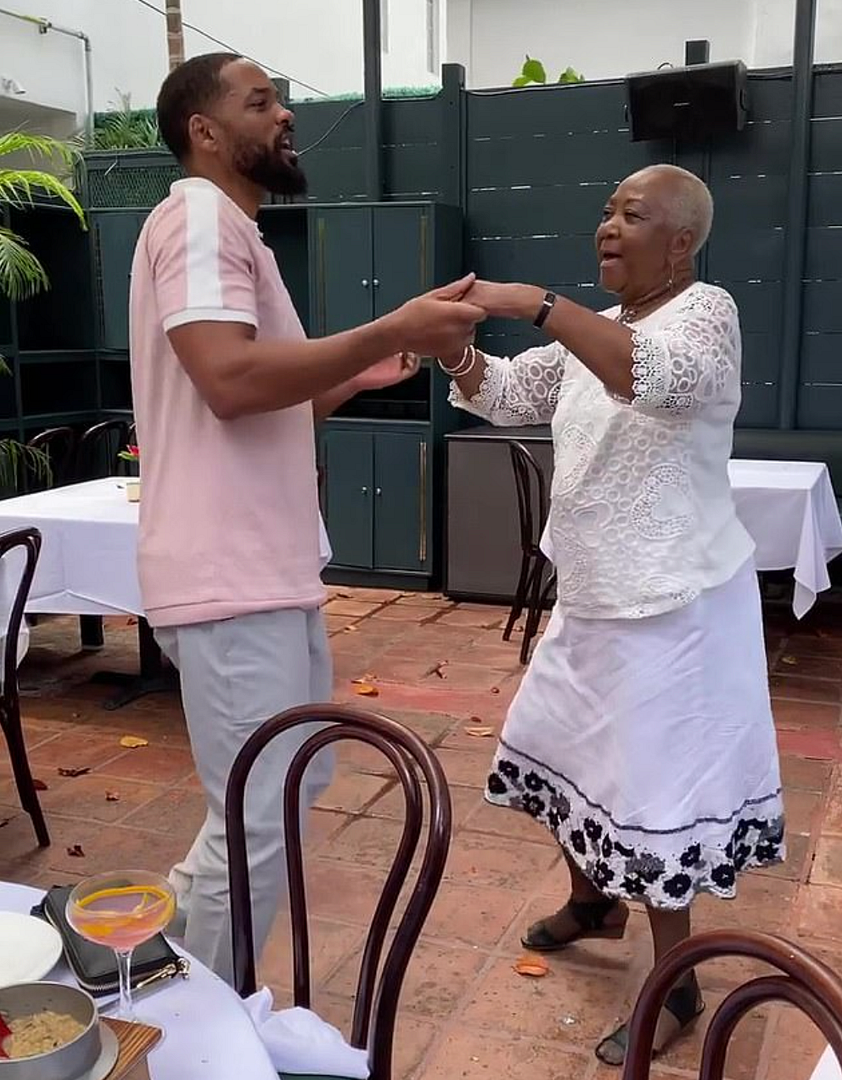 Carolyn Smith, Will Smith's mother, and RichardWilliams, father of Venus& SerenaWilliams, speak out about Will and Chris Rock's on-stage Oscars altercation. Also, several comedians have weighed in - including one Netflix comedian who totally disrespects Jada Pinkett-Smith as if she personally did something to him.
All the reactions inside…
Will Smith showed a side of himself that his mother has never seen before.
As the world continues to debate about who was right and who was wrong in the infamous Oscars slap situation, Will Smith's mother, CarolynSmith, shares what she thinks about the awards show drama.
NEW: I spoke with Will Smith's mother as her son is in the global spotlight after an unforgettable night at the @TheAcademy. Hear her joy and surprise about that historic night in her own words @6abc#WillSmith#Phillypic.twitter.com/E2rK6UIlSh

— Sharrie Williams (@WilliamsSharrie) March 29, 2022
Opting out of watching the show in L.A., the Smith Family matriarch got all dressed up with her daughters and family to watch the Academy Awards ceremony at her home in the suburbs of Philadelphia Sunday night.
There's no question how proud Will's mother is about his accomplishments, especially his first Academy Award. 
"I've been waiting and waiting and waiting," Carolyn Smith told WPVI-TV. "When I heard the name, I was just, 'Yes!'"
However, no one would have predicted his big night would instantly turn into a viral moment which overshadowed his Best Actor win.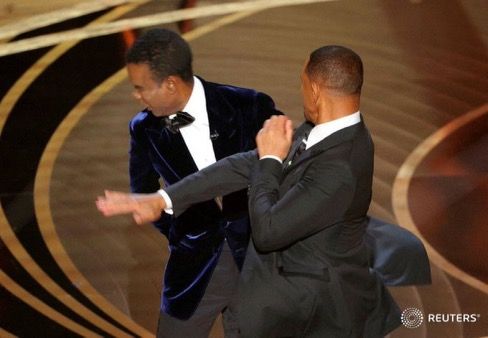 The infamous "Oscars slap" heard around the world (literally) happened and it surprised his mother because she said she had never seen her son lose his cool in that way.
"He is a very even, people person. That's the first time I've ever seen him go off," "First time in his lifetime... I've never seen him do that."
The King Richard star slapped comedian Chris Rock in the face after he made a joke about her hair, which she has been losing due to alopecia. Following the backlash, Will issued a public apology to Chris.
Ellen Smith, Will's younger sister, talked about pressure her brother endures being a high-profile celebrity and talked about the crap he has endured to get to that status.
"Everybody has been bullied or abused in some kind of way," Ellen said. "I totally understand. I've had conversations with him, and it like really kind of broke my heart listening to the things he's said he had to go through to get to where he is."
Despite the drama surrounding Will's big win, Will's family is still proud of him and they know he'll make the right moves going forward.
Watch the interview below:
Richard Williams - the father of Venus and SerenaWilliams - weighed in on Will slapping Chris during the Oscars ceremony.
"We don't know all the details of what happened," Richard Williams, via his son ChavoitaLeSane, told NBC News. "But we don't condone anyone hitting anyone else unless it's in self-defense." LeSane has been serving as Richard William's spokesman since his 80-year-old father had a stroke.
As you know, Will won Best Actor for his portrayal of Richard Williams in King Richard.
Mr. Williams' son said his father was shocked like everyone else when the "Fresh Prince of Bel-Air" slapped the "Good Hair" host.
Like everyone else, several comedians have weighed in on the Oscars controversy.
Comedian/Actor Jim Carrey said he was "sickened" by Will's actions and then receiving a standing ovation from the audience minutes later.
"I felt like Hollywood is just spineless," he said. "You do not have the right to walk up on stage and smack somebody in the face because they said words."
Here's more of what he told Gayle King on "CBS Mornings": 
— clips (@justvideoz) March 29, 2022
EMMY winner Tiffany Haddish weighed in on the slap controversy, swaying towards Will's side. During an interview with EXTRA, she said "sometimes, discipline needs to be administered." Peep the clip below.
During an interview with PEOPLE at the Governors Ball, Tiffany revealed she found the controversial moment "beautiful" and said Will did what a husband is supposed to do: protect his wife.
"When I saw a Black man stand up for his wife. That meant so much to me," she said. "As a woman, who has been unprotected, for someone to say, 'Keep my wife's name out your mouth, leave my wife alone,' that's what your husband is supposed to do, right? Protect you."

"And that meant the world to me. And maybe the world might not like how it went down, but for me, it was the most beautiful thing I've ever seen because it made me believe that there are still men out there that love and care about their women, their wives."
She also had a message for her Girls Trip co-star:
"If she wouldn't have been hurt, [Will] probably wouldn't have said nothing," said Tiffany. "But you could see he was clearly… And they exploited it. They exploited her, so 'I have to do something'… He protected his wife. To me, I went up to her and said, 'You better suck his d*ck from the back, girl!' You better put that in your magazine! That's what I told her."
Comediennes RosieO'Donnell and KathyGriffin took to Twitter to react, condemning Will's actions:
Comedian and satirist BillMahertold TMZ Will's reaction was like the "Twitter mob" coming alive. He then said "alopecia isn't leukemia," and that "we're all losing our hair, so it's kind of ridiculous if that's where you draw the line." He said he thought Chris' "G.I. Jane" joke was compliment. Of course he did. 
Comedian Michael Che called the infamous slap a "childish overreaction" in a series of IG posts: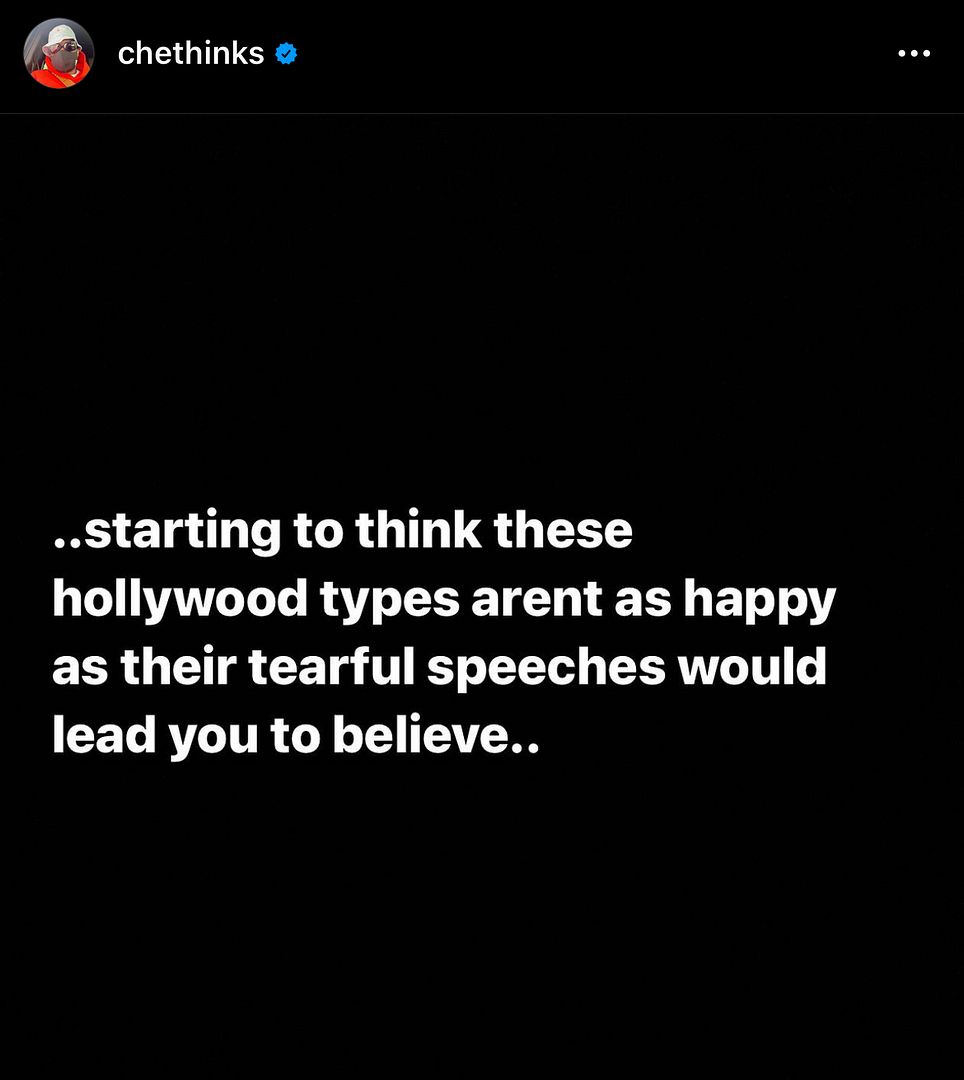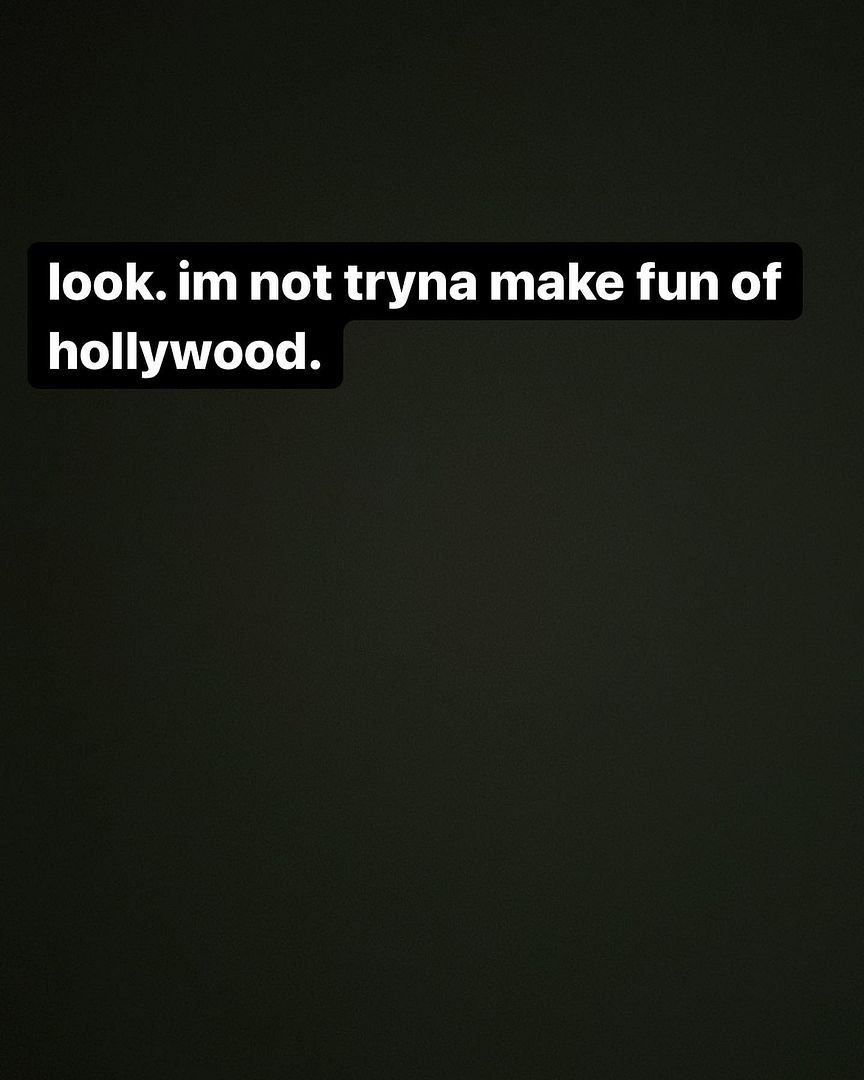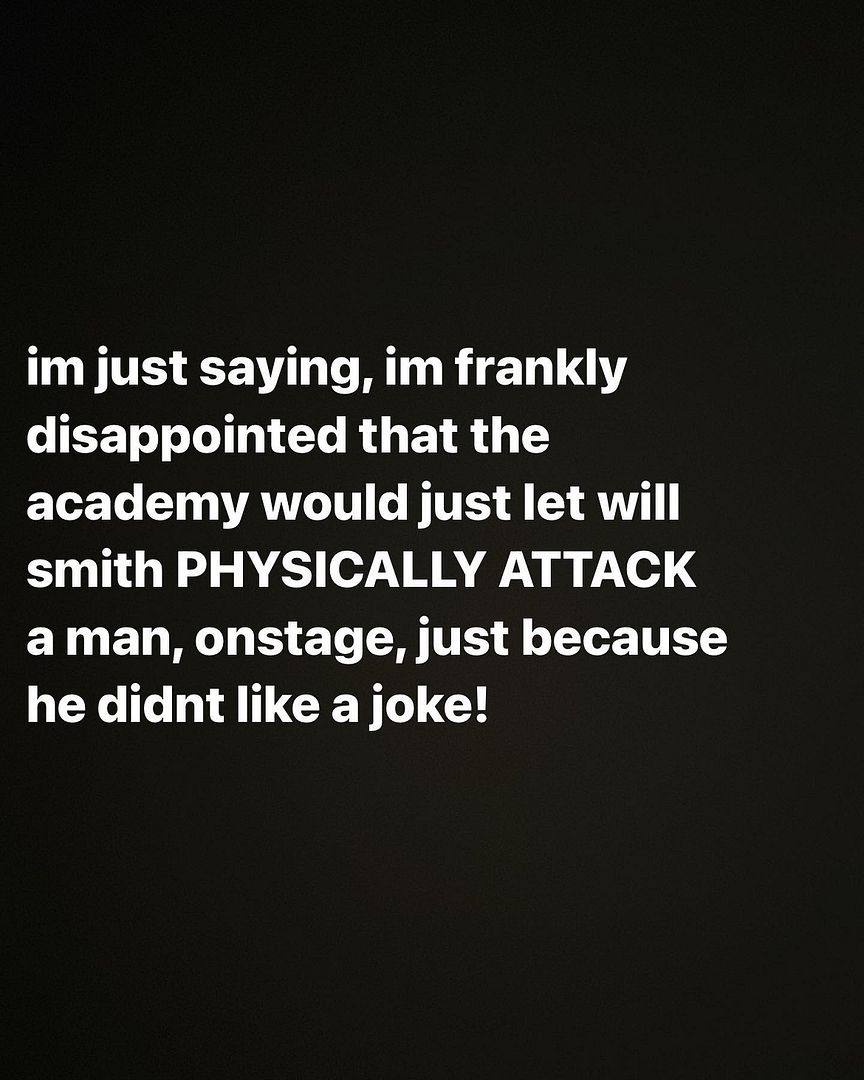 And then a clout chasing Netflix comedian - named TomSegura - decided to add his commentary where he totally disrespects Jada, calling her a "bald headed b*tch." He also said "F*ck Will Smith."
Who HURT this man? He's speaking as if someone actually did something to him. He should sit this one out.  And Netflix - his employer - needs to check that ish.
Photo: Will's IG/Reuters