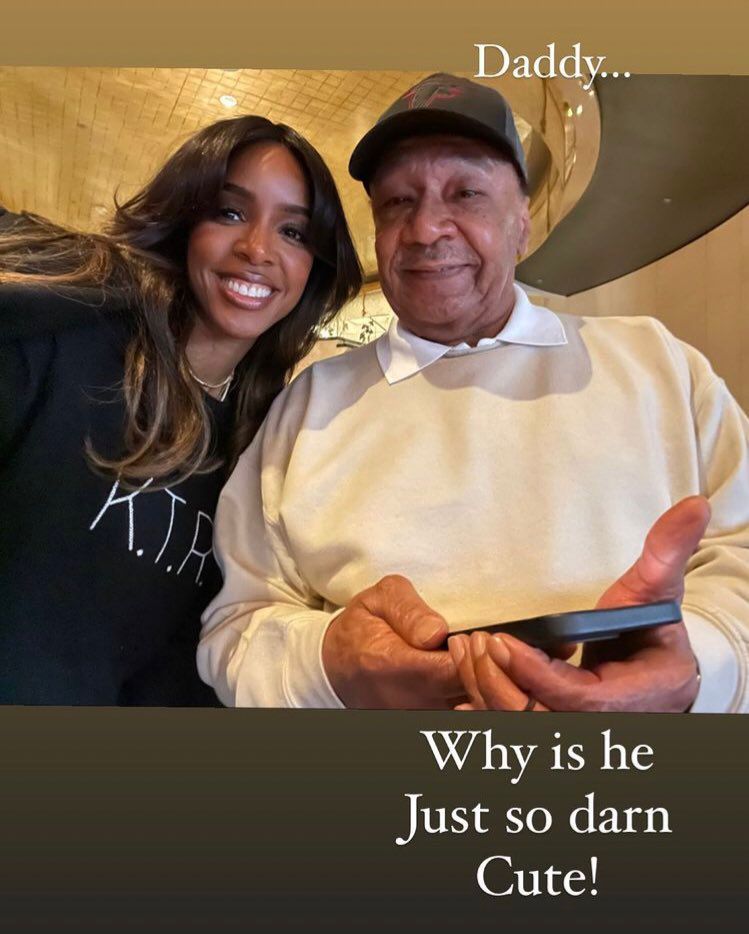 Kelly Rowland's emotional reunion with her father, ChristopherLovett, after three decades of estrangement had the Internet collectively shedding tears. The beautiful songstress reacted to the outpouring of love and support she has received since sharing her story of forgiveness. More inside…
You may want to grab a tissue before reading and watching the clip. It's a tear-jerker!
This week, Kelly Rowland has been gracing our televisions as a guest co-host on "Today with Hood & Jenna," filling in for Jenna.
After having no contact with her father for more than 30 years, Kelly Rowland opened up about her journey to connect with him later in life and how she struggled growing up without him. The singer's father, ChristopherLovett, joined the singer on the show where they both were provided a safe space to share their feelings with one another after not speaking for more than 30 years.
When she was a child, she was angry at her father because she felt he abandoned her.
"My understanding of where my dad was as a kid was that he was not really ready as a father," the mom-of-two shared. "I was angry at him, I was disappointed in him, I had all those feelings of abandonment. I think as a kid you just feel like if they're not there, they don't want to be. So that's what I felt and that feeling sucked."
When she was touring with Destiny's Child, Kelly's father tried reaching out to her, showing up to one of her shows. However, she told security to not allow him backstage. She didn't want anything to do with him because she was so angry with him at the time. She said at that time she was trying to "protect herself" because she wasn't ready to deal with those feelings at that time.
"I only heard one side and that was the said that I took at the time. That's why it was so freeing to hear him speak - those two hours I talked about," she said.
After giving birth to her son, Titan, the singer said she felt she needed to reach out to him. They reconnected about five years ago at a hotel in Atlanta, which was a few years after the death of her mother, Doris Rowland Garrison.
"I said, 'I really need to know him. I want to meet him," she said. "I think I … had these feelings of like, 'Oh my God, I have no parents.' And it was like, no, you do, you have one left."
For two hours, she listened to her father talk, revealing stories about his own childhood, which weren't pleasant.
"He's telling me about his dynamic with his father, and his father's father, and it's non-existent, too," she explained."So how can one learn how to be something when they weren't taught?"
Even though he wasn't there, Christopher said some things that were told to Kelly about him were not true and he wanted her to hear his side of the story.
"I wanted her to hear the other side of the story because some of the things that were said weren't true. And some of the things other people said weren't true," he said. "And I couldn't get a chance to see her … and I wanted tell Kelly that I love her."
"It was necessary," she said when asked how she felt when he told her he loved her. "The little girl in me needed to hear that. It was necessary to hear it from my father."
She realized not hearing "I love you" from her father was the root of her issues in previous relationships.
At the end, the "Motivation" singer - who is raising her two sons, 7-year-old Titan and 13-month-old Noah with her husband Tim - encouraged others who may be holding grudges to forgive their parents IF they're ready.
"It's never too late," she said. "Forgiveness is always right there."
Whew!  
Watch the emotional clip below:
After the outpouring of love and support she received online, Kelly said she was WOWED at how impactful her story was for others, which has motivated other people to reconnect with estranged family members. Check it: 
.@KellyRowland responds to the overwhelming wave of support for her reunion with her father. pic.twitter.com/5VgRXng3Tf

— TODAY with Hoda & Jenna (@HodaAndJenna) March 16, 2022
Love to see it!
Photo: Kelly's IG