In devastating news, Kelis' husband, MikeMora, has died at the age of 37 after an 18 month battle with stomach cancer. The photographer documented his battle in a series of touching posts. See those, plus the heartfelt tributes inside….
Kelis' husband, MikeMora, has passed away after battling Satge 4 stomach cancer. He was just 37-years-old.
Confirmation of his death was derived by Red Light Management.
"Sadly, it's true that Mike Mora has passed away," Steve Satterthwaite, of Red Light Management, told Entertainment Tonight. "We would ask all to respect Kelis and her family's privacy as of right now. Thank you."
Mike and the 42-year-old singer secretly tied the knot in 2014, before welcoming two children together. Shepherd, 6, and daughter Galilee, 1. He was also step-father to Kelis' son, Knight, whom she shares with rapper Nas.
As of now, the "Milkshake" singer hasn't publicly commented on his death and we're definitely not insinuating she has to. Dealing with the loss of a soulmate, especially not long after welcoming a new baby, is hard enough.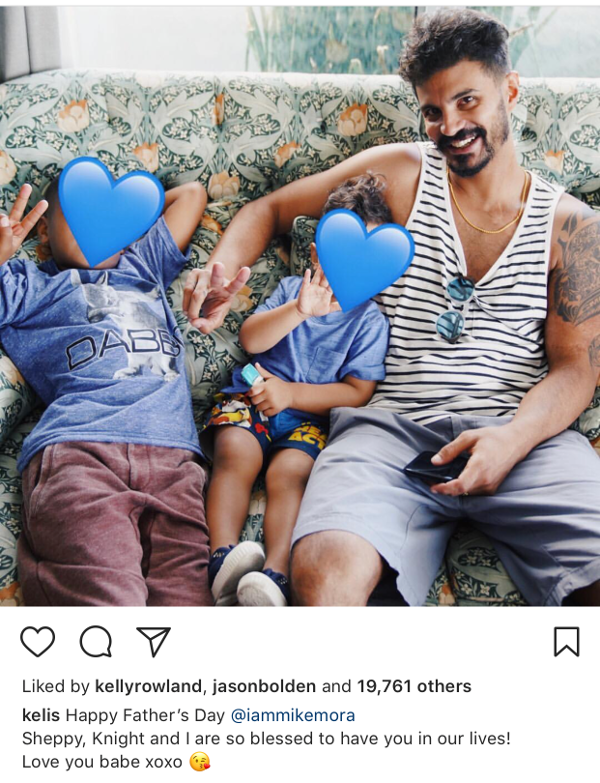 Right before Mike's diagnosis, Kelis revealed they we're having their second child together:
Congrats to #Kelis! Baby number 3 is on the way, and it'll be her second with husband Mike Morato! #YBFBabyBumpshttps://t.co/m4Hz2r7c1dpic.twitter.com/J86lcXBUPm

— YBF CHIC (@TheYBF) August 5, 2020
They welcomed Baby G in November 2020.
Doctors diagnosed Mike with stomach cancer in September 2020. He didn't reveal his battle until September 2021. In the caption, he said the doctors told him he had 18 months left to live. At the time of the post, it had been 12. Six months later, sadly he is gone.
"This picture was taken as I was being transferred to the oncology section of UCLA Santa Monica from nearby Ronald Reagan hospital," he wrote. "This gentleman, Latin brotha, saw how weak I was. He looked back at me before leaving my room and said 'I've seen people make it out of the craziest situations, be strong brotha, you got this.' I'll never forget his face….
"They said 18 months. It's been exactly 12."
"Here we go.. Scared as F¥#% … The story will continue.."
"Love you @kelis"
He started to experience what he called "the worst pain" in his stomach, which he notice not long after moving on a farm outside of Los Angeles with Kelis and the kids.
"Loss of appetite. Pain in my back also started to creep in…finally decided to do something about it," he wrote at the time. "It was a bit late. But just in time."
Mike documented his cancer battle on his IG. See the moving posts below:
"I am posting this…after so much thought. Many hours thinking of what the right thing to do is," he wrote. "Not because of a selfish reason .not because I want people to feel bad or sorry for me and my family. I am posting this because life is full of the most unexpected situations. I never thought this could happen to me. At just 36, with 3 kiddos, and a wife that loves me. I want to be able to help those that might be experiencing something like this- a life altering disease full of questions and doubt- maybe, hopefully. By showing that it's possible to make it through. You always see people post about how life is too short. How you should reach out to those you love no matter where life has taken you. It is the truth. Don't take your time here, your time with friends, family, for granted. Shit can be over just like that!
"This was the first of many, many more iv's and needles to be pricked on my arm…"
"The story will continue.."
"Love you @kelis"
"This was day 3 or 4 into my hospital stay," he wrote in another post. "Each day, asking for pain medicine every other hour it felt like. Wondering what was going on. Waiting patiently yet desperately for answers.
"I am so grateful for @piprock and @762mmfullmetaljacket .. they found out what was going on and surprised me with these flip flops and some new underwear. (Only one of them could come in at a time due to covid) Can't tell you how great that felt. Little did they know what the next several months would look like… I think @762mmfullmetaljacket was there with me actually , now that I'm thinking about it.. the day I found out what was really happening. You guys are real friends. Forever grateful! Home cooked meals brought over to hospital. Many hours on the road back n forth to the farm. Early mornings. Late nights. Picking me up after surgery. Seeing me at my absolute most weakest moments. You guys are the definition. Of what a friend should be."
In October 2021, he wrote…
"The story continues…So the morning of my last UCLA hospital stay, doctors came in my room and gave me the most horrifying, unexpected news.. I did not understand the language written on this paper. All I knew from the look in their faces was that it wasn't a good diagnosis. It was the worst diagnosis. And they were scared for me. I asked how they were going to help me. They said they couldn't do anything else for me. I had to search on my for some sort of solution.. Scary days.
"The story will continue.
"Love you @kelis"
Hunger Games actor EvanRoss - a good friend of Mike's - shared a tribute (which he deleted on his timeline but left up on his IG Stories) after learning about his death. 
"We lost a brother Yesterday. We will truly miss you Mike," he wrote. "Thinking of some of the great times we all spent together."
"Everything I saw you do. Was built in passion. I loved connecting again with you. Hearing about your children and the life you and your wife have built. Im sending all the prayers and love to your family brother. @kelis RIP @mikemorafotos."
We're definitely sending out prayers and love to Kelis and her family as they navigate through this tragic time. Losing a husband and father is devastating. We hope they find strength and peace during this time.
Photos: Kelis' IG/Mike's IG