Los Angeles Lakers point guard RussellWestbrook speaks out about fans harassing him and his family and he wants it to stop! NinaWestbrook - Russell's wife - recently revealed in a series of tweets that the Westbrook family has been "harassed on a daily basis" and receiving "death wishes" due to the Lakers losing games. More inside…
With the NBA season now past the the halfway point, fans of the Los Angeles Lakers are upset and frustrated at how the team is performing. Right now, the team sits at #9 in the NBA Western Conference with a 28-36 record.
Much of Lakers fans' frustration and aggression has been aimed at Lakers point guard Russell Westbrook where fans are blaming the 14-year veteran for the team's inconsistency.
Now, they've taken it too far.
Last night, the Lakers lost to the San Antonio Spurs, 117 - 110. During the post-game conference, Russell spoke out about how he and his family have been harassed by fans during his first season with the team.
The former MVP - who is highest-paid player on the Lakers this season - said he's used to the ridicule and mockery because that's what comes with the game. However, fans have escalated the ridicule to a point where he doesn't even want his wife, kids and familyto attend games due to the harassment.
Fans have been "name shaming" Russell, dubbing him "Westbrick" since his shooting game has been lacking and he wants it to stop. He ended Monday's game 5-for-14 overall.
"A lot of times, I let it slide," the NBA star said during the post-game press conference. "But now it's time to put a stop to that and put it on notice."
Westbrook's wife - Nina Westbrook - recently hopped on social media to call out sports analyst Skip Bayless for disrespecting her husband and his legacy. She also shared how she and their family are "harassed on a daily basis" and receiving "death threats" when the team loses.
"I 100% stand behind my wife and how she's feeling," he said. "When it comes to basketball, I don't mind the criticism of missing and making shots. But the moment it becomes where my name is getting shamed, it becomes an issue."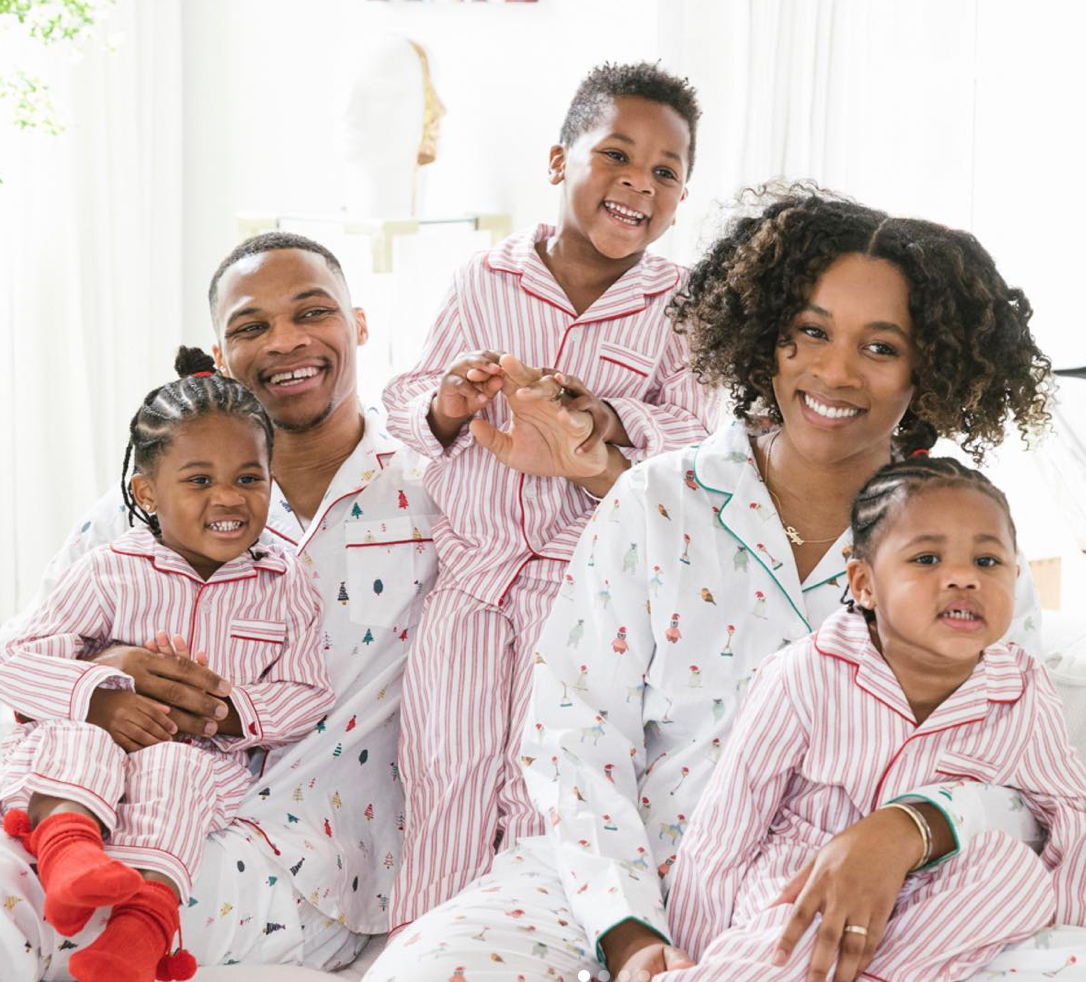 Russell and Nina are the parents of three children 4-year-old Noah and twin 3-year-old daughters, Jordyn and Skye. The nine-time All Star shared how proud his son is of their last name and how he walks around telling everyone, "I'm Westbrook."
"'Westbrick,' for example, to me, is now shaming," he said. "It's shaming my name, my legacy for my kids. It's a name that means, not just to me, but to my wife, to my mom, my dad, the ones that kind of paved the way for me."
He continued, "And every time I do hear it now, I will make sure that I address it and make sure I nip that in the bud."
The harassment has caused his family avoid attending games in person.
"It affects them even going to games," he said. "Like, I don't even want to bring my kids to the game because I don't want them to hear people calling their dad nicknames and other names for no reason because he's playing the game that he loves. And it's gotten so bad where my family don't even want to go to home games, to any game ... and it's just super unfortunate, man. And it's super upsetting to me. "I'm at a point where I'm going to continue to address it. It's just unfortunate," he said.
Peep his interview below:
Russell speaking out about disrespectful fans comes on the heels of his wife Nina Westbrook sharing their struggles online.
First, Nina blasted Fox Sports analyst SkipBayless for trolling her husband. At first, she thought Skip blocked her. Once she learned he didn't, she deleted her post, but she still meant what she said because she called him out again, demanding he apologize.
Nina tweeted, "I'm tired you you @RealSkipBayless calling my husband out of his name. It is extremely childish. That is my name as well, and many other peoples name. You're disrespectful, and I'm extremely offended by your behavior. You should apologize."
In a series of tweets, Mrs. Westbrook went on to explain the difference between criticism and name calling. She said people with public platforms should be conscious of what they say because it can negatively affect other people, such as herself and her family.
"When I'm being harassed on a daily basis over basketball games, and I'm having obscenity's and death wishes for me and my family sent my way because you're expressing your 'truth,' it's hard for me to get on board with that," she tweeted. "My career is focused around encouraging and supporting others in living in their truth, finding their voice, and finding their peace. This is actually what I'm doing. My behavior aligns with someone who is speaking their truth. I don't do the things that I do to receive attention, to get clicks, or for show. This is not a game to me. Basketball is a game. This is my life, my children's lives, and my families life. Shaming anyone for any reason is never the answer."
She continued, "As far as my husband goes, he is his own person. I don't need to defend him. I love and support him through all of the unwarranted hate and negativity that he receives. I speak up and share my experience and knowledge for those who do not have a voice. My hope is that the amazing and talented players that come after him don't have to be subjected to this type of shaming, name-calling, and public scrutiny for playing the game that they love."
Thoughts? Do you agree that fans need to chill on the name shaming and trolling? Let us know in the comments!
Photo: ChinaImages/Depositphotos/Nina's IG