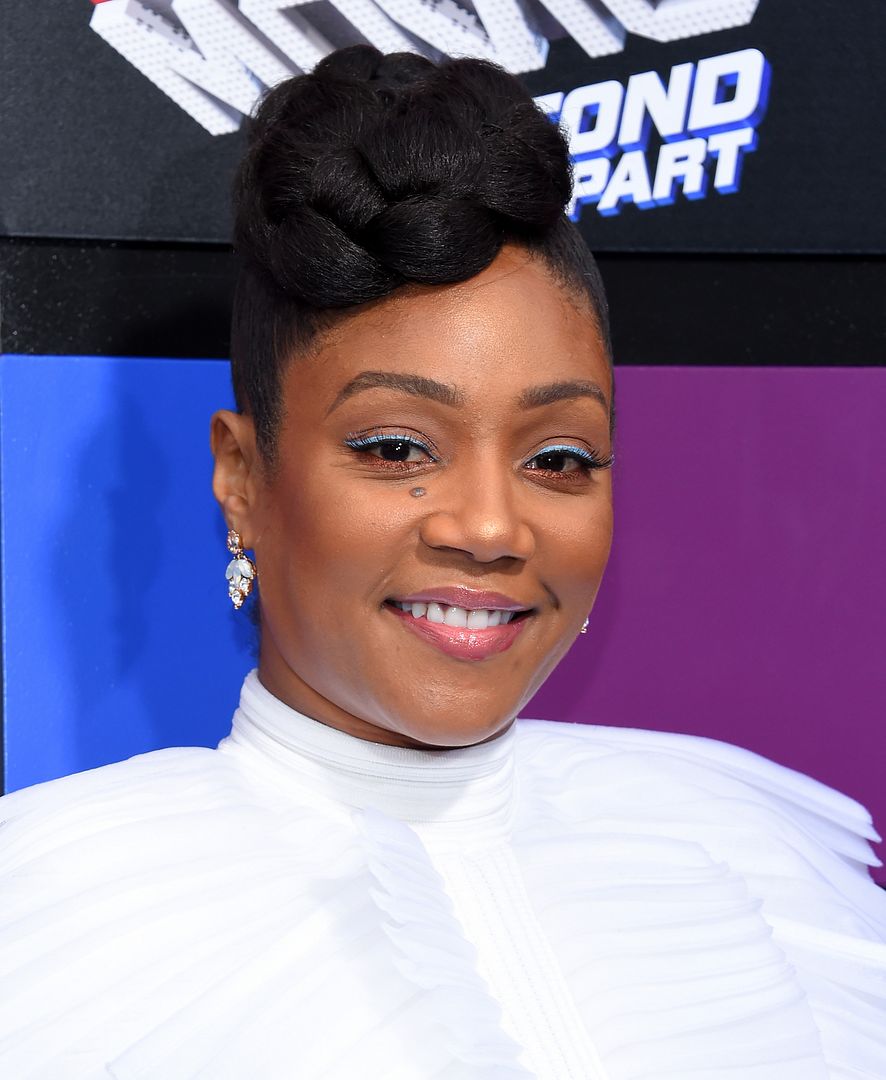 When comedians stumble upon hard times, they make a joke out of it! That's what Tiffany Haddish plans to do after her recent DUI arrest, recent breakup from rapper Common and losing several important people in her life. More inside…
Comedienne Tiffany Haddish is going through a rough patch of life right now. However, she's keeping her head up and still cracking jokes about it all.
The Grammy winning comedienne has been going THROUGH it. On January 14th, she was arrested in Georgia on suspicion of driving under the influence. The arrest came after the death of her grandmother, her dog, and two close friends. On top of all that, she broke up with her boyfriend Common back in November. She's been going through a lot, but she's not letting her struggles keep her down.
"I've been praying to God to send me a new man. A good man. And God went ahead and sent me four... in uniform," the Night School actress joked on "The Tonight Show with Jimmy Fallon" as she promoted her new crime fiction series, "The Afterparty."
Appearing via video chat, the 42-year-old actress opened up about the incident and how she plans to move forward.
"And now I got a really great lawyer, and we're going to work it out. I've got to get my asking of things to God a little better!"
You'll recall, the Girls Trip actress was arrested by Peachtree City police officers earlier this month for a suspected DUI after she allegedly fell asleep behind the wheel on Highway 74.
The arrest comes after losing several important people in life, including her grandmother (who raised her), and close friends BobSaget (comedian) and CarlCraig (producer). She also lost her pet dog as well. Poor thing.
She said Bob Saget was like a big mentor to me, a big brother, a father figure. He meant a lot to me. Funny man. He was the first White man to ever tell me, 'Just be yourself, just be who you are, Tiffany. Don't worry about nothing. Just be you.' That was huge for me."
"And then, my grandma passed away, and she saved my life," the comedian continued."That's my heart. She was like my soulmate. So that's been... really hard to process, all this... Grief."
Don't cry for Tiff too long. She's turning her pain into profit and healing. The Like A Boss actress plans to create a new comedy special based on all the grief she's enduring.
"I'm definitely making something out of it. My next special is going to be about grief. And it's going to be hilarious," she said. "Kids get to cry whenever they want to, wherever they want to. As an adult you can't do that. You can't just cry at work like that, they send you home! I need my money!"
True.
Check out her interview below where she also talks about dancing it up alongside Beyonce at the Grammy's afterparty below:
In another clip, Tiff talked about how her high school planned their reunion around her schedule and how she finessed a paycheck from her high school principal as the school's mascot below:
"The Afterparty" premieres this Friday (Jan. 28th) on Apple TV+.
Photo: DFree/Shuttersock