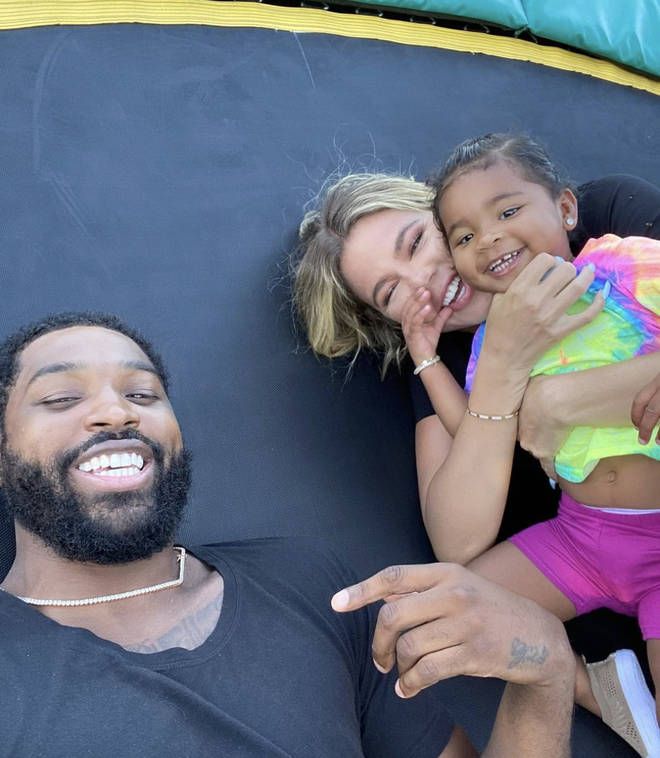 Tristan Thompson brought in 2022 announcing he's a father for the third time with a THIRD woman while he was very much involved with his 2nd baby mama, Khloé Kardashian.
Now, there's video of a man who looks like Third Trimester Tristan all boo'd up with a chick in a bar just weeks after he was begging for Khloe's forgiveness. Watch the clip of the bar shenanigans and more inside…
Tristan Thompson caught flirting with a chick in a bar…who's surprised? Not us.
Just weeks after confirming he made a baby with another woman, Tristan Thompson was allegedly seen flirting with a mystery chick who sat on his lap inside a Milwaukee bar. As you know, the 30-year-old NBA baller was just begging his 2nd baby mama, Khloé Kardashian, to forgive him for cheating and fathering another woman's baby.
He's single, yes, but if you're publicly acting like you want your ex back, you might want to also not publicly be chasing other women as well. *cc: Kanye West*
TikTok user @TriciaCaracoza claims she nabbed video of Tristan all smiles with a female sitting on his lap after the Sacramento Kings lost to the Milwaukee Bucks Saturday. It seems the Kings baller found solace after the lost with a random chick at the bar - IF it's really him:
It's hard to confirm 1,000% if it's Tristan, but based on his cheating track record it could very well be him.
RadarOnline has the deets:
In the other video posted by @triciacaracoza, she tells a story about how Tristan desperately tried to keep the flirtatious rendezvous off the internet and allegedly went to great lengths to do so. According to her, the NBA star sat directly next to her, so she had a perfect view.

She says she was recording her best friend when all hell allegedly broke loose. "He saw the flash come on and he snatched my phone out of my hand," she claims.

"I have never seen a man click X on a video so fast thinking that I was recording him," she continues. "Why was he worried that I was recording him? Hmmm because he brought a whole female with him to the club."

She says that once her husband caught wind of what Tristan had allegedly done, he snatched the phone back from the NBA player. "Tristan proceeds to stand up, look at my husband, and says, 'No videos please. I'll take a picture with you if you're a fan but no videos," she states.
"I wonder why he didn't want any videos taken of him. Could it be because he just publicly apologized to Khloé Kardashian after having a baby on her while they were trying to work out their relationship and potentially get back together?"
Again, we (and so many others) are NOT surprised.
Earlier this month, Tristan revealed he fathered fitness model Maralee Nichols' infant son after a DNA test confirmed. On his 30th birthday, he cheated on Khloe with Maralee after Khloe threw him a huge 30th birthday bash in March 2021. Now, he has three children with three different women.
Photo: Instagram