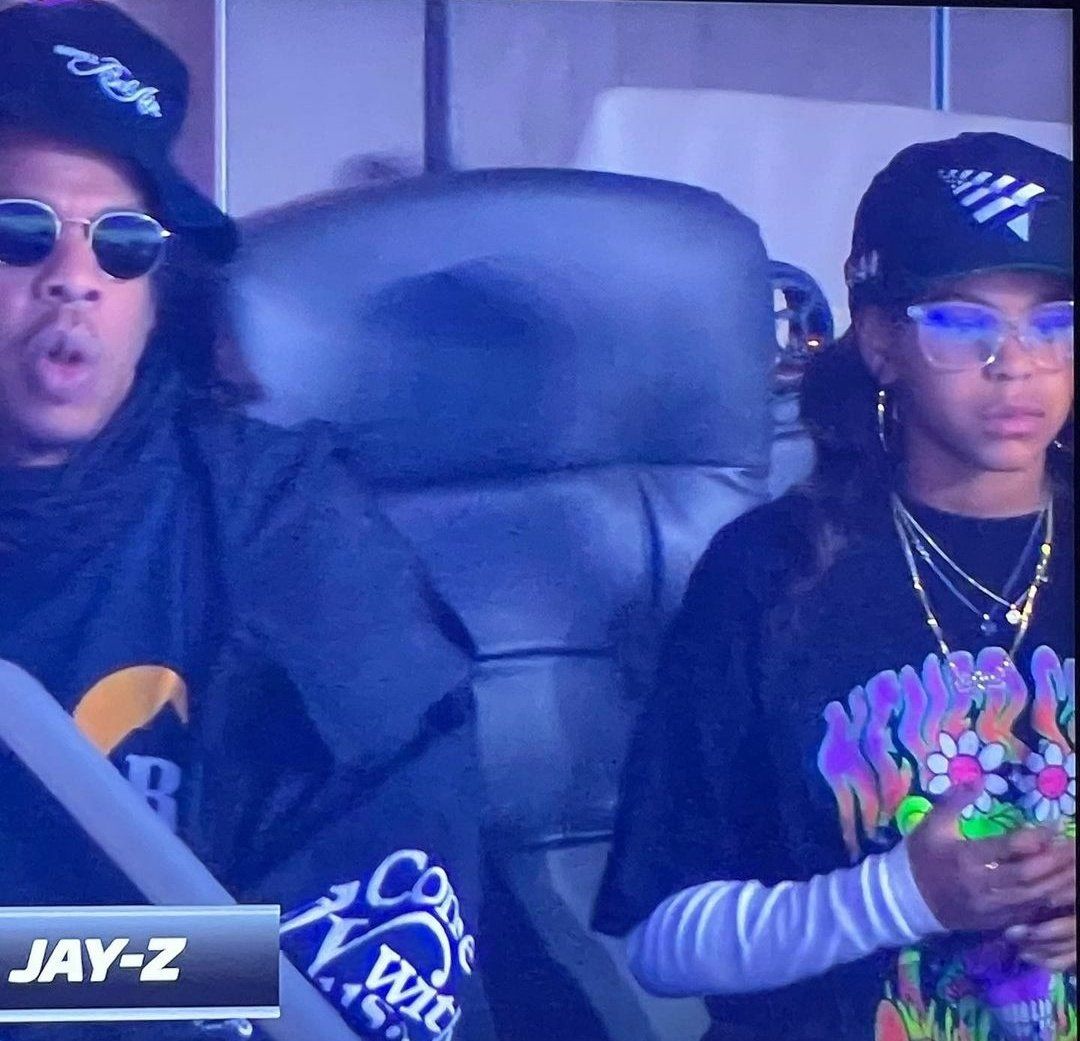 Blue Ivy and her dad Jay-Z popped up for football festivities over the weekend and little Blue was a mini replica of her famous mother, Beyonce Knowles Carter.Travis Scott also popped up on the scene where he was met with a "sh*tty" welcome. More inside…
Super Bowl LVI is right around the corner, so this past weekend was all about football as NFL teams battled it out on the field to advance in the playoffs. Celebs made their way to SoFi Stadium to watch the wild card matchup between the Los Angeles Rams and the Arizona Cardinals.
Hip Hop mogul Jay-Z turned the event into a daddy-daughter date as he was spotted in the stands with his 10-year-old daughter Blue Ivy Carter, who celebrated a milestone birthday just a few weeks ago. They watched the Rams defeat the Cardinals, 34 to 11.
Little Blue looked like a mini replica of her mother, Beyonce, styling in her gold chain necklaces, hooped earrings and a cute pair of glasses. If this isn't Bey's twin!
Around this time last year, Hov, Blue and & Bey were all together for the Super Bowl at the Hard Rock Stadium (atop), where the San Francisco 49ers were playing the Kansas City Chiefs.
Rapper Travis Scott has been keeping a low profile since his deadly Astroworld Festival back in November, but he decided to step out for the NFL playoffs this weekend.
Unfortunately, he got caught up in a "sh*tty" situation.
Travis Scott attended Rams game yesterday but he got a stinky surprise.. a sewage pipe burst -- causing the suite next to Trav to evacuate pic.twitter.com/KTqBXh9osU

— flame (@traviscottflame) January 18, 2022
During the second half of the game, a sewage pipe burst, causing the everyone in the suite next to Travis to evacuate, which caused a nasty smell throughout the boxes.
TMZ reports:
You can see a mix of cleaning staff and equipment do their best to clean up the mess as quickly as possible, but our sources say it was almost enough to get some people to leave.

Eventually, we're told Travis left with about 2 minutes left in the first-round playoff game, but he didn't miss much -- the Rams blew out the Cardinals 34-11 -- besides the stench.

However, it was during the second half of the game when all hell broke loose -- a sewage pipe burst -- causing the suite next to Trav to evacuate, and sending a putrid smell throughout the lower boxes. 
Former NBA baller Dwyane Wade spent his 40th birthday with his wife Gabrielle Union at the Rams vs. Cardinals wild card game:
#DwyaneWade's spending his 40th birthday with wife #GabrielleUnion at the Rams vs. Cardinals wildcard playoff game tonight in LA. Happy bday!  https://t.co/8HSZc7aQV4pic.twitter.com/AxHKb4SMLH

— YBF CHIC (@TheYBF) January 18, 2022
Also...
"Insecure" star Jay Ellis, "Insecure" showrunner Prentice Penny, comedienne Leslie Jones, rapper Tyga, and boxer Sugar Ray Leonard was also in the stands having fun.
Super Bowl LVI is still a go in Los Angeles on Sunday, February 13, 2022. How y'all got going to the Super Bowl?!
Photo: Twitter