It's safe to say this is the season of KERRY.  Ms. Washington has been exuding sex appeal and uber smarts on our tv's every Thursday....and now she's starring in the upcoming controversial film on slavery--Django Unchained.  Now, she's UPTOWN magazine's December/January 2013 cover girl....and TheYBF.com's got the exclusive FIRST LOOK at her sultry alternate cover.
Check it inside...
Effortlessly sexy...and if we didn't love her so much, we'd hate her for it.  35-year-old Kerry Washington is covering the upcoming issue of UPTOWN magazine, and she's dishing on everything from her huge hit show "Scandal," to the stresses of the industry making her think about quitting, to her new movie Django Unchained with Jamie Foxx and Leonardo DiCaprio.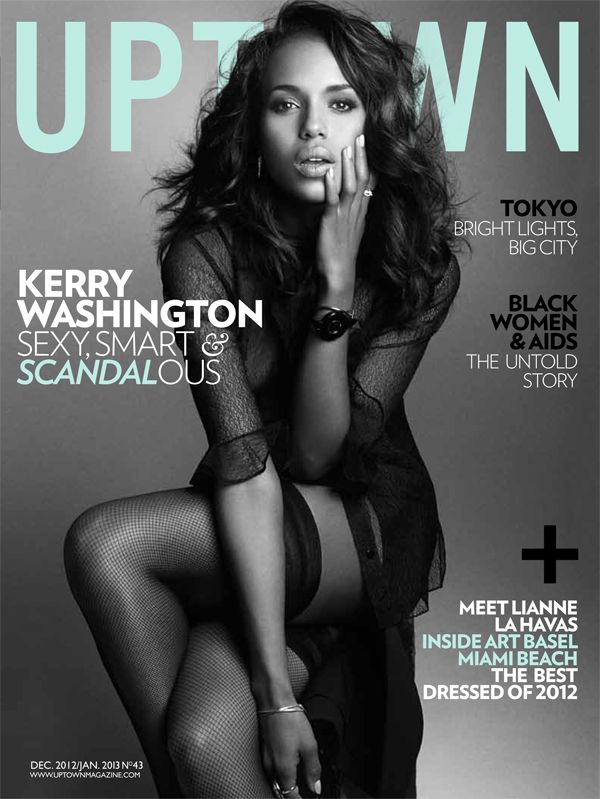 The primary cover--like the alternate--shows Kerry flaunting her innocent sex appeal in Falke fishnet thigh highs, a black vintage sheer blouse, and perfectly tousled bed-hair with a few pieces of sparkling jewelry.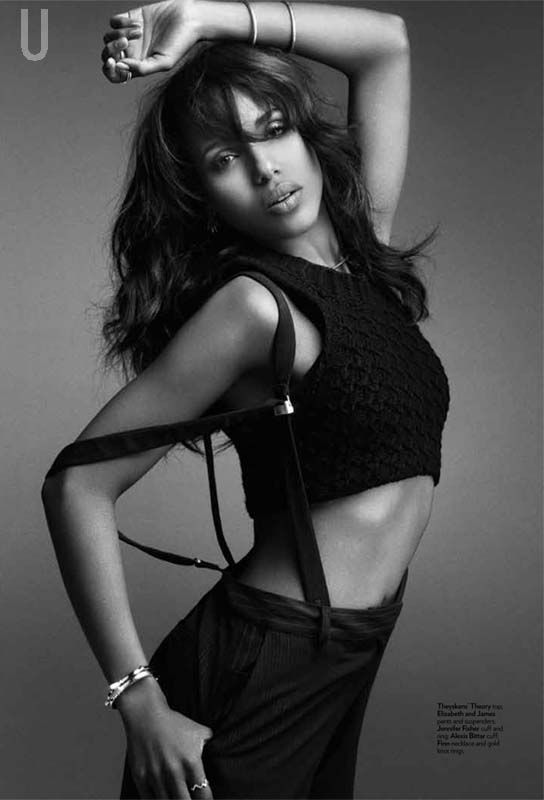 And in her gorgeous slay-worthy spread, the George Washington University grad's showing skin with crop tops simple yet sexy looks.  Directly above, she's rocking a Theyskens' Theory top, Elizabeth and James pants and suspenders, Jennifer Fisher cuff and ring and an Alexis Bittar cuff. 
Check out a few highlights from her cover story below:
On what drew her to Django and the controversy around the movie:

"I've never seen slavery dealt with this way before in film. So often it's a white character who's the savior of black people."

"We should have a plethora of visions and interpretations of who we are as a nation." But she admits, "This is not necessarily the film I would make about slavery."

On growing up in the Washington household and her multi-culti family:

She still remembers the lively, sometimes heated, discussions on race and society around the dinner table. "My family's very multiethnic," she says. "When we get together for the holidays, it is the U.N., across the board."

On the culture shock when she was enrolled in an upper east side private school:

Prior to Spence, Washington thought her working-middle-class family was balling. "We had a microwave and two cars. We had a dishwasher before anyone in the building," she says. "And then you go to this other world, and it's, 'Oh, we're taking a helicopter to your house in the Hamptons?' For a lot of classmates, I knew the only other black women they'd known were their domestic help."

On leaving the entertainment business:

"Sometimes I feel like I can't do this anymore." Almost once a year, her hair and makeup folks hear it: "I am done! I'm so done."

On why she's no saint:

"If you look at my body of work, I've always taken huge risks. I've played prostitutes, drug addicts, pimping lesbians. I do work I'm drawn to."
Check out the full story and Kerry's fashion spread over at UPTOWN.  And check out the behind the scenes footage below: