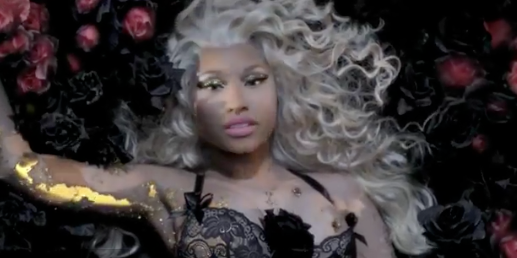 Rapper Nicki Minaj stars in a beautifully shot commerical for her "Pink Friday" fragrance.  Watch the ad inside and see promo clips from the upcoming season of "American Idol" with Nicki in her new role.  And Mariah doing what she does best...
Nicki Minaj has released a commerical for her "Pink Friday" fragrance and it will surely send the bottles flying off shelves for the holidays.  In the 30-sec clip, a blond-wigged Nicki is shown lying on a bed of black roses.  But as a thorn pricks her finger and she begins to bleed a "pink" liquid onto the bed, the roses suddenly burst with color, her body turns gold and her eyes turn pink.  How Nicki of her...
Visually, the clip is pretty stunning.  She described the scent saying, 
"Pink Friday is a celebration of my life at this moment; it is a reflection of me as a creator, and an expression of me as a woman," Nicki said of the perfume. "I know my Barbz will connect with and appreciate each aspect—from the name, to the outrageous bottle design, to the vibrant colors that create their own song."
The "Come On A Cone" rapper will be celebrating the launch of her debut fragrance, with a special personal appearance at Macy's Queens Center in Queen, NY (where Nicki was raised) on Tuesday, November 20th, at 3:30 pm EST. She plans to greet 200 lucky fans (who spend at least $65) and sign autographs.
Watch the ad here:
In other Nicki news and promos.....
The folks over at FOX have strung together two promos for the much-hyped upcoming season of "American Idol" with Nicki Minaj, Mariah Carey and Keith Urban as the new judges. In one scene, Nicki tells a contestant that her cotton candy colored wig is edible....and we believe her.
And from looking at the promos, Nicki comes across fresh and funny.  Will she prove her critics wrong and turn out to be a strong addition to the show?  We doubt it....but Nicki is good for surprises.  The new season of "AI" kicks off on January 16 on FOX.