Terry Crews responds to an interview D.L. Hughley did where he criticized's the actor's alleged sexual assault experience. And it got ugly. Receipts inside...
Terry Crews has responded to an interview comedian D.L. Hughley did (In August 2018) where he criticized the actor's actions following his reported sexual assault.
As you all know, the "Brooklyn Nine-Nine" actor came forward with his own #MeTOO story about how he was allegedly assaulted by former William Morris Endeavor agent Adam Venit during an industry party he attended with his wife in 2016. Following the incident, Terryfiled a lawsuit against Venit and WME. Eventually, the case was reportedly settled and Venit retired from the company in September 2018.
In the VLAD interview, Hughley said he found it difficult to believe that "a dude with all those muscles can't tell an agent to NOT touch his a**. I just don't understand it. God gave you muscles so you can say NO and mean it."
Check it:
We're not sure why Terry is just now responding to the interview. Maybe he just needed to get this off his chest, so he did.  Understandable.
The YBF actor reposted the interview and confronted Hughley about it, tweeting, "Are you implying I 'wanted' to be sexually assaulted?"
You told the world "God Gave Me Muscles So I Could Say No..."

Are you implying I "wanted" to be sexually assaulted?

I'm listening, sir...https://t.co/v6Q4xrvfJQ

— terry crews (@terrycrews) January 27, 2019
"You saw the video," Hughley responded.
"Sir you said I should have pushed him back, or restrained him and I DID ALL THOSE THINGS... but you act like I didn't. Were you there?," Crews popped back.
"That's different than slapping the shit outa him," Hughley responded.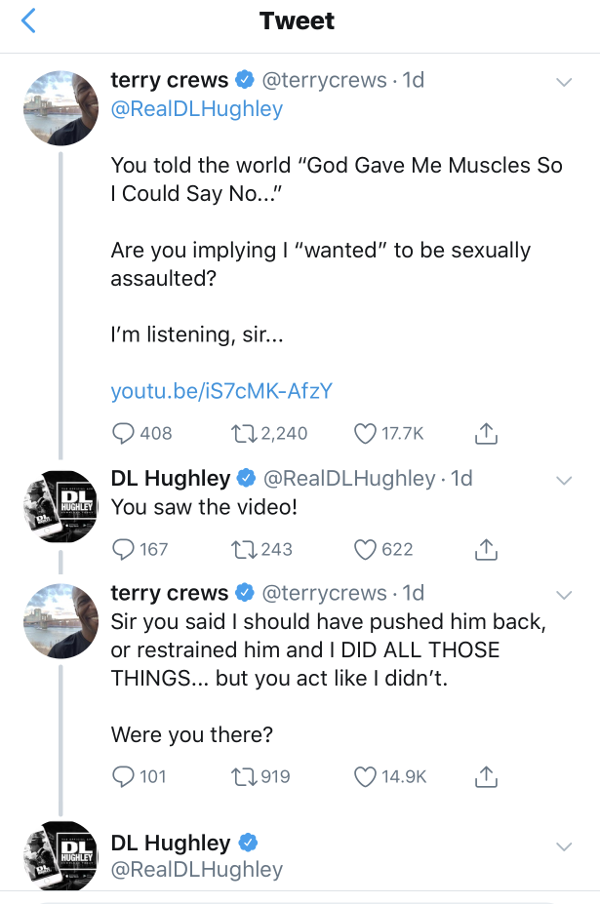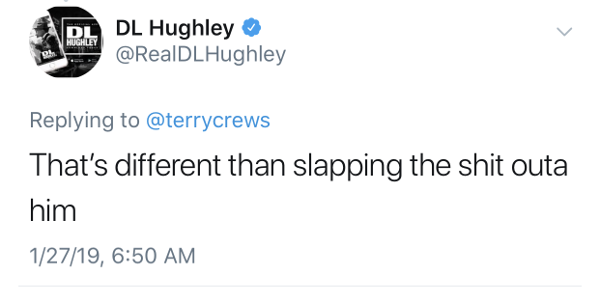 The "Everybody Hates Chris" actor continued tweeting, slamming Hughley for mocking his sexual assault experience when he has always supported him throughout his career:
Terry then called out 50 Cent, Russell Simmons (again) and Tariq Nasheed for continuing to "protect abusers":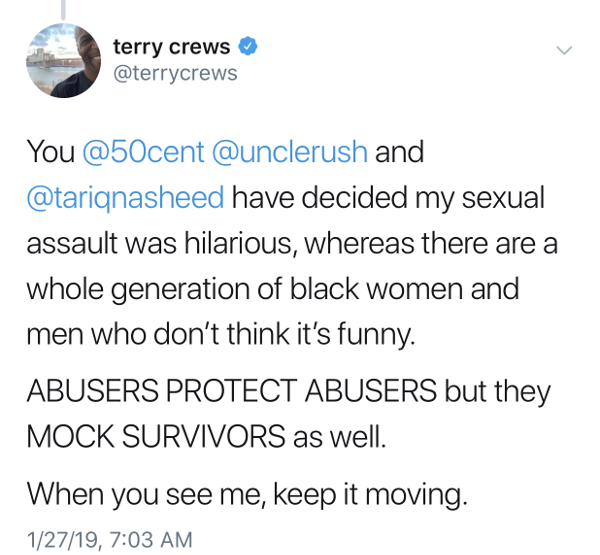 Then, Terry offered to slap the "toxic masculinity" out of D.L., since that's how he handles situations: 
"So sir... If you truly feel that is a correct way to deal with toxic behavior...Should I slap the sh*t out of you?," he asked.
D.L. didn't respond to his tweet, but he did address their Twitter spat on his radio show: 
"Notes from #TheGEDsection on the recent issue with #TerryCrews," Hughley wrote in the caption. "I believe everyone should be the author of their own narrative. Instead of leaving it to anyone else to paraphrase what I said, here it is. If I'm asked MY perspective on an issue or situation, that's what I'm going to give... MY perspective. It doesn't make me right and someone else wrong or vice versa. We don't have to agree in order to like each other and just because we like each other doesn't mean we have to see eye to eye #TeamDL"
Here's the full clip below:
Also, Russell Simmons - who Terry blasted as being a sexual assault apologist - also responded with a semi-apology: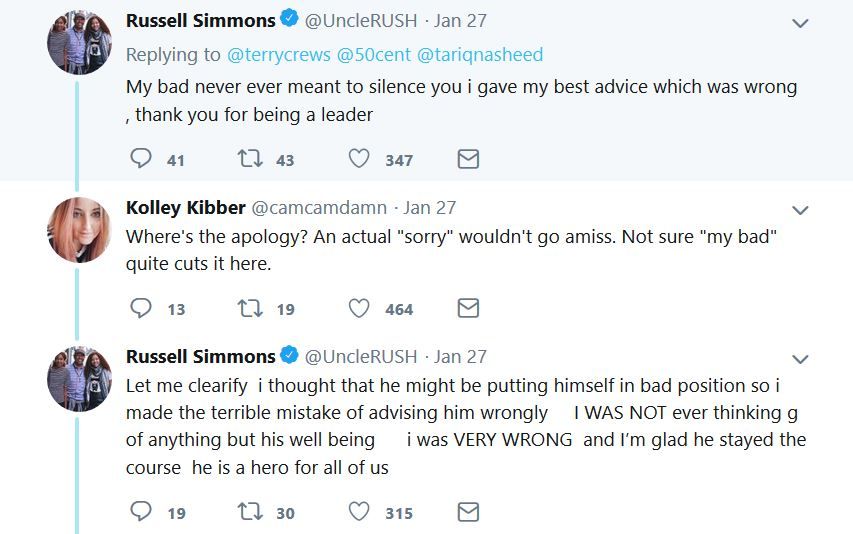 Thoughts?
Photos: Featureflash Photo Agency/CarlaVanWagoner /Shuttershock.com