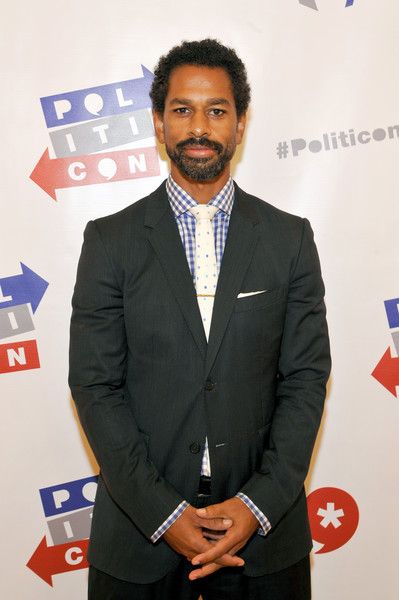 Toure was a prominent contributor to the Lifetime documentary series "Surviving R. Kelly," but he seemingly has his own #METOO story as well. A makeup artist just released direct messages from Toure of him apologizing for sexually harassing her on the job. See the DMs and more inside...
Nearly a week after LIFETIME's "Surviving R. Kelly" docu-series was released, one main contributor in the series has found himself involved in his own #METOO story.
Famed music journalist Toure Neblett teamed up with fellow journalist Jamilah Lemieux for a podcast with Mouse Jones to talk more about Dream Hampton's "Surviving R. Kelly" docu-series. A post was put on Mouse Jones' IG to promoting the interview, but the real tea was in the comments section.
A makeup artist, who goes by the name Dani, revealed a married Toure sexually harassed her repeatedly in the past. She claims he would make inappropriate sexual comments to her every Monday on a show they both were working on in 2017. She came forward then, and action was taken.
Toure allegedly made lewd comments about "anal" sex, how she looked naked, what it would be like to have sex with her and what his "c*m" would look like on her face. Ugh.
"Every Monday I used to work with him on a show in 2017 and he couldn't stop asking me to do anal, how I looked naked, if I had sex over the weekend, what it would be like to fuck me, what his cum would look like on my face," she wrote.
"I had to have the crew stay in the room [with] me while I got him ready.... And when I left I called HR.... He got fired instantly. He wrote me a huge apology for doing that in my DMs. Still have it. He did a '20/20' shoot in 2018, and I was there, and he walked out. Told the producer that he was 'embarrassed [because] he was inappropriate with a staff member.' He really needs to take a seat."
She mentioned how sick it was of him to be coming out with a relationship book when he was saying these type of things to her as a married man with children. By the way, Toure has been married to Rita Nakouzi since 2005. They have two children together.
Peep the accusations Dani made below: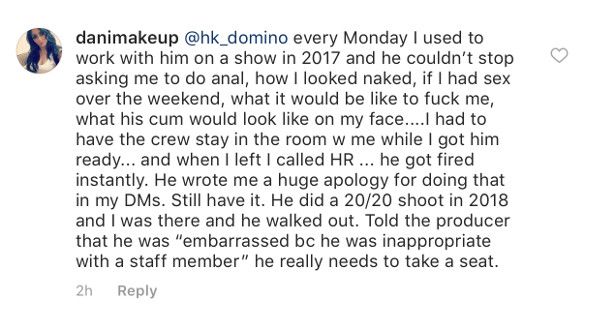 Dani chopped it up with ESSENCE and explained why she decided to put Toure on full blast, especially since she was told by a male makeup artist he harrassed him as well after the fact.
"He went on Hot97 to talk about Harvey Weinstein (after he apologized). I accepted his apology and was ok to move on but, you can't be a sexual predator and go around shaming other predators," she said.
Dani said after seeing Toure on "Surviving R. Kelly," she knew she had to call him out on his lies.
"When I saw him going around as R. Kelly's docuseries spokesman to different radio stations, the lies had to stop. I've worked with Mouse Jones before and wanted him to know the truth," she said.
In her initial posts, she mentioned she had direct messages from Toure where he apologized for "contributing to a whole environment of BS."
"I love you. I was always kidding. But I'm sorry. I was being stupid. I should've kept my mouth shut," Toure wrote to Dani.

"The way I teased you is no longer funny to me. I had no idea how rampany it is and how much it gets in a working woman's way and how I was contributing to a whole environemnt of BS. And I hate that. I'm not playing like that with you or anyone anymore," he continued.

"I genuinely like you as a friend and I don't want you to feel disrespected by me. That would be so embarrasing to me. I'm just not going to be part of the BS that women have to go through. So don't worry about hearing anything about me. I don't want to be that guy. Lord no. I'm sorry. Please don't talk badly about me! I'm so ashamed to think of that happening."
Peep the receipts: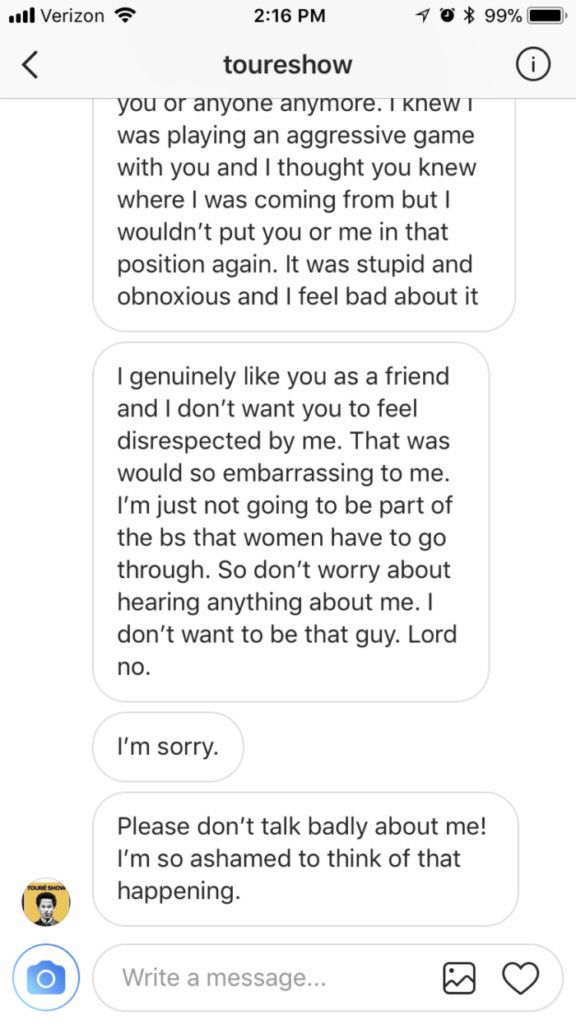 Toure issued a response to ESSENCE about the allegations via his rep:
"On the show, our team, including myself, engaged in edgy, crass banter, that at the time I did not think was offensive for our tight-knit group. I am sorry for my language and for making her feel uncomfortable in any way. As a lead on the show, I should have refrained from this behavior. I have learned and grown from this experience."
After Dani's accusations were made public, folks were coming after "Surviving R. Kelly" executive producer Dream Hampton for having him in the docu-series, saying it was counterproductive. She said she didn't know anything about it and wishes he had told her about the sexual harassment allegations:
No, I didn't know Toure sexually harassed someone he worked with, I'm not sure how I could have known. He was included because he did the most famous interview with R. Kelly ever. Like Charlamagne, I wish he'd told me.

— dream hampton (@dreamhampton) January 11, 2019
By the way, people were also down her back about having Power 105 radio personality Charlamagne in the series considering his criminal history involving sex crimes against women.  There's also tweets he posted years ago about the R. Kelly sextape being "the greatest celebrity sex tape of all time" and other gross tweets making light of the alleged crimes. She said she didn't have any knowledge of this when she asked him to come sign on:
I'm just seeing Charlamagne's 2010 tweet tonight. I interviewed him before the story abt him broke but should have cut him altogether, rather than limit his appearance. It was a huge mistake. I prob spent more time arguing to cut Bruce. Again, mistake. #SurvivingRKelly

— dream hampton (@dreamhampton) January 6, 2019
"Brooklyn Nine-Nine" star Terry Crews, who has become a sexual assault activist after he was violated by a Hollywood exec, was scheduled to sit down for a podcast with Toure this week, but he CANCELLED following the accusations:
CANCELLED https://t.co/NkgGKjU9Do

— terry crews (@terrycrews) January 10, 2019
Will you be cancelling Toure too?
Photos: Getty/Dani's IG