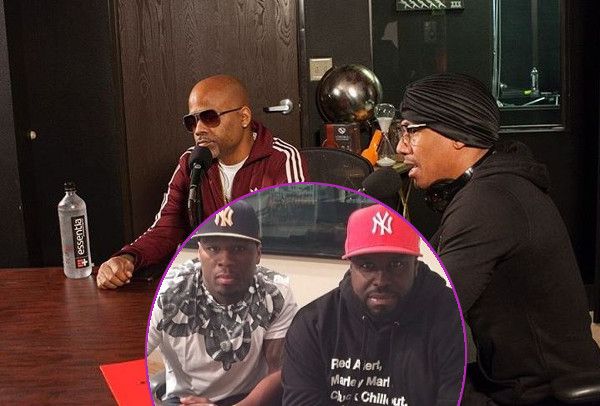 Dame Dash and Nick Cannon got 50 Cent and Funkmaster Flex in their bags after seeing a clip from "Cannon's Class" where they discussed Jay Z and Foxy Brown's possible relationship. Find out what they had to say about it inside...
Yesterday, Nick Cannon released his full hour-long conversation with Dame Dash for his "Cannon's Class" series. Over the last few days, Nick had been dropping clips from the interview and one part in particular got up under 50 Cent and Funkmaster Flex's skin.
During the interview, Dame and Nick touch on Jay Z's alleged "relationship" with an underaged Foxy Brown. The guys insinuate Hov was messing around with Fox when she was just 16. Peep the clip below:
FIf came across the clip, posted it to his IG account and captioned,"Dame is a real sucker for this, he trying to get jay jammed up. smh."
The "Wild 'N Out" honcho is never one to back down, so he hopped in 50's comments:
"Ha!!! That's what you got out of that Big Homey??? Interesting! I was taught Solid recognize Solid and suckas recognize suckas… Let's talk about it!," Nick replied.
"That's f*cked up you know these people out here so sensitive, they looking for anything Dame know what he was doing. He could have brushed right pass that question instead he asked you to ask him again," Fif popped back.
A fan also responded to the clip and Fif unleashed some harsh words towards the lady: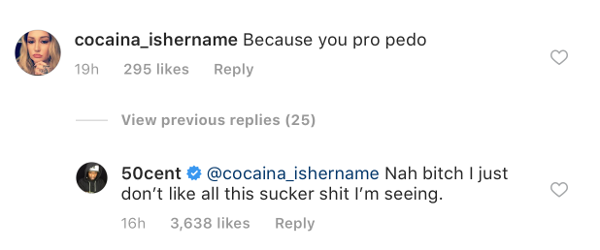 Sighs.
The "Power" star/producer also hopped in the comments on Nick's page where Funkmaster Flex co-signed:
"@50Cent 2 grown men giggling like b*tches concerned about Jayz penis and who he touching! @duskopoppington x @nickcannon ( Nick always commenting on a man chick.. but can't keep his chick! Damn intern/wife took all his sh*t! Y'all 2 are a F*cking disgrace from my era!!! FOH," Flex wrote.
Flex then blamed Foxy for allegedly lying about her age: 
Flex hopped in the DMs and Nick shared a screenshot of their convo. Sounds like an interview could be in the works: 
Lordt.
Switching gears a bit...
Mr. NCredible offered up an honest apology to all women who have been taken advantage of by men. He admitted he was wrong for working with R. Kelly back in the day and from this day forward, he will no longer stay silent about the "darkness in this industry." Peep his heartfelt apology above.
Despite all of the controvery AND police investigations against R. Kelly, the Pied Piper (ugh!) is STILL being booked for shows. Not here in the States though. Over in Germany. It's reported the promoter is fully aware of what's going on with Kellz and claims they will act accordingly if anything changes.
TMZ reports:
Kelly is scheduled to perform in Ludwigsburg this coming April. Tickets are currently going for $115 and up, as of this post. He's even offering a meet and greet -- yes, even now -- which will cost fans about $355, if they're so inclined.

Sources close to Kelly tell us the singer also just locked down shows in Hamburg and Oberhausen. What's interesting about those dates is ... they were sealed in the last few days, AFTER "Surviving R. Kelly" aired.

A rep for the venue in Ludwigsburg tells TMZ ... the promoter is fully aware of what's happening with Kelly in the States, and is monitoring to see how things unfold. The rep says, "You can be assured that we are carefully following the situation and, if necessary, will act accordingly."
$355 for a meet and greet? Boy, bye.
While it may seem like everyone hates R. Kelly here in the States, that doesn't seem to be true in his hometown of Chicago. He was spotted celebrating his birthday at a club this week and folks were losing it when he hopped on the mic to sing - and say he aint worried about NOTHING:
Another video of R Kelly in Club V75 in Chicago, people in Chicago should be outside protesting right now, he is disgusting ! #MuteRKelly#SurvivingRKellypic.twitter.com/vI6BCGKC4p

— CM (@CMartinezTB) January 10, 2019
R Kelly Gets Spotted Chicago Club DJ playing All His Old Jams pic.twitter.com/GcdJ3IHtw7

— HIPHOP CROWN NATION (@hiphopcnation) January 10, 2019
Close Up Footage: R. Kelly Vibes to His Old Jams In Chicago Club Tonight pic.twitter.com/AsF8DEMXq8

— HIPHOP CROWN NATION (@hiphopcnation) January 10, 2019
Ugh.  Cops were also called to the party, but nothing transpired. 
Photos: Dame's IG/Instagram