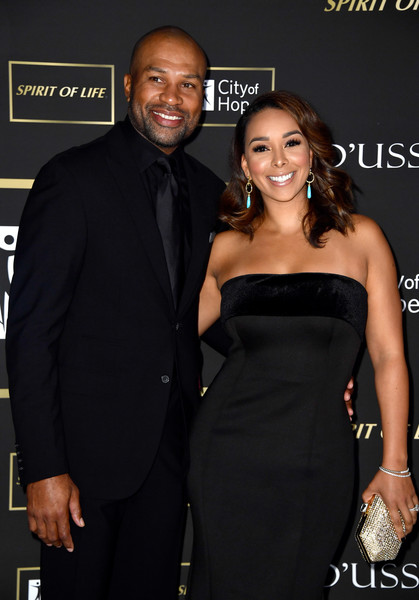 Scammers caught up with Gloria Govan and Derek Fisher. Now, they're suing. Meanwhile, Damon Dash seeks an order of protection from a hairstylist and Tekashi 6ix9ine pleads not guilty. Deets inside...
Gloria Govan is heading back to court, but this time it won't be against her ex-Matt Barnes.
The former "Basketball Wives" star got scammed! In fact, she and her fiance Derek Fisher were hoodwinked by a man over a rental property. Apparently, the couple paid up to 6-months rent for a commercial property for a new business, however, the man wasn't who he said he was and took all of their money. 
The Blast https://theblast.com/gloria-govan-sues-over-bad-business-deal/ ">reports:
According to court records, the former star of "Basketball Wives" filed a lawsuit against a man named Duangduan Leungingkasut. Sources familiar with the situation tell The Blast Govan and fiancé Derek Fisher had rented a commercial property from Leungingkasut as they were trying to venture into a new business, but soon found out the man was not in a position to sub-lease the property to the stars.
It's reported they are out of a considerable amount of capital as they were investing in their brand new company. It's unclear how much money Gloria and Derek dished out, but they're suing for the undisclosed amount. We can see Matt now...posting a petty Karma meme in 5..4..3..2..
In other legal news...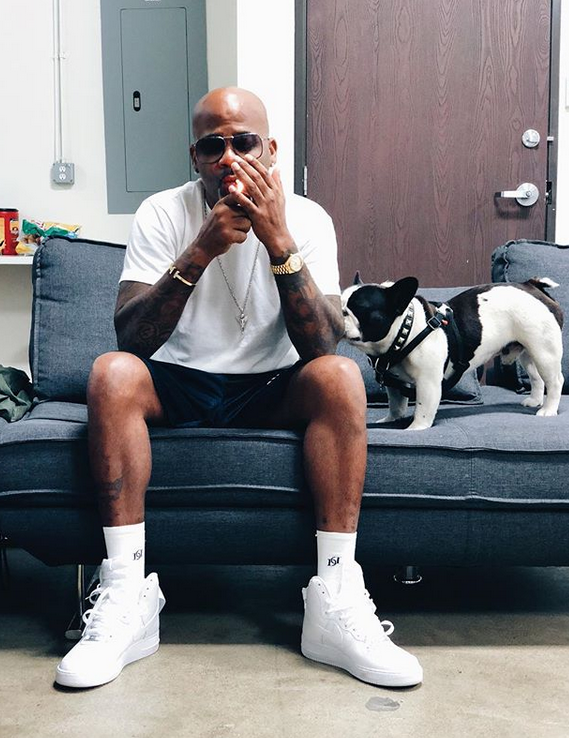 Damon Dash claims a hairstylist is harassing his family and he wants her to STOP!
The Hip Hop mogul is firing back at allegations made by children's hairstylist Patrice Miner, demanding a judge grant him a restraining order against his "former acquaintance and business colleague." He wants her to stay at least 30 yards away from his 'fiancée Raquel Horn, his 10-year-old daughter Tallulah, and himself, of course. And he filed the restraining order days after SHE filed one against him. Oh?
The cause of their "beef?" Money! He dropped $50K for a commercial space in LA and he claims she likes to pop up unannounced. He also made claims that she changed his locks on the space.
Here's what went down, according to The Blast:
Dash explains he is a tenant of Miner and subleased a commercial space in Los Angeles. He has spent $50,000 on rent and other expenses.

Dash states, "I am the victim in this action and I am seeking to get protection and a restraining order from Patrice Miner". He accuses her of harassing him and his family on numerous occasions. He claims to have videos and witnesses to corroborate his account.

He accuses the woman of being, "addicted to drugs and/alcohol and her judgment is impaired which is causing her to act irrationally and violently."

Dash says Miner filed for a restraining order with false accusations against him. He calls her a "con artist and a fraud and her false restraining order against me is part of her schema (sic) to defraud me out of thousands of dollars"

He accuses her of changing his locks and trespassing on his property on one occasion. Dash says on another date he threw his daughter a Halloween party at the space, and Miner showed up uninvited and caused a scene. He claims his family feared for their safety.

Dash accuses her on another date while they were both in the alley behind the building of approaching him irrationally and verbally harassing him. He says she got physically violent and pushed him when he asked her to leave.

He says he will be suing her for defamation in the near future. Dash wants a restraining order fearing she will continue the harassment and/or will file a false police report against him.

Dash filed his request for a restraining order days after Miner, a kid's hair stylist, obtained one against him. In her petition, she accused him of recently coming into the store, "walked up to me and threaten my life."

She claims Dash grabbed a customer and threw him out of the shop before telling her she was "so lucky" there were people there.

In another incident, she claims Dash "yelled and screamed and called me an idiot in front of guests and customers."

Miner was granted the TRO and there will be a hearing later this month to make it permanent.
Sheesh. Folks are wildin'.
In other legal news...
Tekashi 6ix9ine had his day before a judge, entering a NOT guilty plea in his federal racketeering and firearm case. ATF agents arrested the "FEFE" rapper, his ex-manager Shotti and several others for alleged racketeering, and alleged involvement in conspiring to commit armed robberies, drug deals and shootings.
Since a judge deemed him too dangerous, he did not receive a bail. He has been in lockup since November 18th. He was placed in general population at Brooklyn's Metropolitan Detention Center, but was moved into another detention center days later.  He reportedly says it was NOT due to snitching, but due to safety, even though authorities said there were no threats to his safety at this time....
The judge set his trial date for September 4, 2019. That's a LONG minute.
TMZ reports:
The issue of bail was not addressed in court. As we reported, his attorney, Lance Lazzaro, plans to apply for bail directly to the trial judge. Tekashi was denied bail when Lazzaro offered to pay $750k, surrender his passport and remain on house arrest.

The feds believe Tekashi himself pulled an armed robbery on April 3 along with his ex-manager, Shottie, and 2 other members of the Nine Trey Bloods.

The indictment also mentions the April 21 shooting incident at Barclays Center in Brooklyn ... and fingers Fuguan Lovick as the trigger man. In all, the indictment lists 17 counts dating back to 2013.
As for how things are going in the new detention center he was sent to....not so good. Inmates are reportedly pissed that Tekashi is receiving "special treatment." Uh-oh.
Here's what happened when Tekashi got there:
We're told as soon as Tekashi arrived at the facility -- which is often used to house informants -- a dormitory was cleared out and the only ones let back in were those who were NOT affiliated with a gang. 69 was then placed in the dorm with 11 other inmates who were described as "docile."

The dorm in question is typically used for high-profile inmates, dirty cops and child predators.

Some of the other inmates became vocal, screaming their displeasure at what they perceived as special treatment.

One inmate near 69's dorm clowned him by singing a song about a child predator. 69 had been convicted of a child sex crime and placed on 4 years probation.

Tekashi's lawyer, Lance Lazzaro, tells TMZ he doubts his client is receiving any special treatment.
Welp.
By the way, his lawyers are pissed at "federal informants" allegedly harming their case.
"...prosecutors revealed they are working with a confidential informant who's made recordings -- presumably of conversations with 6ix9ine.

Tekashi's attorney, Lance Lazarro, admits it's a serious development in the case, telling TMZ ... "Anytime there is a confidential informant, there is cause for concern."

In court, prosecutors boasted the recordings could send Tekashi to prison for life. 

His lawyer's trying be optimistic, though, saying ... "I am confident that any recorded conversations with [Tekashi] will prove that he was never a part of the Enterprise and support the conclusion that he's innocent."
Time to buckle up buttercup.  It's about to be a LONG ass ride to (potential) freedom.
Photos: Getty/Dame's IG/Tekashi's IG