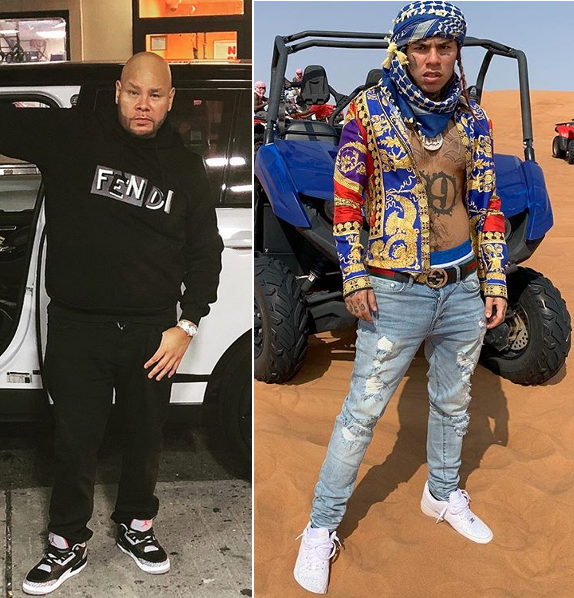 Fat Joe tried to warn Tekashi 6ix9ine about all of the trouble he was getting himself into. But, it seemingly fell on deaf ears. Now, Joe is reflecting on his conversation with the young rapper. Here's what he had to say...
Fat Joe tried to warn Tekashi 6ix9ine about where his life was headed...and he was right.
As you know, the "FEFE" rapper is facing life in prison after he copped six federal racketeering and firearms charges, which was a result of a five-year federal investigation. The 22-year-old rapper associated himself with the Nine Trey Gangsta Bloods to help build his brand, but it all backfired.
About 9-months ago, the Hip Hop OG had Tekashi as a guest on his "Coca Vision" podcast and he warned the young rapper about how the feds will plot against you to throw you in jail. Joe tried to warn him how hanging around the wrong people could get him in deep sh*t. He even brought up rapper Bobby Shmurda, who's currently serving a 7-year prison sentence as an example of what NOT to do.
Check it at the 7-minute mark.
To be honest, Tekashi didn't look like he was receiving everything Joe was trying to school him on.
TMZ caught up with Joe after he finished passing out food at his Thanksgiving Turkey Giveaway in NYC and he reflected on their conversation.
"I was just trying to school him," Joe said about the interview. "I been through that, I had the heat on me, you know, I was wilin' in the streets. I tried to tell him as a young kid, it's my job."
Not only that, Tekashi told him about the federal case when there were in Dubai recently.
"He was telling me everything I told him in the interview," Joe shared.
Peep his interview below:
Before his arrest, Tekashi hopped on Instagram and told his fans he fired EVERYONE from his team as an attempt to disassociate himself with his gang. The Feds obviously didn't care.
"All the upcoming rappers and entertainers, you see what's going on. Be careful, take care of your family, B," Joe said. And he's right. These youngings need to start listening to the OGs who have already been where they are and learn from their mistakes.
Tekashi, who has a daughter, is facing 32-years-to-life in prison. A judge denied him bail after saying he's "too dangerous" to the community.
Photo: Fat Joe's IG/Tekashi's IG