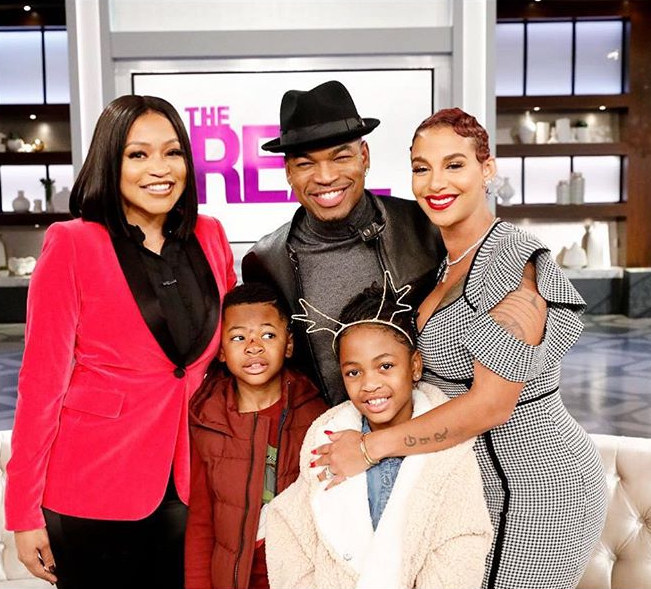 This Thanksgiving is going to be full of blended family love for Ne-Yo, his ex-Monyetta Shaw and his wife Crystal Smith. The threesome did their first ever joint interview to share how they got over their issues for the sake of their children.
After some a high-profile breakup, heartache, tears, and social media spats, Ne-Yo, his ex-fiance Monyetta Shaw and his current wife Crystal Smith are finally at a good place. If you haven't heard, Monyetta and Ne-Yo collaborated on a co-parenting book together titled, Keep It Classy. It's a how-to-guide for moms and dads, where Monyetta shares first-hand encounters and strategies she's learned through co-parenting with Ne-Yo.
While everything appears to be peaches and cream now, it wasn't always that way. Ne-Yo, Monyetta and Crystal (with Ne-Yo & Monyetta's children Madilyn & Mason in the audience) stopped by "The Real" to talk about it.
"Time heals all wounds, Ne-Yo said. "We ultimately had to sit down and talk to each other. And not let the world's opinion get in the way of what was genuinely important, which was how we were going to make this whole thing work."
Ne-Yo and Monyetta called in quits in 2013, and then the singer got with Crystal in 2014. It just so happened that Monyetta's premiere on "Atlanta Exes," where she detailed her failed relationship with the Grammy award winner, coincided with Ne-Yo and Crystal starting their relationship.
Fans thought the relationships overlapped (and it didn't help that Monyetta did interviews alluding to him cheating) and were quick to call Crystal a homewrecker. Well, they now say that wasn't the case. Monyetta said she and Ne-Yo were still living together but had separated. Not sure if she was aware though......
Crystal said she felt like she was unfairly judged but was still going to fight for her love.
After the breakup, Monyetta shared with the world how she was coaxed by Ne-Yo to have her tubes tied, only to leave her and get another woman pregnant. She said if she would have "seen the end result," then she would have "done things differently."
Then she spilled some tea...
Monyetta found out her procedure is reversible and has a doctor who specializes in doing tubal reversal. When asked if she would consider having more children, she said she would if her HUSBAND wants to.
"Ummm...yes if my husband wants to. We'll cross that bridge when we get there," she responded. Oh?  Maybe she means future hubby?  Maybe it's THIS guy who was pictured with the whole blended family over the summer.
"The Real" co-host Loni Love then responded, "We should have booked your husband too."
Yeah, they definitely should have, or Monyetta should have demanded he be able to come. If this blended family is as blended as they claim, it would have been nice to see Monyetta have HER man by her side like Ne-Yo had his woman by his side.  Blended responsibilities don't only lie with the women.
They each talked about what was the hardest thing with having a blended family and Ne-Yo said it's getting everyone on the same page. Crystal said she hates not always being with Madilyn and Mason. And Monyetta said the hardest thing for her was seeing Ne-Yo move on with another woman in the beginning.
The threesome was asked when was it appropriate to let your boyfriend/girlfriend meet the kids. Monyetta said 6-months, however, she said that didn't happen in their situation. She said Crystal met their kids a lot earlier. Oop.
Crystal said she was the one who first reached out to Monyetta to get to know her since she was going to be around her children.
Now that everything is all good, the three of them will be joining forces for their very first blended Thanksgiving. Well, good for them!
Peep a bit of the interview below:
Photos: The Real