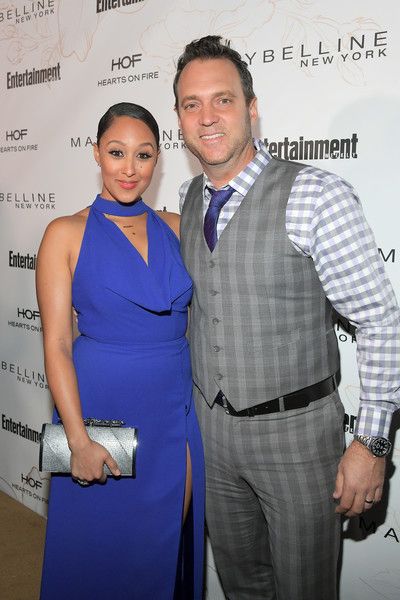 In absolutely heart breaking news, one of the 12 victims of this morning's mass shooting in a California bar was the niece of Tamera Mowry-Housley. Full story and the latest updates on the shooter and the victims inside.
News broke around midnight L.A. time that several shots were just fired by a shooter inside the country western Borderline Bar & Grill in Thousand Oaks. It was college night. The number of people killed have climbed 12, with at least 15 injured.
"The Real" host Tamera Mowry-Housley just revealed her and husband Adam Housley's niece Alaina Housley was sadly one of the victims in the attack. She said moments ago:
"Our hearts are broken. We just learned that our Alaina was one of the victims of last night's shooting at Borderline Bar in Thousand Oaks. Alaina was an incredible young woman with so much life ahead of her and we are devastated that her life was cut short in this manner."
Heartbreaking.
Police have identified the shooter as 28-year-old former marine Ian David Long, who used a .45 caliber Glock 21 gun.  The gun holds 10 rounds, but authorities confirmed he used an extended magazine.
Long lived with his mother, and has left no indication for the reasoning for his terroristic act. Authorities do suspect possible PTSD. Back in 2015, he was the victim of a battery inside of a local bar. He also was cleared by a mental specialist after his 4-year marine stint.
Hmph. 
Earlier today, Tamera & Adam were frantically trying to locate Alaina after her suitemate posted that she hadn't heard from her:
Ashely this is her aunt Tamera Mowry Housley. Can you please DM me your information?

— Tamera Mowry-Housley (@TameraMowryTwo) November 8, 2018
My suitemate is still missing, she is wearing denim shorts, a blue flannel and sneakers, pls let me know if you know anything #Borderlinepic.twitter.com/t1nUHneChW

— Ashley (@amowreader) November 8, 2018
Was she one of the girls who fled the scene?

— Tamera Mowry-Housley (@TameraMowryTwo) November 8, 2018
A reporter spoke to Adam earlier when he went looking for Alaina at a nearby hospital but was prevented from being let inside. He told the reporter his biggest fear is that Alaina was still inside the bar - where her smartphone devices said she was - and dead:
Tamera's husband, Adam, went looking for Alaina at a local hospital but a reporter tweeted guards wouldn't let him in because the hospital was on lockdown. Making matters worse ... Alaina's Apple Watch and iPhone still showed her location at the bar, this according to the L.A. Times.

Adam told the newspaper, "My gut is saying she's inside the bar, dead. I'm hoping I'm wrong."
So incredibly sad.
Hours ago, Tamera or Adam were still waiting for news on her whereabouts:
We haven't found her yet. It's been 7 hrs since the shooting.

— Tamera Mowry-Housley (@TameraMowryTwo) November 8, 2018
Please pray if you believe....pray.

— Adam Housley (@adamhousley) November 8, 2018
— Adam Housley (@adamhousley) November 8, 2018
Today's episode of "The Real" was not live, but was pre-taped yesterday, so the shooting was not discussed.
California Senator Kamala Harris spoke out about the tragedy saying:
I'm thankful for the heroic actions of law enforcement but heartbroken that they lost one of their own. Sgt. Ron Helus rushed into danger to save lives. A true hero.

— Kamala Harris (@KamalaHarris) November 8, 2018
Six off-duty officers' lives were taken in this shooting, as well as 29-year veteran Sgt. Ron Helus' who was first to arrive on the scene.
Another victim, 22-year-old Cody Coffman, was pronounced dead on the scene after his father arrived to the bar right after the shooting. Jason Coffman distributed photos of his son and spoke to media for hours about his son. Once he learned his son was dead, it was an incredibly hard scene to witness:
Heart-wrenching moment as father announces his son was killed in Thousand Oaks mass shooting. "Only him and I know, how I loved—how much I miss him…Oh, son, I love you so much." https://t.co/H1XcH2w5PSpic.twitter.com/mAtfVmIIhy

— ABC News (@ABC) November 8, 2018
So senseless. Our hearts and condolences are with the victims' loved ones, the wounded, and anyone affected by this tragedy during this impossible time.
Photo: Getty