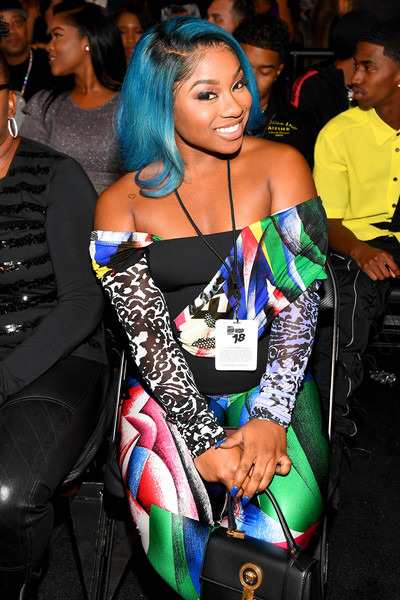 Reginae Carter and Keshia Knight Pulliam are coming to LIFETIME. Anika Noni Rose is ready to box it out in the ring, a sneak peek at season 2 of "Grown-ish" just dropped and Tinashe is joining "Rent." Everything inside...
Reginae Carter is looking to make her own lane and make a name for herself outside of just being Lil Wayne & Toya Wright's daughter.
On "Friends & Family Hustle," Reginae broke the news to her mother that she was dropping out of college to pursue an acting career. Chile...
As expected, Toya wasn't happy about it. But, Reginae feels like she's grown and she needs to live for her.
Well, things are already looking up for her. According to Deadline, Reginae is set to star in the LIFETIME original movie, Pride and Prejudice: Atlanta, contemporary take on Jane Austen's early 19th century classic, following the 2005 adaptation film, Pride and Prejudice.
Here's a quick synopsis of the film and other actors starring in it:
Pride and Prejudice: Atlanta features an African-American cast led by Reginald VelJohnson as Reverend Bennet, a pastor of a prominent Southern Baptist church, and his wife, Mrs. Bennet (Jackée Harry), author of a self-help book on how to find the perfect husband. Needless to say, Mrs. Bennet is less than thrilled that all five of their daughters — Lizzie (Tiffany Hines), Jane (Raney Branch), Mary (Brittney Level), Lydia (Reginae Carter) and Kitty (Alexia Bailey) — are still single. When the very eligible Will Darcy (Juan Antonio) arrives in town, Mrs. Bennet sets her sights on the handsome bachelor for daughter Lizzie, leading to a comedic modern-day take on themes familiar to fans of the novel.
Other castmates include Keshia Knight Pulliam, Kellee Stewart, and Victoria Rowell.  Rhonda Baraka will helm the film from a script by Tracy McMillan. The film will be produced by Big Dreams Entertainment and Swirl Films, with Leslie Greif, Naomi Despres and Tracy McMillan serving as executive producers.
Sounds like something we would watch. Good luck Reginae on your acting debut!
Anika Noni Rose is gearing up to whoop some ***.
The YBF actress has landed the lead in TNT's drama pilot, "Beast Mode." And get this...
It's inspired by living boxing trainer legend Ann Wolfe. It's a story about a strong mother who pulls herself and her two daughters from the gutta to make a name for herself.
Deadline has the details:
Pulling herself and her two daughters up from poverty, abuse, homelessness, and criminality, Marsha Blackstone (Rose) reached the pinnacle of boxing as a fighter and has become equally as successful a trainer known for unconventional methods and a fiercely combative style. Driven by the belief that any step backward is a slippery slope to her former life, when the boxer Marsha trained to a world title fires her, this complex and inspiring woman is determined to find a new fighter to eclipse the one she lost, but her emotional baggage and militant style could be her undoing in her professional and personal life, especially with her two grown daughters, and a new baby on the way.
"Beast Mode" is the working title as of now. Tina Mabry is set to direct the pilot. David Schneiderman will write it and he'll also produce it alongside Ann Wolfe and MACRO in association with Studio T.
Speaking of television...
#grownish season 2 sneak peek! pic.twitter.com/YAQQ9ff3Pa

— grown-ish (@grownish) November 5, 2018
Before season 2 of "Grown-ish" premieres in January, fans get the first sneak peek at what the new season will bring.
Zoey Johnson (Yara Shahidi) is now a sophomore and viewers will get to see what life is like after summer break. Especially, her love life, since she decided Luca (played by Luka Sabbat) is the one she wants to be with. In the clip, Zoey appears to be ready to kick off her sophomore year with positivity and on the right foot and she's optimistic about her relationship with Luca.
At the end, there's a quick PSA to remind folks to get out and vote during the midterm elections. Check it above.
Also coming to television...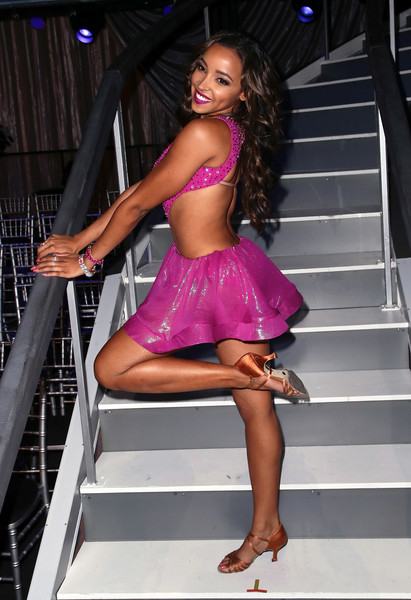 Tinashe is ready to flex her singing and dancing skills for FOX's live rendition of RENT.
The "2 On" singer who was robbed on "DWTS" will be joined by Kiersey Clemons (Dope), singer/actor Mario (Empire), Vanessa Hudgens (Grease Live), Valentina (RuPaul's Drag Race), Brandon Victor Dixon (Jesus Christ Superstar Live), Jordan Fisher (Grease Live), and Brennin Hunt (Walking With Herb. 
THR reports:
Based on Larson's Tony-winning musical, Rent is a rock musical loosely based on La Boheme that tells the story of a group of impoverished young artists struggling to survive and create a life in New York's East Village in the days of the Bohemian Alphabet City and under the shadow of HIV/AIDS. Tinashe will portray Mimi Marquez, a dancer who struggles with addiction. Mario will take on the role of Benjamin Coffin III, Mark and Roger's former roommate-turned-landlord, who is after their rent.

Hudgens will play Maureen Johnson, an outgoing performance artist who is not afraid to take on the establishment. Clemons will play Joanne Jefferson, Maureen's girlfriend and an Ivy League-educated lawyer.

Dixon is set as Tom Collins, a computer scientist who returns to New York after being expelled from MIT. Valentina will play Angel Dumont Schunard, a young drag queen and street percussionist who embraces life and lives it to its fullest.

Fisher is the central character of Mark Cohen, an aspiring filmmaker, who serves as the show's narrator, while filming the lives of his friends. Hunt plays Roger Davis, a struggling musician and Mark's roommate and best friend.
This sounds like the makings of a good live production. RENT is scheduled to air January 27th on FOX. Will you be tuning in?
Photos: Getty