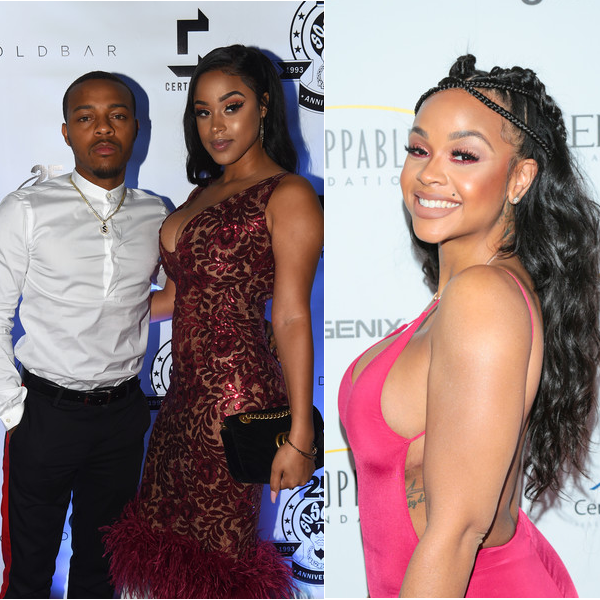 Whew, chile. The drama! "Growing Up Hip Hop: Atlanta" stars Masika Kalysha and Kiyomi aired out their frustrations with one another on Twitter and it got ugly. Meanwhile, 50 Cent has responded to Ashanti calling him a "bully." Get it all inside...
Although Bow Bow and Kiyomi have already broken up, she's still arguing with his "friend" Masika Kalysha.
On this week's episode of "Growing Up Hip: Atlanta," Masika was throwing hella shade at Bow Wow's then-girlfriend Kiyomi. During a confessional, the former "Love & Hip Hop: Hollywood" star called Kiyomi "the thot bot of the week."
As they watched with the rest of us, Kiyomi hopped on Twitter and retweeted a tweet that said, "When you don't do a scene yet with @masikakalysha and she talks about you every scene sus she doesn't know you exist yet."
In true Masika fashion, she responded and went lethal.
"When u mindin yo business & u never heard of a B*tch but she so insecure & jealous of u that she talks about u 25/8 bts & tells @smoss goofy ass he can't film with u & she too scared to film w u too, but ur in Atlanta the whole summer & production asks u to talk about it #fixedit," Masika tweeted. Yeah, Masika seemingly wants some smoke and Kiyomi gave it to her.
"You better keep it cute for Shad Moss tell you the REAL REASON he entertains you," Kiyomi tweeted. "You go on a whole show talkin bout me nobody 'insecure' you have nothing I want / or need in life. Act your age is what I'm saying."
Oop. Peep their exchange, plus tweets from Bow Wow (who executive produces the show) himself, below: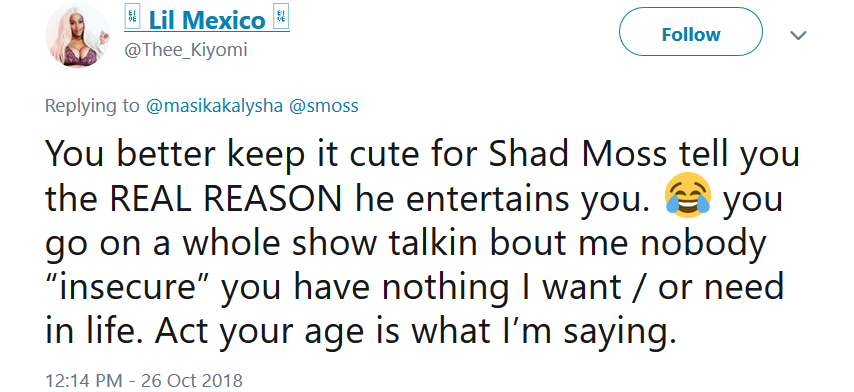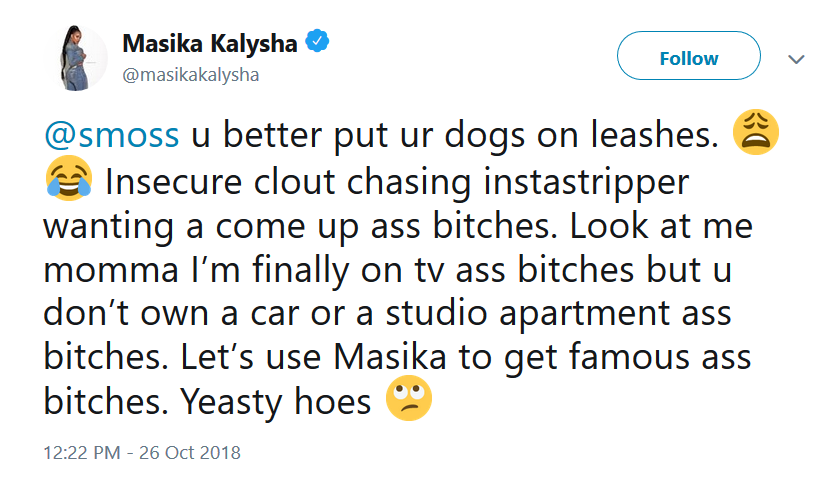 Masika said she's tired of "b*tches" trying to make a come up off her name: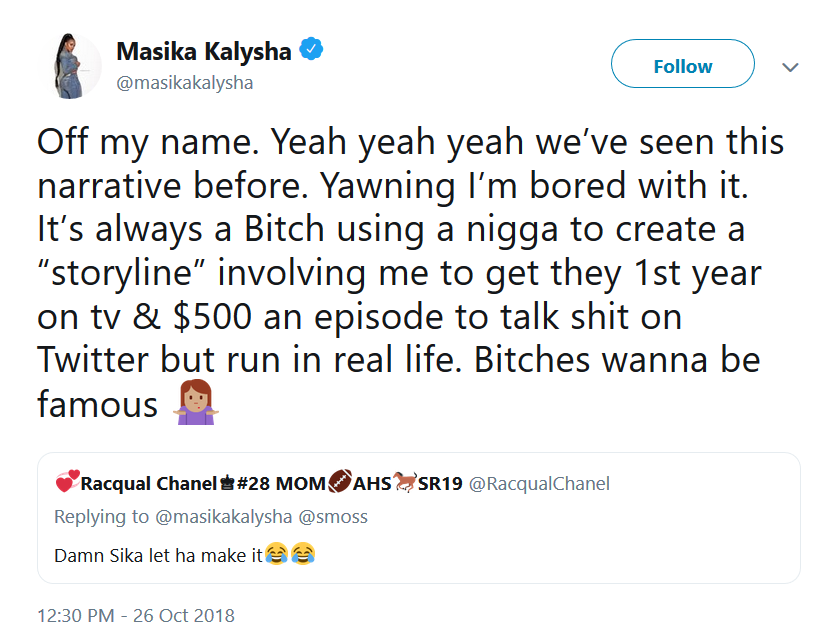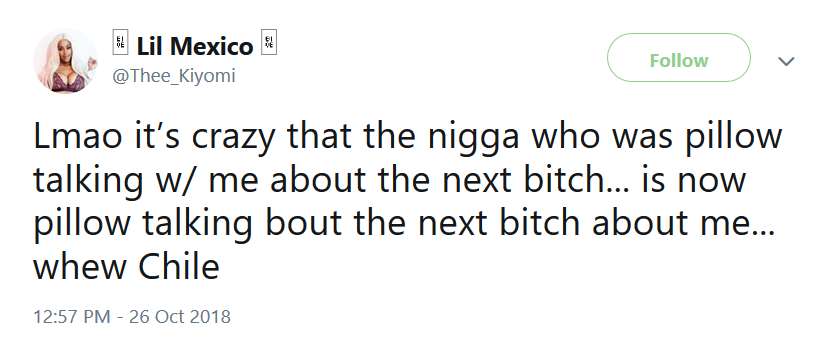 Bloop! Did Kiyomi call Bow's man parts small....?
Today, Kiyomi continued her Twitter posts: 
The same reason why niggas talk cash shit. After the fact...

— Lil Mexico (@Thee_Kiyomi) October 27, 2018
I can play but I'd rather mind my business, because we all know I know some shit... Ion see why niggas get mad when you leave & wanna run the usual script of "trashing" the female damn how many years was it the "female" & not you? Hoe my god get HELP already.

— Lil Mexico (@Thee_Kiyomi) October 27, 2018
Then, she issued a warning that she has RECEIPTS, so tread lightly:
For EVERYTHING I SAY... I have a receipt to back that statement up! (Mental Note) I ain't never said shit that wasn't true... I like talking bout REAL SHIT... no need to fabricate , the truth is so much more entertaining!

— Lil Mexico (@Thee_Kiyomi) October 27, 2018
Go ahead and spill the tea, sis.
In other drama...
Earlier this week, 50 Cent was on his trolling steez and Ashanti was his target.
We told you Ashanti only sold 24 tickets to perform at Stony Brook University's "Back to the Brook" concert for students. Shanti wasn't originally supposed to perform (Teyana Taylor was), the concert wasn't promoted correctly, the concert was only for students, AND the students may not be Ashanti's demo.
However, that didn't stop 50 Cent from clowning her. In a now deleted Instagram post, the "Power" producer/star suggested Ashanti should "do basement parties then it can still feel lit it's lit."
Sighs...THIS guy.
TMZ caught up with the birhtday girl (she has been celebrating her 38th birthday all month) when she pulled up at LAX to ask her how she felt about Fif talking ish.
The Braveheart singer threw a some shots of her own, replying, "Officer Curtis better cut it out," she said with a laugh. Fif despises that nickname as it implies he's a snitch. Got 'em!
"I mean it's obvious that it was a lack of promotion, the school put out a statement to clarify that it was a lack of promotion and that they should've never did it, but you know, no hard feelings," she explained.
When asked if he was a bully, she responded, "Curtis is definitely a bully."
Peep the clip above.
Since Fif never lets up when it comes to trolling, he hopped back on Instagram to respond to Ashanti's video. "don't let them tell you what to say Ashanti fuck," he captioned. "smh your not suppose to say I'm a bully. Your suppose to say fuck 50,he don't want no smoke. LOLget the strap #bellator #lecheminduroi"
Check it:
Not only has he been trolling Ashanti, he has been bothering her homie/performing partner Ja Rule as well.
Fif posted up a screenshot of some Ja Rule concert tickets that were posted on Groupon going for $15/ticket. He deleted the post, but in the comments he claims he bought the first 200 tickets so the front seats would be left empty.
And he didn't stop there. He went on to post Photoshopped images of what the crowd at Ja's Nov. 9th show will look like since he allegedly bought those tickets.
Check it: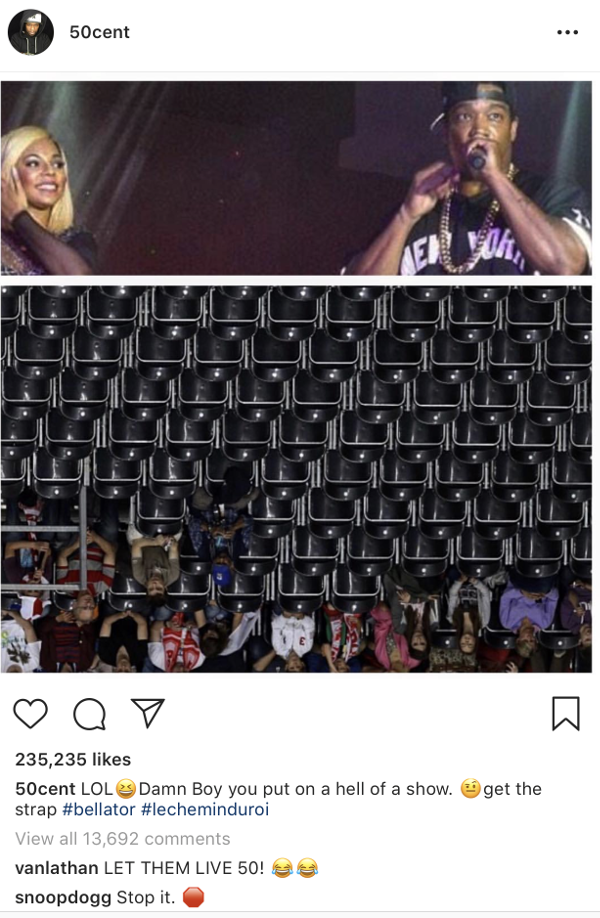 Then, he said he's not going to stop trolling until he wants to: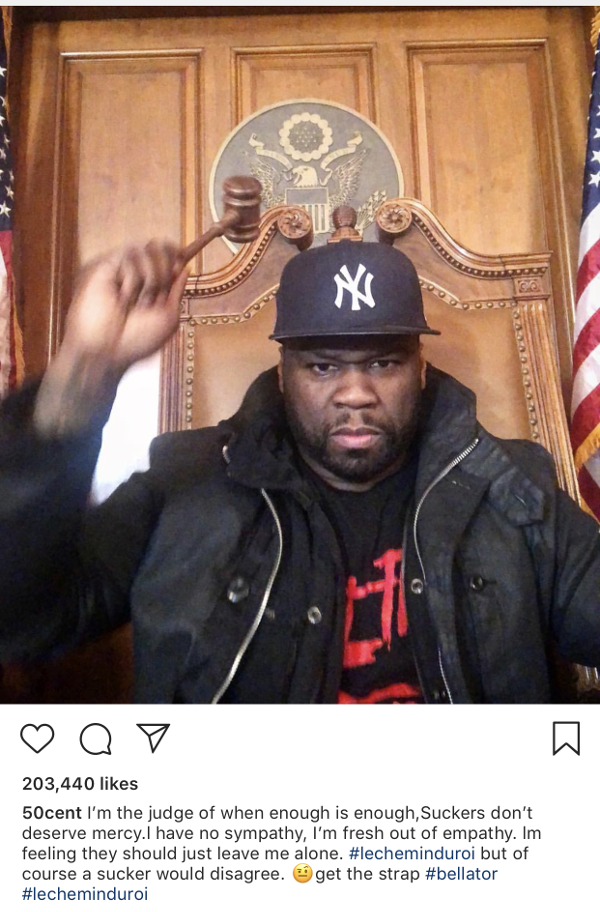 This man - with two children of his own - has too much time on his hands.
Photos: Getty