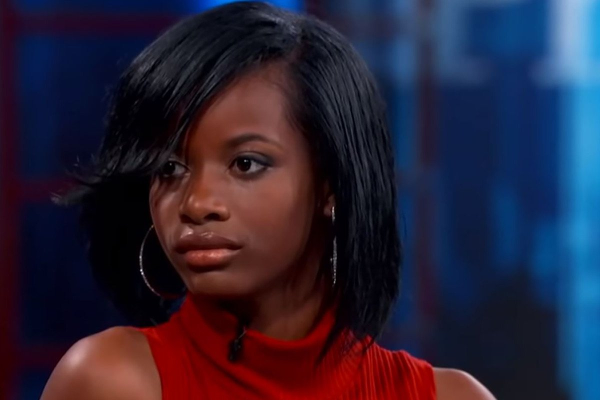 A black teenage girl went on the "Dr. Phil Show" to explain why she identifies as a white person, all while dragging her own race. More inside...
A 16-year-old black girl named Treasure has some serious issues....or she's trolling.
The young teen went on the "Dr. Phil Show" to explain why she identifies as a white person. Oh? Treasure said she's a white person because her hair is straight and NOT nappy, her nose isn't "giant" like African-Americans, and she doesn't speak "ghetto" like black people do. Whew, chile. The sterotypes.
Throughout the episode she kept repeating, "I'm Caucasian," much to Dr. Phil's surprise. Treasure's mom revealed she used to mutilate her black dolls as a child and would make them "slaves" to her white dolls.
"Well, I know I'm a Caucasian because when I wake up in the morning I just have such a great life," she shared with Dr. Phil. "My hair is so perfect, my skin isn't ugly, and I'm not fat also, which is also an African-American thing. I'm nowhere near like them. They're so thug and criminal, I can't relate."
She said she can feel her "Caucasian-ness" in her blood and she KNOWS she's white. Chile...
Peep the clip below:
Chick insists she's white and calls black people "loud," "rude," "obnoxious," "fat," "ugly," "hood rats."
"They all act like monkeys," Treasure said.
Treasure's mother shared she's "mortified" by her daughter's comments. When she was younger, they had to move from a mostly white affluent neighborhood to the city, which was mostly African-American. Her mother said:
"It made me feel good to put down an African-American person because it helps them stay in their place. All the African-American kids that I was around were all ugly looking and losers. They're all gorillas."
"My daughter is racist to her own race," her mother said.
Oh, and it gets worse. Treasure's mom revealed her daughter is consumed with the Ku Klux Klan. Treasure said she has the KKK's number on speed dial and that they keep her current on events.
"I identify with the Ku Klux Klan because the way they believe is just so smart. White is right. White power," she said.
Watch her mother explain how her daughter's self hate began and her brother call her a "racist" below:
Treasure's mom and brother are fearful that someone will hurt her over her hatred comments:
Treasure's mother also shared that she let her kids believe her late husband, who was white, was their biological father. After he passed, Treasure's mom explained that her husband wasn't their biological father and that crushed Treasure.
If you can stand anymore of this delusional child, peep a few more clips below:
It's clear this child is battling some inner demons about who she is. It's clear she's suffering an indentity crisis, especially after her mother told her the truth about her biological father. She needs help. BAD.
Photo: Screenshot