Amandla Stenberg and John David Washington are set to receive some huge honors during the Hollywood Film Awards. Meanwhile, Gabrielle Union and Nia Long have new projects coming down the pipeline. More inside...
Young, black Hollywood will be getting honored during this year's Hollywood Film Awards, and rightfully so. Amandla Stenberg and John David Washington KILLED it in their respective projects this year and they'll be awarded for all of the hard work and dedication they put into their roles.
Amandla Stenberg, who coves TIME magazine's latest issue, will be recognized with the "Hollywood Breakout Performance Actress Award" for 20th Century Fox's The Hate U Give, while John David Washington, son of Denzel Washington, will receive the "Hollywood Breakout Performance Actor Award" for his role in Focus Features' BlacKKKlansman at the 22nd Annual Hollywood Film Awards.
The ceremony will take place on Sunday, November 4th at the Beverly Hilton Hotel.
Congrats Amandla and John! Hella deserved.
By the way, The Hate U Give Hits theaters October 19th & it's SO good.
In new movie news...
Gabrielle Union is gearing up to bring the teens a new film. And we all know Gabby isn't a stranger to the young adult film world. Her breakout role was on cult classic Bring It On. She also starred in pop culture hits, She's All That and 10 Things I Hate About You.
Now, she's working behind-the-scenes with her production company, I'll Have Another Productions, on a new movie catered to the young crowd. The "Being Mary Jane" star just nabbed the rights to Juleah Del Rosario's debut novel, "500 Words Or Less," a young adult fiction which will be adapted into a feature.
Deadline serves up the deets:
Written entirely in verse, the book, which was released last week via Simon Pulse, centers on Nic Chen, a Chinese-American high school senior who attempts to salvage her reputation among her Ivy League-obsessed classmates by writing their college admission essays and in the process learns big truths about herself.

"I am such a fan of young adult stories in general but this novel really got me. It is beautifully written entirely in verse and the exploration of identity and what that means to you and those around you is something that my production company is focused on exploring with all the stories we choose to tell. This one really hit home and I'm excited to be part of bringing it to life as accurately as we possibly can," stated Union.
All parties are out to writers in an effort to bring this story to the screen in an authentic fashion.
Let's keep our fingers crossed Gabby can create pop culture magic!
Another YBF chick with a new project...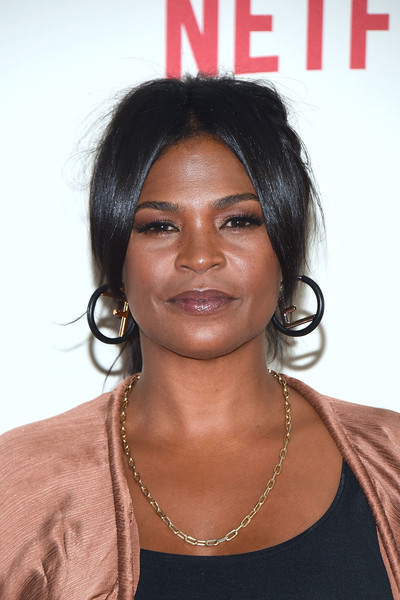 After wrapping up Life in a Year, Nia Long is gearing up for another role that'll hit the big screen. The YBF actress - who looks AMAZING at 47 - will be joining Samuel L. Jackson and Anthony Mackie in The Banker, a fact based drama that Nolfi wrote with Niceole Levy.
Deadline reports Romulus Entertainment is financing the film, with Brad Feinstein of Romulus (Fences, Beatriz at Dinner) producing.
Here are the roles everyone will be playing:
The drama is based on the true story of two African American entrepreneurs, Bernard Garrett (Mackie) and Joe Morris (Jackson), who during the 1950's tried to circumvent the racial limitations of the era and take on the establishment by recruiting a working class white man, Matt Steiner (Hoult) and training him to pose as the head of their business empire while they posed as a janitor and a chauffeur. Bernard's wife Eunice (Nia Long), plays a key role in setting up the enterprise. Garrett and Morris become two of the wealthiest and most successful real estate owners in the country with Steiner as their front man, but their success brings about unforeseen risk of exposure that threatens everything.

Nolfi last directed the Bruce Lee pic Birth of The Dragon and before that The Adjustment Bureau after scripting such dramas as The Bourne Ultimatum and Ocean's Twelve. The film is just underway in Atlanta. Also producing are Joel Viertel, Nolfi, Nnamdi Asomugha, Jonathan Baker and Mackie. As financier, Romulus just wrapped the Max Winkler-directed Jungleland, with Charlie Hunnam, Jack O'Connell, and Jessica Barden starring.
Two black entrepreneurs on the big screen? Yep. We're going to see it when it hits theaters.
EXTRAS:
1. Below is a sneak peek at prima ballerina Misty Copeland in Disney's The Nutcracker (also starring Morgan Freeman), set to hit theaters November 2nd:
2. "Black Lightning" has new superheros and a few surprises. STORY
Photos: Getty