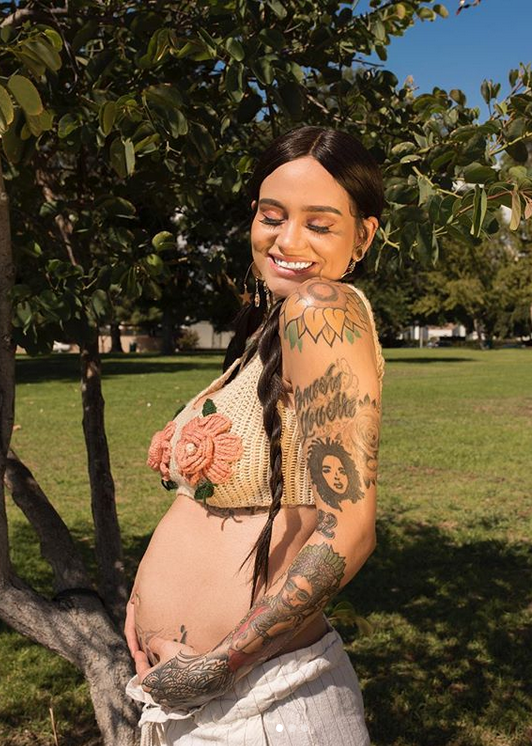 Well here's a shocker.  Singer Kehlani just announced she has a bun in the oven and it's a girl! More inside...
UPDATE: Kehlani called in to Nicki Minaj's Queen radio this evening and confirmed she and her man planned the pregnancy.  It took her only one cycle to get pregnant, and she found out at 3 weeks.  Her baby's father is also bisexual, so she says, "I'm glad I have someone who really understands me."  As for marriage, she said it's something she has to think about over time and they want to "grow up more" together.
----------------------------------------------
Congrats are in order for Kehlani!
The singer just announced she's four months pregnant with her first child. And it's a girl!
The 23-year-old hopped on social media to reveal pics of her growing baby bump, filling her fans in on all the details.
"I've always been very open with you all about my personal adventures & accomplishments... this was the HARDEST to hide. if you know me, you know i've dreamt about motherhood since i was very young," she captioned on Instagram attached to a maternity shoot.
Earlier this Kehlani came out as "queer." After calling it quits with her girlfriend Shania in December 2017, she has found love with a man this time around and she's over the moon about it.
"I am so honored to be given this gift by spirit, creator, and an amazing partner whom i trust with my body and life after a very traumatic experience that had me afraid of interacting with men as a whole for what i was sure would be forever (i'll tell that story when it's time)."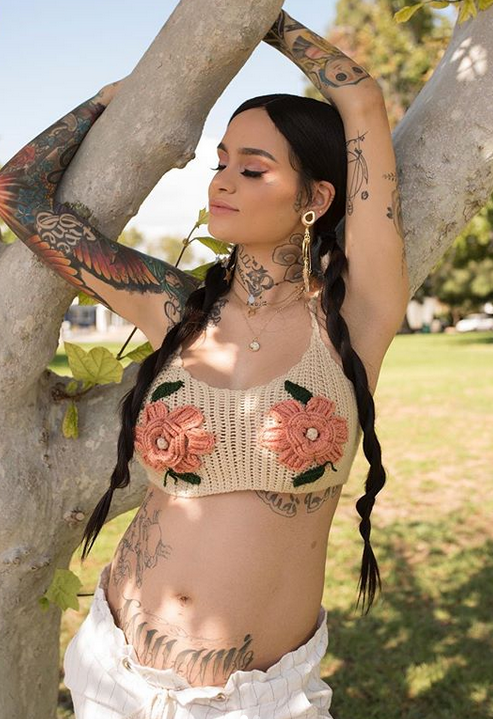 She continued,
"I knew sharing something so personal and precious could bring stress into my world but there isn't a word anyone would say my way that could take away from this. dearest little girl, i am so proud to be your mommy."
Kehlani, who collaborated with Cardi B on her track "Ring," shared she plans on having a natural birth and she can't wait to meet her little pumpkin.
"I'm looking forward to sharing my little world with you all... my partnership with my very best friend and lover, our journey of conception, my choice for a natural home birth with my AMAZING midwives."
She confirmed she's 4 months and counting down the days until her little bundle of joy makes her arrival.
"I am now a HOME. 4 months and counting with you, angel of mine."
Kehlani, who received a public apology from her ex-Kyrie Irving four months ago, also hopped on Twitter to make her announcement:
i have a daughter. me. i. me! kehlani! i have a mini on the way. my partner is my best friend and quite frankly the only man on earth i trust. we are SO READY FOR U MIJA!!!!!!!!!

— Kehlani (@Kehlani) October 12, 2018
the decision to share this with the world was a tough one, but i really want to experience the freedom and joy any normal pregnant person feels. i don't want to hide. i want to walk around belly out everywhere. ME AND MY SHORTY OUT HERE!

— Kehlani (@Kehlani) October 12, 2018
And clapped back at haters:
imagine thinking queer means lesbian and either means unable to have babies https://t.co/TfvkaQUisB

— Kehlani (@Kehlani) October 12, 2018
oh baby there is so much more love than hate! and even then the hate is more so confusion from people who just truly don't want to understand. i've let the internet take away some of my best years and that won't ever happen again. we are so good over here!!! https://t.co/AAqQuTVpX6

— Kehlani (@Kehlani) October 12, 2018
Following the announcement, Missy Elliot tweeted her a congratulatory message:
SHE DONT WANNA HIDE NO MO! this was so hard to contain. i'm so so so happy. the highest blessing one could receive. i love you already, mama. 4 months & so grateful pic.twitter.com/yf6lwh2O50

— Kehlani (@Kehlani) October 12, 2018
Other friends like Keke Palmer, Miguel, Young MA, Janelle Monae, Lil Yachty, and Ty Dolla Sign also sent their love in the comments section of her Instagram page.
As for her baby's fathaaaaaa....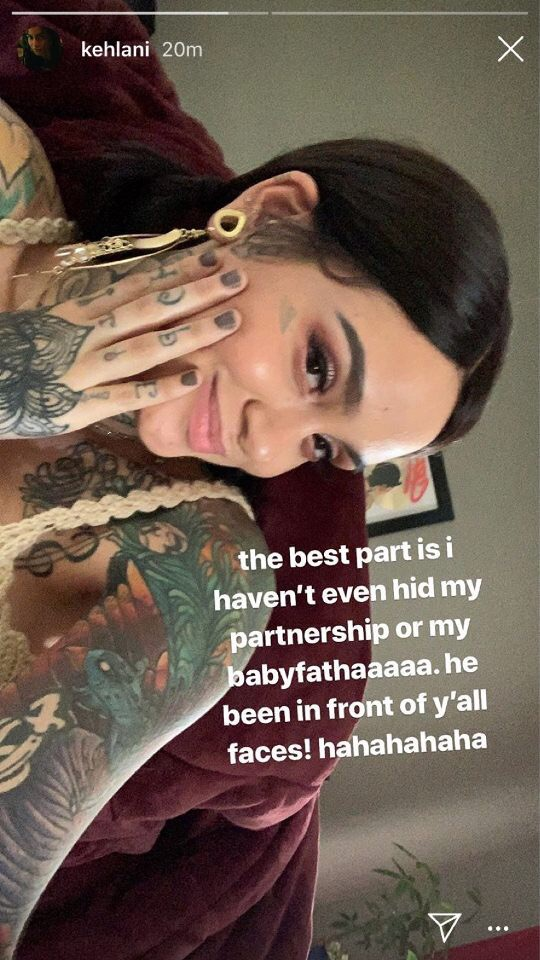 It appears to be a man named Javie. She didn't confirm who the baby's father is exactly, but she did hint at it in an Instagram story. We found a comment she left on his page that said, "hey dad."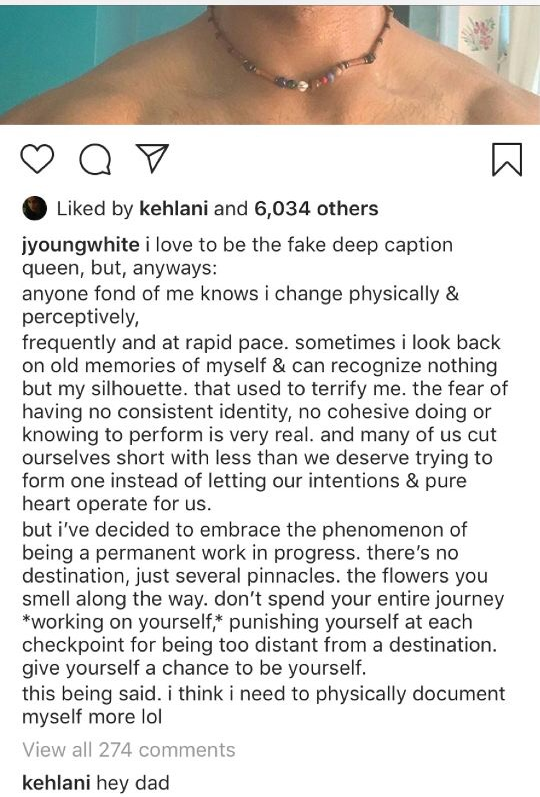 She also said she hasn't been hiding him, and here a few flicks that she posted of him on her IG:
Looks like he could be a member in her band.
Javie also posted a picture of them together and folks expressed how excited they were for them on finding love (pre baby announcement):
Here are more flicks of them together:
Kehlani And Javie will make a beautiful baby tho I'm just hating alil bit pic.twitter.com/hH1p4yRiz6

— Adi (@Mogulyfe) October 12, 2018
There's something in the Hennessy around Hollywood because everybody's pregnant. 
Congrats!
Photos: Kehlani's IG/@_718s