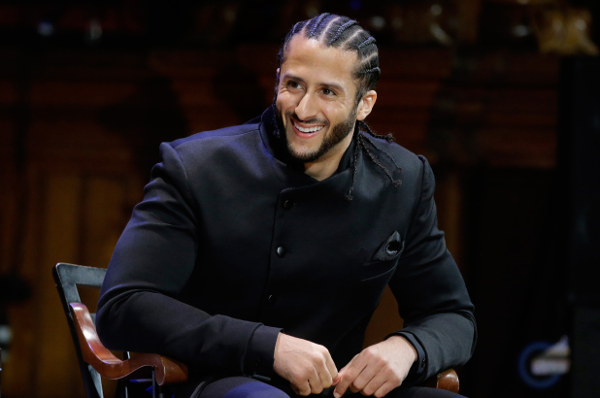 Colin Kaepernick was honored with a BOMB award from Harvard University amid his former team trying to erase him from their NFL history. The former 49ers QB has also filed a trademark for his likeness. Deets inside...
Not today, devil!  Harvard's on deck.
While the NFL, Trump supporters and racist hate on Colin Kaepernick for simply protesting against social injustice and police brutality, he's still being praised for his courageous stance. Thankfully.
The former San Francisco 49ers quarterback was honored with the W.E.B. Du Bois Medal by Harvard University yesterday (October 11th). Comedian Dave Chappelle and six others were also honored with the award from the Hutchins Center for African and African American Research at Harvard.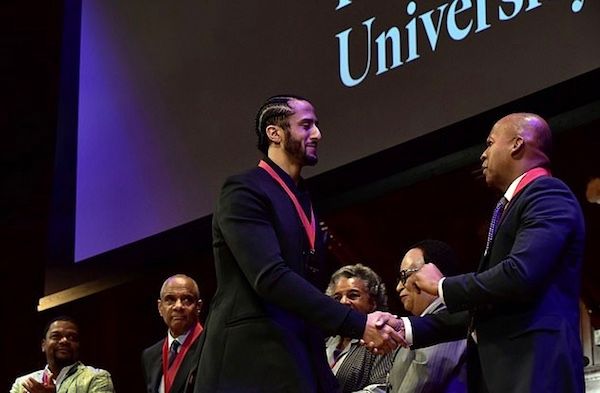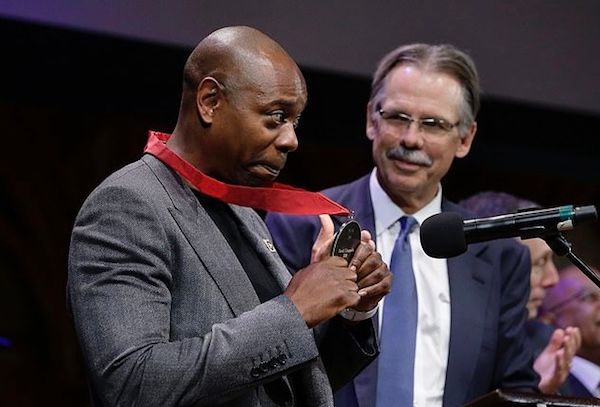 The medal is considered "Harvard's highest honor in the field of African and African American studies" and is awarded "to individuals in the United States and across the globe in recognition of their contributions to African and African American culture and the life of the mind."
Greatness Congratulations to the most amazing man I know @kaepernick7 on being honored by Harvard University with their W.E.B Du Bois Medal. pic.twitter.com/jftQgUNvbU

— NESSA (@nessnitty) October 11, 2018
The live stream of the award presentation ceased when Kaepernick took the podium to make his acceptance speech, according to Pro Football Talk's Mike Florio.
"Due to the current litigation of W.E.B. Du Boss medalist Colin Kaepernick," the stream read, "no press photography or video live stream will be allowed of his remarks."
Thank you Harvard University for honoring me tonight with the W.E.B. Du Bois Medal. I'm grateful for this recognition and to be amongst the other highly esteemed honorees that inspire me.
Photo Credit: Amari Kenoly @foot_candlespic.twitter.com/plXOBuwBlF

— Colin Kaepernick (@Kaepernick7) October 12, 2018
Kaepernick, who completed his pledge of donating $1 million to charity organizations, is currently in the middle of a collusion grievance he filed against the NFL that will advance to trial. It's reported the stream was taken down so that the league couldn't use anything he said against him in court.
However, here's the transcript of his acceptance speech below:
Kaepernick requested that the media not record or broadcast his speech, however he did allow his remarks to be on the record. So here is what he said: pic.twitter.com/KewUJJp0iB

— Eric Kane (@EricKaneTV) October 11, 2018
Of course, while Kaepernick was being praised by Harvard, the 49ers were busy throwing hella shade, literally erasing him from the team's history. The 49ers posted a photo gallery on their website highlighting their greatest moments against the Green Bay Packers. It was dubbed as the "top moments between the 49ers and Packers since 1950,
Guess who was omitted from the gallery? You guessed it! Colin Kaepernick.
And get this, while he was the starting QB for the 49ers, Kap played in one of his best performances against the Packers. He led the 49ers to two playoff wins against the Packers. One of those games earned him the single greatest rushing performance by a QB in NFL history. Chile...
Look for yourself here. Colin Kaepernick is NOWHERE to be found. He's not there at the time of this post. If he does end up popping up in the mix, they definitely added him after receiving some backlash.
Peep a few tweets below:
Not a single pic of Kaepernick's historic night in the 2012 playoffs in this 48 pic set of the team's history of big moments against GB. Not. A. One. https://t.co/JDEZnkliQk

— Rich (@rjmadrid) October 12, 2018
At Sunday's game, they did a countdown end of halftime to start the 2nd half using jerseys of current/past players. Up flashed Steve Young for 8. At 7, I think they had like a picture of a fan wearing a shirt with a number 7 on it. I laughed out loud. The Niners Kap ban is real.

— Mark 'The Sly Giraffe' Orillaneda (@TheSlyGiraffe) October 12, 2018
As a #49ers season ticket holder and long time fan, I find that this obvious attempt to erase Colin Kaepernick from your history is inappropriate, dishonest and disturbing.

— Jason M. (@JayMiles68) October 12, 2018
sigh... i am so disappointed in my @49ers. @Kaepernick7 we (the faithful) know what you did for our franchise and will always appreciate it. but i'm even happier to tell my son what you're doing off the field now. thank you. https://t.co/mHApBGYEnB

— kristin florin (@krissyuva) October 12, 2018
Cray.
Hopefully, this can be used in Kaepernick's collusion lawsuit because it's CLEAR they have blackballed him.
In other news...
JUST IN: @Kaepernick7 applies for a trademark to an image of himself, intends to use to merchandize and to connect it with self-empowerment & education https://t.co/QMfJshzz89pic.twitter.com/lwzWZdMZwI

— Darren Rovell (@darrenrovell) October 10, 2018
Colin Kaepernick, who has a lucrative deal with Nike and is the face of their newest campaign, is looking to trademark and his face and afro, according to ESPN. It's reported, Kaepernick's company, Inked Flash, applied to the U.S. Patent and Trademark Office (USPTO) to use a black-and-white image of Colin in several categories such as clothing, toys, candy and mugs on October 5th.
ESPN reports:
The filing, which showed up on the website for the U.S. Patent and Trademark Office on Wednesday but was filed last Friday, says the intent is to use the image on everything from shampoo and hairspray to jewelry and lampshades.

The filing also says the image could be used in association with "providing classes, workshops, seminars and camps in the field of self empowerment and awareness to properly interact with law enforcement" as well as in association with "production of television shows and films."
Genius.
Oh...and then there's this:
The Sheriff in Union County, Arkansas is putting Nike t-shirts on people they arrest and making them wear them during mugshots.

Source says it is to mock Nike and Colin Kaepernick. Disgusting. pic.twitter.com/9z9Nw9hxuF

— Shaun King (@shaunking) October 11, 2018
So gross.
Photos: AP/Getty