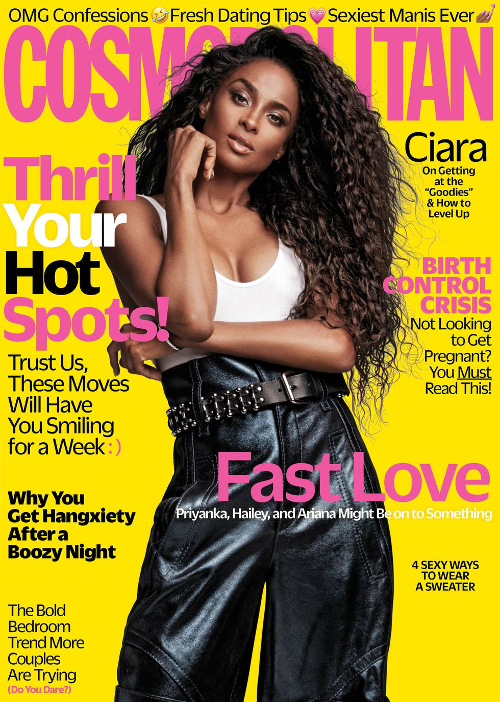 There's no denying Ciara looks incredible after giving birth for the 2nd time and now she's dishing on her snapback routine in her Cosmopolitan magazine cover story. Get into her MILFy behavior inside...
Weight loss, in general, is hard AF. And it's harder after having a baby. You literally are carrying a whole human inside of you, eating for two, and once the baby comes out, you're stuck with some extra lbs. Now, every woman is different, but most moms struggle with weight after giving birth.
However, when you're rich and famous, you have resources that you can use to get to whatever fitness goal you've created for yourself. Or maybe even a live-in trainer in the form of a pro-athlete husband.
Singer Ciara wasn't playing ANY games after giving birth to her second child - daughter named Sienna Wilson, whom she shares with Seattle Seahawks QB Russell Wilson - in April 2017.
In her cover story for Cosmopolitian magazine's November 2018 issue, the "Level Up" singer revealed she worked out multiple times a day to "snapback." And she didn't do it for social media pics.
"It was kind of like, wake up in the morning, breastfeed, eat a small meal, go train, come back in, breastfeed, eat another meal, go train, then come back, have another meal, and then a third training session at night. It was a good challenge, one I set for myself, not for anyone else. Taking care of myself makes me feel really good. And I want to keep it sexy too, you know."
Sheesh! Everyone ain't able!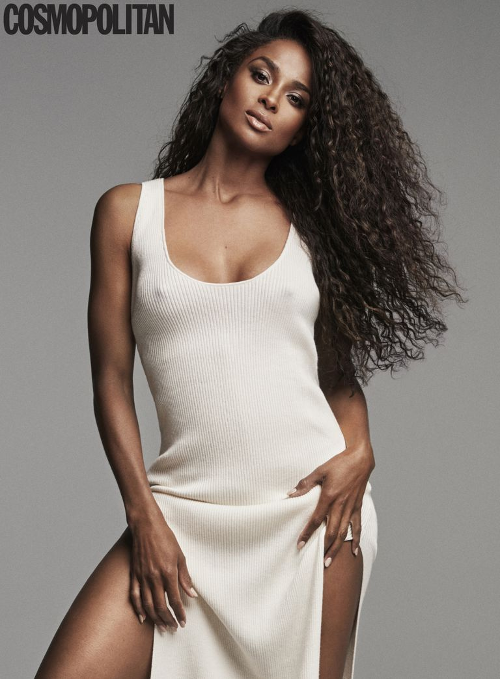 CiCi isn't just taking care of her physical body. She's also very strong minded when it comes to accomplishing any goal she sets out for herself.
"I never thought, I can't be because of the color of my skin, I can't be because of my gender," she told the publication. "No dream is too big. I want to be a billionaire. The more resources, the more you can do. But I think my greatest accomplishment 10 years from now is that I would have a successful life as it pertains to my marriage and being a mom. It's cool to want to do all these creative things, but it's no good to gain the world if you lose your soul."
And if you thought mean comments on social media will dim her light, guess again.
"When someone comes for you and you didn't send for them, you keep your eye on the prize. I know what my mission is. I know what I'm hoping for and working hard for every day. And that's my focus. I'm not going to let people steal my joy. I move on. New day, new opportunity, new energy, let's go."
My 1st @Cosmopolitan Cover Shoot! On stands October 9! pic.twitter.com/1LQFYKFogd

— Ciara (@ciara) October 1, 2018
This is the first time Ciara graced the cover of Cosmo's US edition. You can read her full interview here. 
After Cardi B backed out of the "24K Magic Tour" with Bruno Mars, CiCi was added to the lineup and she has been giving fans their money's worth. Peep pics and videos of her leveling up below:
Boston. Red. #Girls. #24kMagicTourpic.twitter.com/dp09fUvq5r

— Ciara (@ciara) October 4, 2018
#Tourpic.twitter.com/EaDUZHxr49

— Ciara (@ciara) October 4, 2018
.@ciara is lighting up the #PruCenter stage!! pic.twitter.com/1cvi5UmBS6

— Prudential Center (@PruCenter) October 2, 2018
Tonight, the "24K Magic Tour" will stop at the Barclays Center in Brooklyn.
Photos: Victor Demarchelier via Cosmo