Aretha Franklin will be changing her outfit for her funeral services on Friday. Yes, she's still on her diva steez even in death. Get all of the details about her outfit changes, plus pics of her public viewing and more inside...
Did you think Aretha Franklin would be anything other than a diva...even after her passing? Well, her family is making sure she goes out in true diva style.
According to Linda Swanson, executive vice president of Swanson Funeral Home, The Queen of Soul will wearing something different for her funeral service on Friday (August 31st). Yes, QUEEN!
"It's a surprise," Linda Swanson said."Just natural changes in wardrobe that a queen would make."
We know Aretha would approve of this.
Fans have been flocking to Detroit's Charles H. Wright Museum of African American History to pay their respects over the two-day public viewing of her body. For the viewing, the Grammy Award winning singer wore 5-inch ruby patent leather Christian Louboutin pumps paired with a ruby red dress made of lace, decorated with a full tulle skirt and chiffon overlay. The dress had beading on the bodice and shoulders with a boat neck collar and chiffon bell sleeves. It's reported Aretha's family selected the ensemble.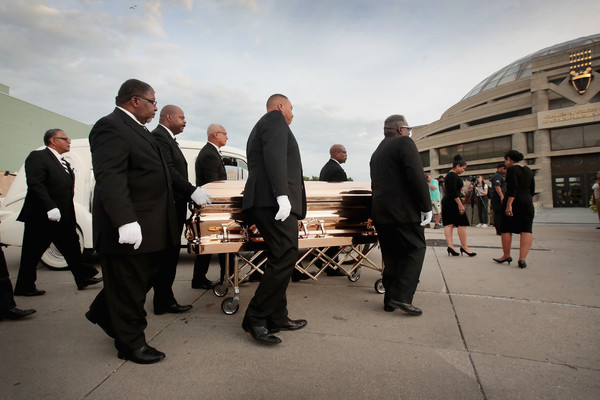 "She is presented in a way that reflects her life and her legacy," Swanson said. "She is, indeed, resplendent in repose, as a queen should be."
The icon wore a red dress to symbolize her honorary membership in the Delta Sigma Theta Sorority.
Aretha's longtime publicist, Gwendolyn Quinn, explained that the official photo of Franklin - which we won't be reposting - in her caske,t was taken and released by the singer's family because they wanted "a respectful photo to share with her millions of fans around the world who could not attend the viewing." The shot is from behind, revealing her red dress and legs crossed at the ankles.
Also, for today's viewing, her clothes were changed to a blue ensemble.
Tons have filled the museum to pay their last respects to the singer:
Detroit saw an overwhelming outpouring of support as fans of Aretha Franklin poured into the city she called home to pay their respects to the "Queen of Soul" during a public viewing. https://t.co/wTGxIeUeVFpic.twitter.com/0X88BoSZ46

— ABC News (@ABC) August 29, 2018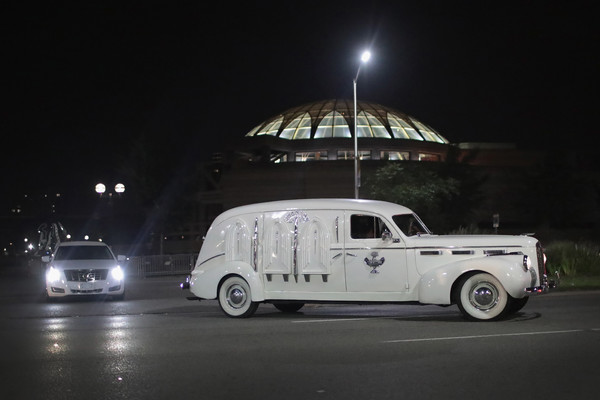 The "Natural Woman" singer was transported to the museum in a white vintage Cadillac LaSalle, the same Cadillac used to transport Rosa Parks' body (when she died in 2005) and her father, Rev. C.L. Franklin (who died in July 1984).
Her body rests inside a solid bronze Promethean casket plated in 24-karat gold. It's reported the casket is lined with champagne velvet; her name "Aretha Franklin" is embroidered in gold metallic thread with "Queen of Soul" beneath. Late singers Michael Jackson and James Brown were buried in the same type of coffin.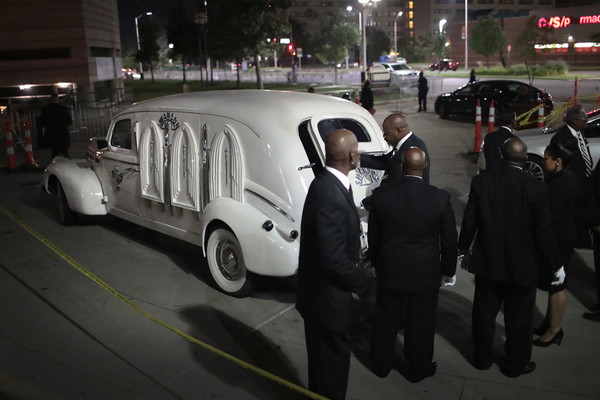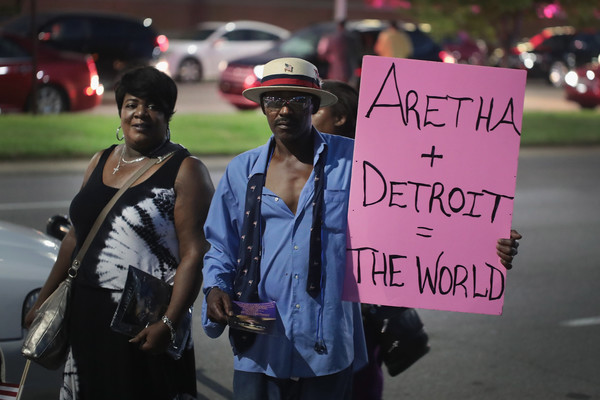 After the masses paid their respects on Tuesday, Aretha's Delta Sigma Theta sorority sisters conducted an Omega Omega ceremony, a final tribute to deceased members. About one thousand Deltas came to the service dressed in black dresses and pearls to pay tribute.
The Detroit Free Press reports:
Standing in front of Franklin's gold-plated casket, they conducted a ceremony described as "a final act of loyal sisterhood." It included readings of poems and Bible verses, a performance by Detroit member Yolanda Day of the song "Don't Cry," and a eulogy by U.S. Rep. Brenda Lawrence that was peppered with fond memories of Franklin's love for cooking and talking politics.
Aretha Franklin's private funeral service will be held on Friday, August 31st at 10am inside the Greater Grace Temple in Detroit. It's reported the funeral will be private for only her family and friends. Portions of ceremony will be streamed online and on television (CNN & FOX News). The stream will come courtesy of the Associated Press.
We recently told you singers like Stevie Wonder, Jennifer Hudson and Fantasia will be performing, amongst others. It has been recently reported that Ariana Grande will be added to the line up. No shade, but not sure if she was needed being that there are already 19 entertainers who are scheduled to perform.
Today is the last day for the public viewing at the Charles H. Wright Museum of African American History, which will end at 9pm. An additional viewing will go down Thursday, August 30th at New Bethel Baptist Church from 12pm - 4pm.
As previously reported, the "Respect" singer passed away a week ago in her home in Detroit after a long battle with pancreatic cancer. She was 76. It has been reported Aretha did not leave a will behind and that her partner of 30-years is allegedly looking to cash in on her fortune. Get those detailsHERE.
Photos: Getty/Reuters