Kanye West made his way back to his hometown of Chicago this morning to issue an apology for wearing that MAGA hat and his "slavery was a choice" comment. Just in time to drop his new Yeezys. He also broke down in tears while talking about his downfall, his "beef" with Drake, and more. Get it all inside...
So, about those "slavery was a choice" comments and the signed MAGA hat he posted to his Twitter timeline. 'Ye said he's a new man and confirmed that we're going to feel the new impact of the new relationships, new ideas and exposure he has gathered since causing a sh*tstorm in the media by backing Trump and calling slavery a choice.
"I don't know if I properly apologized for how the slavery comment made people feel. I want to take this moment right now to say I'm sorry for the one-two effect of the MAGA hat into the slave comment," he told the WGCI Chicago radio hosts this morning. "I'm sorry to people who felt let down by that moment. And I appreciate you giving me the opportunity to talk to you about the way I was thinking and what I was going through."
The PABLO rapper's apology had radio host Kendra G all choked up and teary eyed, and that urged 'Ye to give her a call. And, might we add, he's looking like that 2009 'Ye we miss.
"Your voice is so powerful, you have the ability to make changes for the African American community," Kendra told Kanye.
The "Ultralight Beams" rapper also addressed his silence after Jimmy Kimmel asked him if Donald Trump cares about black people. 
"I feel that he cares about the way Black people feel about him. And he would like for Black people to like him like when he was cool in the rap songs. And he will do the things that are necessary to make that happen because he's got an ego like all the rest of us, and he wants to be the greatest president. He knows that he can't be the greatest president without the acceptance of the Black community. It's something he's going to work towards."
Wanting people to like you has nothing to do with whether you respect them, but ok.
As he talked about his highly criticized rant about slavery at the TMZ offices, he said if he had the right people around him, it likely wouldn't have happened. He said he had people around him that could have stopped the situation, but they didn't.
"Don C is not around as much and the people who are around, who are starting to make money, just didn't care about me as much as Don C did. You don't have people that are continuously looking out for your best interest at all costs. I even had people around me at TMZ that could have stopped it."
Kanye broke down in tears while discussing the aftermath of his falling out with streetwear designer Don C.
"I believe that the downfall of Kanye West is directly related to Don C not being around," he continued.
'Ye said he told Don C he needs him so things like the TMZ situation won't happen to him. He thanked everyone who has been riding with him and assured fans that they are going to see a new 'Ye soon. Oh, he also cracks a joke about his ill-fitting sandals. Ha!
Check it (he breaks down at the 8:00 minute mark):
In the full interview, Yeezy said he spoke out about his political opinion because he has that right to do so as an American.
"I got love for everybody," Kanye said. "That was a statement of bravery and to not be in control and programmed. That, as a people, we have to have a monolithic thought because if we have a monolithic thought, we are easily controlled and could also possibly be easily eliminated. We have to think and voice our separate opinions.
Yes, and folks have a right to respond how they may as well.
He said he knows black people who voted for Trump, but they were scared to say they did out loud.  (Well, almost 3% of black men did and they very likely value the same ish or run in the same circles as Kanye so that's no surprise).
"That's some 1984 thought control, mind control, programming shit. Because I never voted in my life. And because my voice is so strong, i never even told people my opinion until after. I didn't want to influence it, but I have a right as an American to have my own opinion."
Switching topics, Kanye addressed his "beef" with Drake after his G.O.O.D. Music artist Pusha T bodied him in a rap battle. Ye's name was dragged into the drama where folks were saying he was the one who fed Pusha T information about Drizzy to put on wax. He called Drake insensitive for dragging him in the rap beef and he also said he never told Pusha to stop dragging him on diss-records.  Oh, and he's not about that "demon emoji" life either.
"I don't play like that, I don't play in that place. It ain't no beef. Ain't nobody got no beef. Nobody going to jail. I'm not calling nobody to do nothing," he said. "I don't do that. I make beats, I'm here for a reason. The universe is on my side."

"We all got love for Drake," he continued. "We understand he was upset about it, and I felt it was insensitive of him to stress me out in any way after TMZ while I'm in Wyoming, healing, pulling all pieces together." Ye was asked if reprimanded Pusha for his Drizzy diss track "The Story of Adidon," and he said he didn't.

"No, I didn't. Don't pull me into this conversation. I'm 'Ye. I got major things to do other than be telling him some information about Drake. I honestly don't care that much, in all honesty. I can't tell that man nothing. He his own man. Just don't bring me into it 'cause that's not what I do."
However, Yeezy did say he and Drizzy will make amends one day:
"We'll reconcile that one day because we got to. We got work to do because these voices are just too powerful," he shared.
All in all, 'Ye says he's a changed man these days.  He says he doesn't blame his mental disorder for his actions, but he is simply explaining it. He also now saw just how much black folks rode for him when he saw all the backlash for his recent actions:
"Thank you for ridin' with me and I need ya'll as a city to just have my back and I promise you, you gonna to see a new Ye. You gonna feel the impact of the new relationships and new ideas and exposure that I've gathered. It's about to applied now."
Peep the full interview below: 
In fashion news...
Can't wait for these glow in the dark 350s pic.twitter.com/xoko1QaGI8

— KANYE WEST (@kanyewest) August 28, 2018
Kanye West recently hopped on Twitter to tease his new glow-in-the-dark Yeezy Boost 350 V2. Well, we can thank his daughter North West for the glow-in-the-dark idea:
Fun Fact- I was bribing North to wear her butter 350's by saying they glow in the dark. However, she made me turn off the lights to test it. She caught me lying but Kanye was on speaker phone & said don't worry I will make them https://t.co/rvgQejsaHH

— Kim Kardashian West (@KimKardashian) August 29, 2018
Ha!
Also...
'Ye also hopped on Twitter recently to explain why he was wearing an ill-fitting pair of Yeezy Slides at 2 Chainz's Miami wedding earlier this month. In a tweet, he said it was wearing his slides the "Japanese way."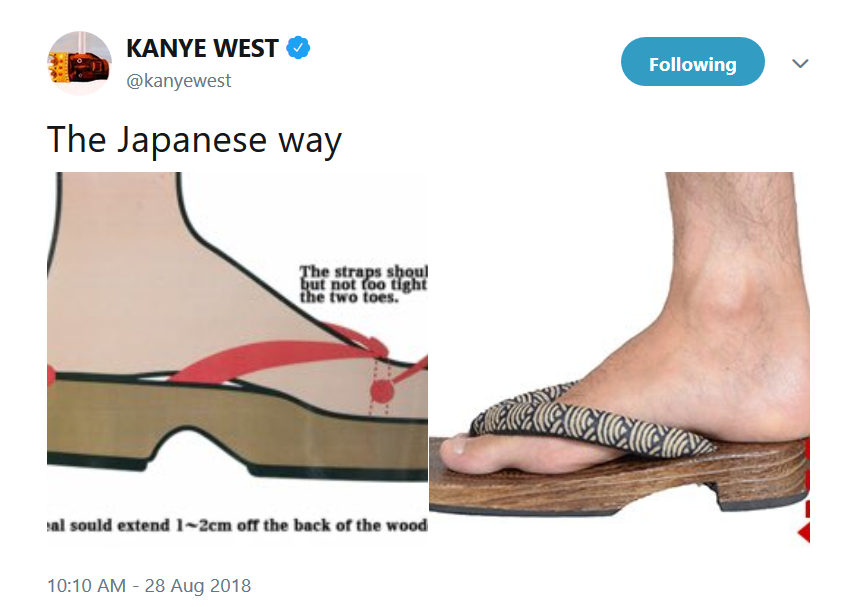 If you say so, 'Ye.
Photo: WGCI's IG