Phaedra Parks will be making her return to reality television and Tamar Braxton isn't here for nan none of it. Find out what family advice Phaedra spilled to TheYBF.com, plus why Tamar isn't feeling the "ratchet" and "ghetto" additions inside...
It's official!
Phaedra Parks is returning to reality television and her resurgence is causing quite a stir in the Braxton camp.
The former "Real Housewives of Atlanta" star will now be appearing as a friend to Traci Braxton on WEtv's "Braxton Family Values." The Braxton Sisters are currently not on the best of terms, and apparently, will not even be appearing on upcoming episodes this season.
We shared a sneak peek at the new season last week where Trina Braxton broke down in tears about how much they've grown apart.  According to Trina, the sisters barely speak or see each other anymore and it's tearing her apart. Everyone has a lot going on in their lives and their "sister time" has been affected.
Traci has seemingly found a friend in Phaedra, formerly of "RHOA," and they have been busy on the "Braxton Family Values" promo trail.  Interestingly, it seems Traci is the only sister doing promo for the new season.
TheYBF.com chopped it up with Traci, Phaedra, and Flavor Flav (who will also appear on the new season as a friend of Traci's) in NYC at a recent press event (which, yes, we found odd in itself). We're not exactly sure the REAL reason the other sisters weren't there, although it has been said that they decided to hault filming because they're demanding more money.
As everything gets sorted out, Traci seems to be stepping away from the sister mold to do her own thing. We know her and Tamar Braxton have been at odds, especially after Tamar axed her from her tour earlier this year.
Traci's friends, Phaedra and Flav, offered up some advice on how she should handle her ongoing feud with her sisters.
"I just told her family's first. While we are there to support her, nothing comes between your sisters. You can't let the outside put anything in your head because blood is thicker than water," Phaedra told YBF correspondent Unique Chapman.
Traci said she enjoyed having her celeb friends on the show, but she misses her sisters.
Flavor Flav was also on the "family first" wave as well. Find out what he said below:
[Click HERE if you are unable to view on mobile]
Now y'all know shade queen Tamar Braxton wasn't going to let someone new person come on the show without sharing her 2 cents about it to the masses. Even though she claims she's not even doing the show this season (she said she's only appearing in 2 episodes to support her sisters). Hmph.
Recently, Tamar met up with her sisters Trina and Towanda Braxton for a bite to eat. During their sister session, Tamar whipped out her phone to throw hella shade at "Phaedra Braxton." Oop! Apparently, she has an issue with someone coming on the show who ISN'T a "real" Braxton.
She captioned the clip, "When you are not called OR ordained!! _/ have several with a seatbelt #gtfoh #ifuseemeknowigotmycoin #pettyREALbraxtons."
And like celebs love to do, she deleted the post.
Later, she hopped on Instagram Live to explain why she came for Phaedra, even though she claims she has no issues with her. In the clip, she said the show is now everything she's against.
"Ratchet television. Ratchet black television. This is nothing like what this whole show was designed to be. It was about five positive black women and that's not what it is anymore and I don't have time for that. And as ghetto, and as ratchet as everyone thinks I am, you can think whatever you want. But, I am nothing like that and don't want to be a part of nothing like that."
Umm...OK, Tay Tay. She said she was blindsided with news that Phaedra was being added to the show, but she doesn't feel like she's a good fit for the Braxton brand.
Check it:
Chile...
Tamar has also been responding to fans on Instagram over Phaedra receiving a check from their "family" show: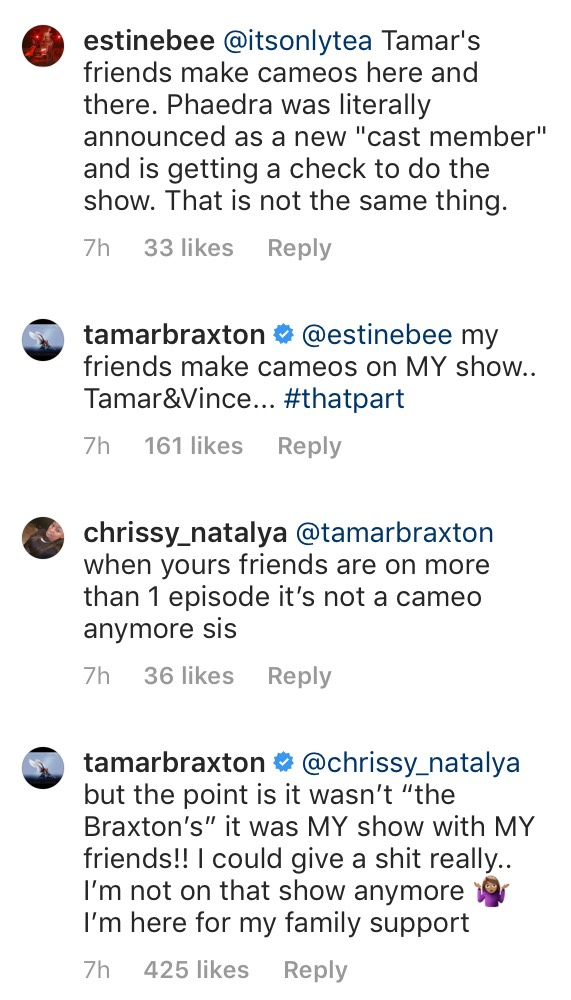 Chick is all in her feelings.
Traci was spotted posing it up for the fans outside the AOLBuild Series this morning: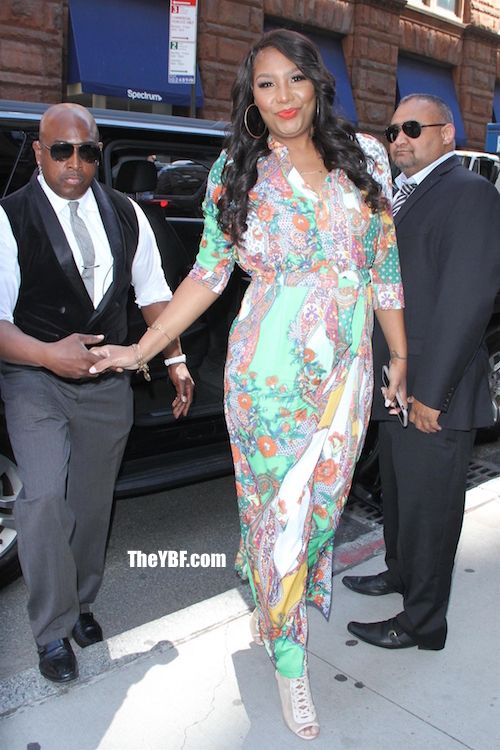 New episodes of "Braxton Family Values" air Thursdays on WETV at 9/8c.
Photos: Getty