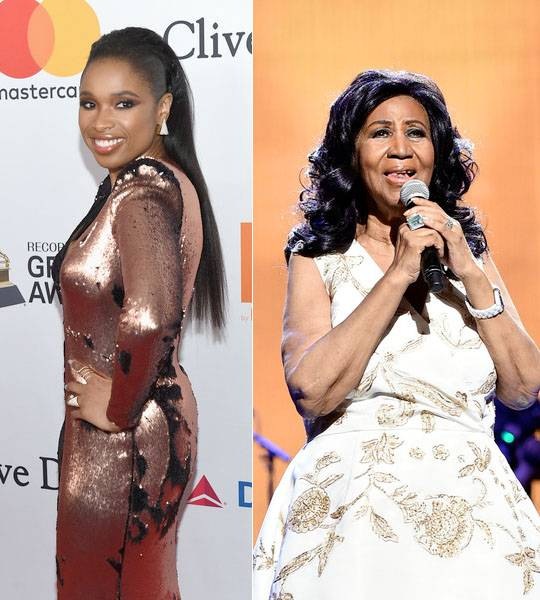 Aretha Franklin's funeral is about to go down with several high profile singers lending their voices to lay The Queen of Soul to rest. More inside...
It's going to be a star-studded affair for Aretha Franklin's homegoing ceremony.
Several of The Queen of Soul's celeb friends will pay special tribute to the late singer at her funeral which will be held on August 31st at 10am inside the Greater Grace Temple in Detroit. It's reported the funeral will be private for only her family and friends.
Aretha's family announced there will be 19 performers during the ceremony, including Stevie Wonder, Jennifer Hudson, Fantasia, Chaka Khan, Ronald Isley, Yolanda Adams, Shirley Caesar, the Clark Sisters and Jennifer Holliday, to name a few. (Full list of performers below).
Most of the singers listed to perform are longtime friends of the Queen and have also collaborated with her songs throughout her lustrous career. You'll recall, Aretha handpicked JHud to play her in an upcoming biopic.
According to USA Today, Bishop Charles H. Ellis III of Greater Grace will officiate the service, with the Rev. Robert Smith Jr. of Detroit's New Bethel Baptist Church as co-officiant. The eulogy will be delivered by the Rev. Jasper Williams Jr. of Atlanta's Salem Baptist Church.
Here's the full list of performers: Stevie Wonder, Faith Hill, Ronald Isley, Chaka Khan, Fantasia, Jennifer Hudson, Yolanda Adams, Shirley Caesar, The Clark Sisters, Jennifer Holliday,Tasha Cobbs-Leonard, Marvin Sapp, The Williams Brothers, Vanessa Bell Armstrong, Audrey DuBois Harris, Alice McAllister Tillman, Edward Franklin, the Aretha Franklin Orchestra and the Aretha Franklin Celebration Choir.
It's not yet known if the family will decide to stream the funeral online for fans.
FOX Detroit reports public viewings have been scheduled to take place at the Charles H. Wright Museum of African American History on August 28th & 29th from 9am - 9pm. An additional viewing has been added for Thursday, August 30th at New Bethel Baptist Church from 12pm - 4pm.
As previously reported, the "Respect" singer passed away a week ago in her home in Detriot after a long battle with pancreatic cancer. She was 76. It has been reported Aretha did not leave a will behind and that her partner of 30 years is allegedly looking to cash in on her fortune. Get those deets HERE.
Photos: Getty